SwimTrek has just returned from the 8th Cold Water Swimming Championships at Tooting Bec Lido this weekend and it certainly did not disappoint! Great costumes, over 750 swimmers and of course the chance to meet so many SwimTrekkers in person. The SwimTrek HQ team also put out two relay teams, of which team SwimTrek Pioneers picked up silver in the 160-200 years category. Now that the Championships are over for another two years, SwimTrek founder Simon Murie reflects back on his involvement in creating the first UK Cold Water Championships and what inspired him and other chilly dippers at the South London Swimming Club to do so in the first place…
It all started very leisurely. Back in 2004, the ardent winter swimmers of the South London Swimming Club (SLSC), of which I was one, based at Tooting Bec Lido in South London were holding their weekly Sunday morning race. The temperature had dropped below to 10°C, so the swim distance was only a width (33 yards). Tom Butler, one of the more IT savvy members of the club, had stumbled across details of a Finnish Winter Swimming Championships taking place in the northern Finnish town of Oulu in January the following year. From what seemed like a fairly quick conversation, a nucleus of a team emerged and we planned ahead for a trip to just below the Arctic Circle.
Fast forward to January 2005 and our arrival into Oulu. The scene was something that none of us had witnessed before. In temperatures hovering around -10°C, workmen were busily cutting into the ice and extricating large chunks of it over a metre thick from the River Oulujoki. Over 3 days, a 25 metre "pool" was meticulously created, even resplendent with lane ropes, ladders and starter blocks! Add to this, the water pumps arranged intermittently along the side of the pool to stop the ice from reforming and this was a seriously advanced pool.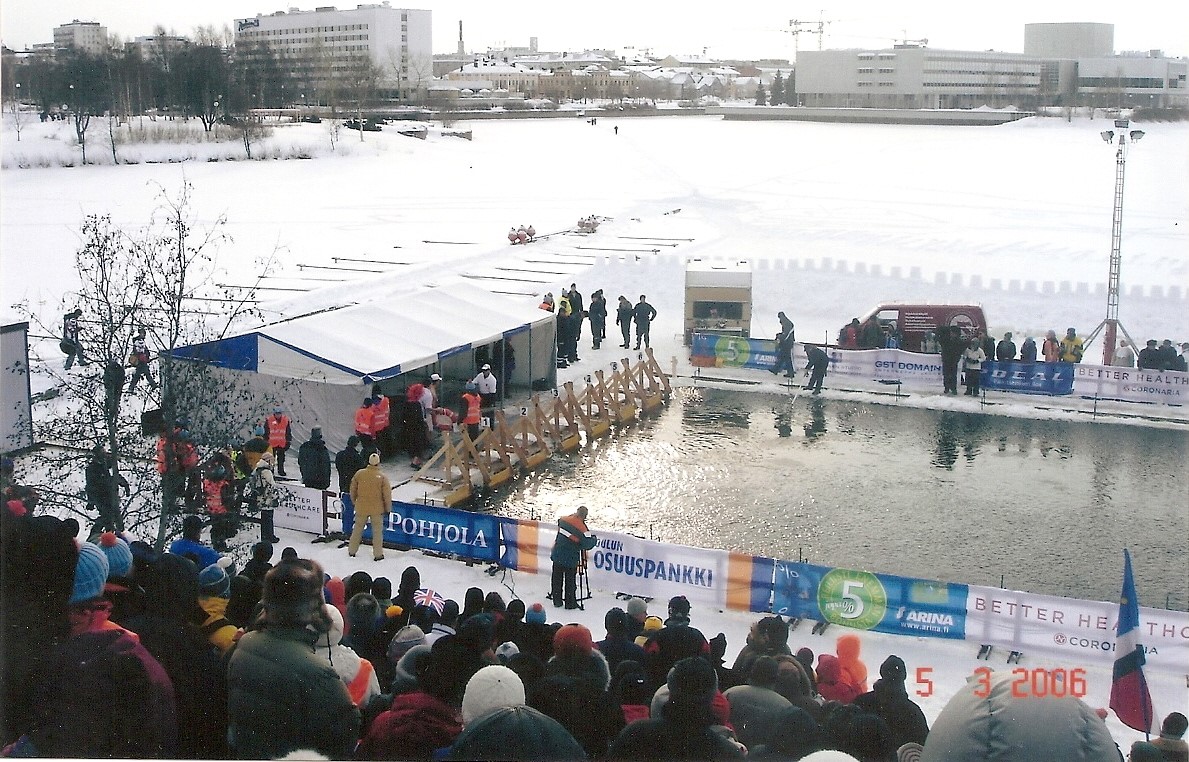 The events back in these championships were relatively simple. There was the 25m head up breaststroke event, with fancy head gear distinctly encouraged. The international relay competition of teams of 4, the long distance breaststroke race of 200m and the synchronised swimming event, dominated historically by the Russians, much to the chagrin of the local Finns.
Competitors numbered close to the thousands and spectators were housed in a grandstand that was able to accommodate hundreds! This brought much amazement to us whose own experience of winter swimming constituted a Sunday morning race in front of a few sleepy lifeguards and not much else.
Swimmers prior to their race were housed in a heated room and when called forward, got changed quickly on "pool side" and their clothes were transported to the far end where they were retrieved by the chilly swimmer where they had the option of diving into either a hot tub or sauna, both just a few metres away from the finish!
On the first day of activities, the Finns dominated the head up breaststroke placings while the second day featured a troupe of portly male Russian synchronised swimmers performing a gold medal winning Swan Lake in bitterly cold temperatures.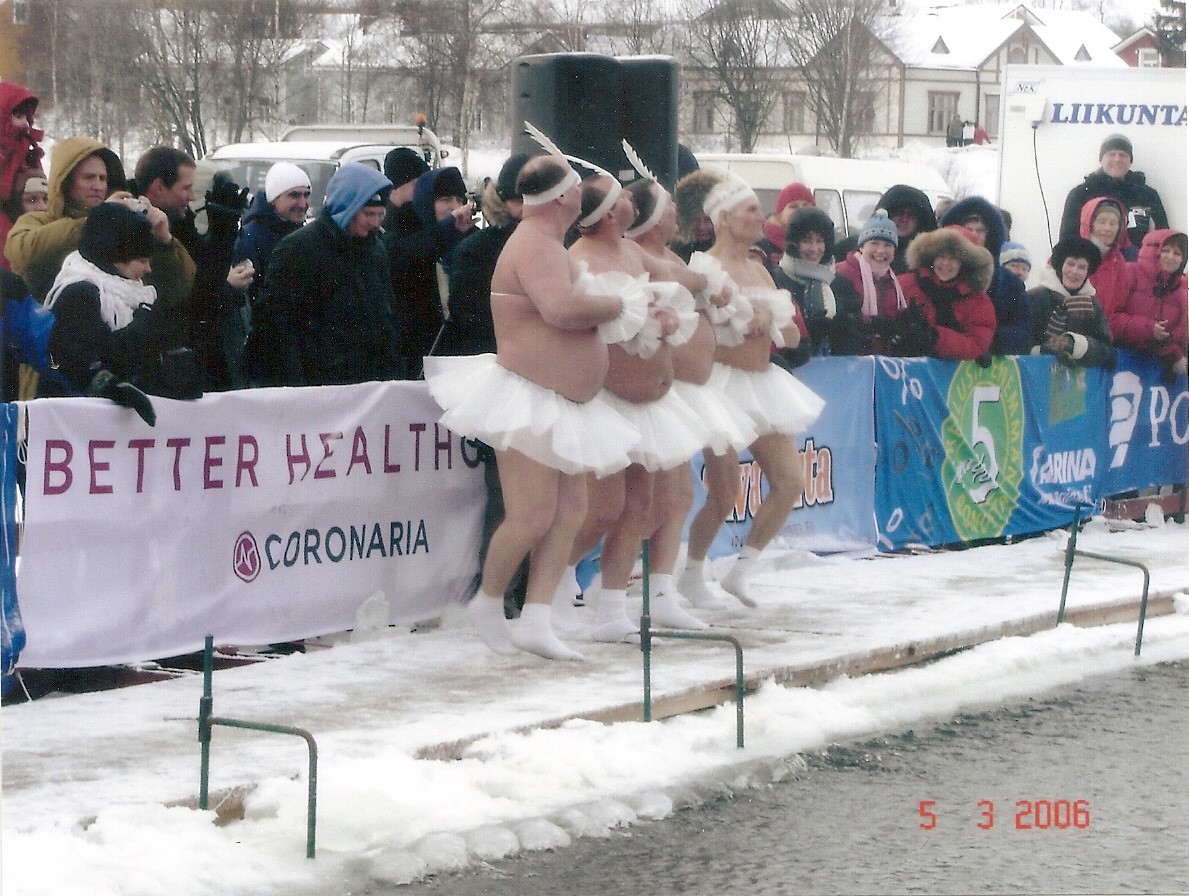 The night before at the event party, a call had gone out for entries for the international relay competition. All that was needed was 4 swimmers representing each country. Now I am Australian, so I wasn't too hopeful of finding a team, but a trawl of the bar area (always a good place to find ready recruits) unearthed 2 fellow Aussies, one here for the championships and one strictly spectating! After a little bit of convincing we had a team of 3, now just 1 more was needed! Now my father, a dyed in the wool Antipodean was due to turn up later that evening, not planning on swimming at all, but partaking in a spot of cross country skiing the following week. After an explanation of the predicament and with not one bit of cold-water experience to his name, he manfully accepted the challenge. Our team was complete! Against undoubtedly more conventionally arranged sides, we managed a 3rd placing in the final, which was a wonderful result for our ragtag team.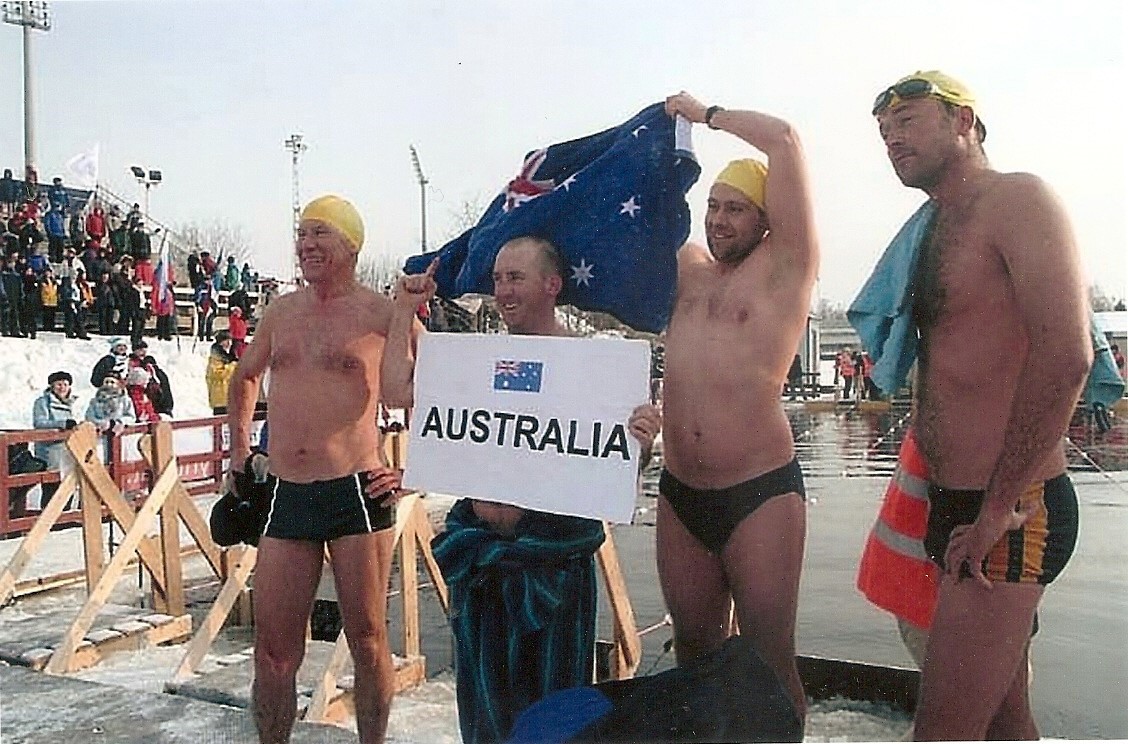 It was a wonderful weekend where friendships were made between swimmers of various nations. On the train back from Oulu, Margy Sullivan a stalwart of the SLSC and I had a conversation that why couldn't we organise something similar back in the UK and bring Winter swimming "home!" so to speak. Well from that first chat and following much organisation, the 1st Cold Water Swimming Championships were born and in January 2006 we managed to host the first such event in the UK with over 300 competitors, a hot tub and even a grandstand, although somewhat smaller than the Finnish version! I've been proud to see that over the years, the championships are going from strength to strength.
Now only if they would add an International Relay event…
This blog was originally published as an article in Outdoor Swimmer.