SwimTrek Coaching
SwimTrek Coaching Philosophy
All of our coaching is focused on getting the most out of your stroke in an open water environment.
SwimTrek coaches use a combination of theory and practical sessions to help you understand what you should be doing and why you should be doing it. We help you close the gap between your current swim stroke and the perfect swim stroke. Our coaches are experienced open water swimmers and have the knowledge required to teach you the latest techniques and develop suitable training plans to help you reach your open water swimming goals.
Whether you're preparing for an upcoming SwimTrek holiday or an open water swimming event anywhere in the world, a coaching session with one of our qualified swim guides is the perfect way to develop your open water swimming skills.
SwimTrek's Open Water Swimming Training Plan has been put together to try to give you a basic introduction to swimming in open water. Whether you are a novice swimmer who would like the confidence to take a dip outdoors, or a competent pool swimmer preparing for your first open water swim, or even someone who has already experienced the thrill of open water and are keen to improve your skills, we're sure that there is information in this plan that you will find useful.
You can view and download a digital version of our open water swimming training plan here and you can click here to get Adobe PDF Reader.
SwimTrek's Guide to Open Water Swimming Technique
We've put together the following 8 pointers as a quick guide to help you on your way to becoming a more efficient open water swimmer and to make the most of your open water experience!
Brighton - Swim Coaching and Open Water Fitness Sessions With SeaLanes
Are you looking for some open water coaching before your upcoming trip? Would you like to become more confident in the open water? Our open water swimming coaching sessions in Brighton could be perfect for you!
London - Swim Coaching and Open Water Fitness Sessions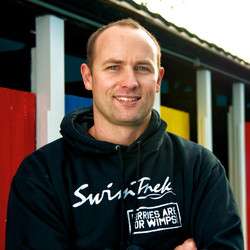 We have private coaching and open water fitness sessions at the Tooting Bec Lido, London, with SwimTrek coach and guide, Dan Abel.
Dan's successful swimming career spans over 20 years, including national titles and four years in the USA at the University of Iowa, where he graduated with a BSc and academic accolades. Dan has also successfully coached and completed the epic relay swim across the famous English Channel, swimming 17km. The team raised over £9,000 for UK charities.
After a career with the Royal New Zealand Air Force, Dan has forged ahead in coaching swimming and general fitness and transferred his pool swimming skills to the open water.
As a guide for SwimTrek in 2011, Dan is now the resident SwimTrek Coach at Tooting Bec Lido.
Open Water Fitness and Technique Series
Swimming fitness is for swimmers or triathletes looking to improve. We will give you a structured swimming coaching programme that delivers fitness and technique in a fun and social atmosphere. One hour sessions are available three mornings per week and Saturday morning. You can expect to increase fitness, improve swimming technique and learn more about open water swimming. This is a great session to complement the one-to-one coaching.
Suitability
Sessions are suitable for anyone aged 16 years or older looking to improve or maintain their swimming fitness level. Swimmers should be able to comfortably swim 1km in a pool.
Dates
Any enquiries about coaching sessions at Tooting Bec Lido can be directed to Dan at: coachtootingbec@swimtrek.com
Private Coaching
Private one-to-one open water swimming lessons for swimmers and triathletes of all ability levels. If you wish to learn front crawl (freestyle), improve your technique, efficiency or swim speed our one-to-one swim coaching program will provide personalised coaching and swimming lessons tailored to your specific requirements. At beginner level, you can go at your own pace to make sure you feel safe and confident in the water. At intermediate and advanced level, you can progress your stroke, understand and develop more swimming technique and receive guidance on the right swim fitness programme for you. Lessons are individually tailored and can include:
Swimming Technique
Swimming Drills
Swimming Fitness
Swimming Technique Analysis
Whether you are looking to improve your stroke or getting ready for your first race or a SwimTrek holiday, you can get advice on the do's and don'ts of open water swimming.
Suitability
These session are suitable for swimmers who are 16 years and over. Please note that the water is heated by the summer sun only, so this is the perfect preparation for any upcoming open water swimming events.
Dates
Please note, availability for 2018 is to be confirmed.
Private lessons are available every weekday and Saturday mornings. All sessions are 40 minutes in length, with the exception of the last session each morning which can be either 40 or 60 minutes.
To swim outside these times (or during other times of the year), you can join the fantastic South London Swim Club: http://www.slsc.org.uk/membership/
Location
Tooting Bec Lido 'London's Premier Open Water Swimming Training venue. View Map Here
Terms and Conditions
Any booked session cancelled more than 24 hours prior to the session will be rescheduled at no cost. Cancellations within 24 hours of the scheduled time will not be rescheduled or refunded. Please respect this policy as the business is run on appointment only, if you cancel late, it is often too late to rebook your slot. This policy also runs in reverse, should Fit&Abel Ltd cancel within 24 hours of your session, you can expect a complimentary session.
If you have any other questions about our open water coaching sessions, please feel free to contact us and we'll be more than happy to assist.