Travel Advice
Keeping You Safe
At SwimTrek, the safety of our guests, guides and other local partners is the number one priority in every decision that we make. From monitoring up-to-date travel advice for each of our locations, to making adjustments to a planned itinerary during your time away, the well-being of each and every person who is involved in a SwimTrek holiday is always at the forefront of our minds.
Travel Advice from the UK's FCDO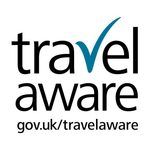 For the most accurate and up-to-date travel advice relating to each of the locations in which we operate, we closely monitor all travel updates and warnings issued by the Foreign, Commonwealth and Development Office. A decision on whether or not we run a trip in a particular location is always based on the advice of the FCDO. If this advice does change and will affect your upcoming trip, we will notify you as soon as possible.
As a guest, we advise you to monitor the FCDO travel advice regularly and we recommend that you sign up for email alerts in order to receive updates which may affect your travel plans.
Prior to your trip, we also recommend that you visit the FCDO Travel Aware website for further advice on staying safe and healthy abroad.
Other Country's Travel Advice
If you're not a citizen of the United Kingdom, we recommend that you check your own government website. Below are links to a few:
Canadian Consular Affairs Bureau
Australian Department of Foreign Affairs and Trade
New Zealand Ministry of Foreign Affairs and Trade
Passports and Visas
Do check to ensure your passport is valid for travel, which normally means it must be valid for at least six months beyond the expected length of stay. All visa regulations are subject to change and we advise that you check your own visa requirements prior to travel.
Travel Insurance
We consider comprehensive travel insurance to be essential, and we strongly recommend that you purchase insurance which includes, but is not limited to, cover for illness, accident, emergency repatriation, ambulance, air ambulance, helicopter rescue services, cancellation, lost luggage and delays. Your travel insurance should also cover you for open water swimming and any other activity listed in your trip itinerary (including races and competitions, where applicable). Please read your policy details carefully and remember to take them with you on your trip for your own reference. For further information about travel insurance, please visit: www.swimtrek.com/travel-insurance.
Health & Vaccinations
For comprehensive health information for travel to your chosen destination, including all recommended and required vaccinations, please visit www.travelhealthpro.org.uk. Please note that this information is subject to change and you should re-check this site regularly prior to your trip.
Coronavirus (COVID-19)
We understand how the Coronavirus outbreak causes concerns for our guests. So we've put together a page with more information to help answer any specific questions you may have: Coronavirus questions and latest information.
Internet Access, Electricity and Travel Plugs
For a useful source of information on the different electrical outlets, electrical plugs, and electric sockets, please visit www.worldstandards.eu