Travel Advice
Keeping You Safe
At SwimTrek, the safety of our guests, guides and other local partners is the number one priority in every decision that we make. From monitoring up-to-date travel advice for each of our locations, to making adjustments to a planned itinerary during your time away, the well-being of each and every person who is involved in a SwimTrek holiday is always at the forefront of our minds.
Travel Advice from the UK's FCDO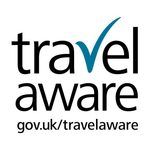 For the most accurate and up-to-date travel advice relating to each of the locations in which we operate, we closely monitor all travel updates and warnings issued by the Foreign, Commonwealth and Development Office. A decision on whether or not we run a trip in a particular location is always based on the advice of the FCDO. If this advice does change and will affect your upcoming trip, we will notify you as soon as possible.
We advise that British citizens monitor the FCDO's website for travel advice including the latest health related information, safety and security and entry requirements. We also recommend that you sign up for email travel warnings which may affect your travel plans.
Prior to your trip, we also recommend that you visit the FCDO Travel Aware website for further advice on staying safe and healthy abroad.
Other Countries' Travel Advice
If you're not a British citizen we recommend that you check your own government's travel advice. Below are links to a few:
Canadian Consular Affairs Bureau
Australian Department of Foreign Affairs and Trade
New Zealand Ministry of Foreign Affairs and Trade
Passports and Visas
Do check to ensure your passport is valid for travel, which normally means it must be valid for at least six months beyond the expected length of stay.
Please note that entry requirements are subject to change, and we advise that you check prior to travel.
Travel Insurance
We consider comprehensive travel insurance to be essential, and we strongly recommend that you purchase insurance which includes, but is not limited to, cover for illness, accident, emergency repatriation, ambulance, air ambulance, helicopter rescue services, cancellation, lost luggage and delays. Your travel insurance should also cover you for open water swimming and any other activity listed in your trip itinerary (including races and competitions, where applicable). Please read your policy details carefully and remember to take them with you on your trip for your own reference. For further information about travel insurance, please visit: www.swimtrek.com/travel-insurance.
Travel Health & Vaccinations
We want you to enjoy your SwimTrek and stay healthy so you should ensure that you know and understand the Travel Heath & Vaccination advice for your chosen destination as well as the Swim Health requirements of taking part in SwimTreks, Races, Events or Coaching Camps. For further information about travel health, please visit: www.swimtrek.com/travel-health.
Money, Extra Expenses and Tipping
You should have extra money with you to cover such items as souvenirs and food or drinks that are not included in the package price. In some countries credit cards are not widely accepted and cash point machines few and far between. Please refer to the trip information for further advice.
In some countries tipping, gratuities, is not part of the culture in others it has become an expected norm. We believe that tipping is entirely at your discretion. If you have been provided with excellent service it may be something you wish to do. Your SwimTrek guides can advise on local norms for service providers like boat crew, waiters or taxis. Nothing is expected for your SwimTrek guides but many groups like to present something to their Guides at the end of the trip.
Internet Access, Electricity and Travel Plugs
Wi-Fi is available at many of SwimTrek's accommodations, see the trip information for details. In many of our destinations extra roaming charges often apply if you choose to use the SIM card from your home country. Local SIM cards are often available for purchase locally. To take advantage of these you should seek advice on how to ensure your mobile handset is unlocked and ready to accept an alternative SIM card prior to travel.
For a useful source of information on the different electrical outlets, electrical plugs, and electric sockets, please visit www.worldstandards.eu
Financial Protection
Book with SwimTrek with confidence and peace of mind that in the unlikely event of our insolvency your pre-payments are protected if you have not yet travelled and that repatriation costs are covered if you are abroad.
For more information please visit: Financial Protection