Travel Advice
Keeping You Safe
At SwimTrek, the safety of our guests, guides and other local partners is the number one priority in every decision that we make. From monitoring up-to-date travel advice for each of our locations, to making adjustments to a planned itinerary during your time away, the well-being of each and every person who is involved in a SwimTrek holiday is always at the forefront of our minds.
Coronavirus (COVID-19)
We understand how the Coronavirus outbreak may be causing concerns for our guests booked to travel with us during 2020.
We've put together a page with more information to help answer any specific questions you may have: Coronavirus questions and latest information.
Travel Advice from the UK's FCDO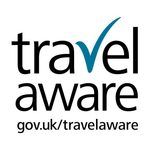 For the most accurate and up-to-date travel advice relating to each of the locations in which we operate, we closely monitor all travel updates and warnings issued by the Foreign, Commonwealth and Development Office. A decision on whether or not we run a trip in a particular location is always based on the advice of the FCDO. If this advice does change and will affect your upcoming trip, we will notify you as soon as possible.
As a guest, we advise you to monitor the FCO travel advice regularly and we recommend that you sign up for email alerts in order to receive updates which may affect your travel plans.
Prior to your trip, we also recommend that you visit the FCDO Travel Aware website for further advice on staying safe and healthy abroad.