Smartwatches can be a huge asset when training both in the pool and the open water. But with so many on the market to choose from, and with a huge variation in pricing, the decision as to which is the best for you can be a little daunting. We've put together reviews from SwimTrek HQ staff who own and wear these watches daily, so you're getting an honest and genuine review, tested by real users over a long period of time. Here's what our staff had to say.
Fitbit charge 3 (RRP from £129.99)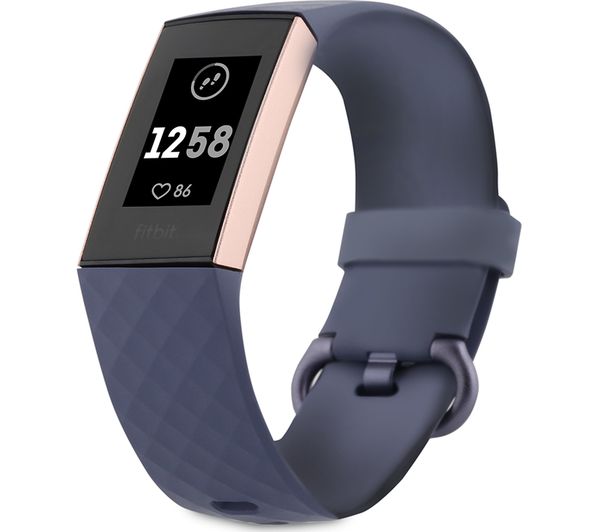 Overview A good allrounder watch that tracks swimming, as well as lots of other sports. In terms of swimming, it can tell you how long you've swum for in terms of time and distance for both pool and open water swimming. It has a built-in heart rate monitor and also has a helpful step counter. It also automatically knows when you've started an activity, and it will be able to tell what activity is, whether I'm cycling home from work our doing a session in the pool. It has more unusual features like mindfulness and breathing exercises and will guide you how to do them.
Accuracy (3/5) Good at measuring lots of sports but not as accurate in tracking distance swum in the open water. There is also no GPS for swimming (but there is for running)
Aesthetics (4/5) I like the [purple] strap, and there are a range of colours for different tastes
Durability (4/5) After owning the watch for 7 months, it has held up really well. The wrist strap holes haven't stretched and I haven't had any snags on the plastic wristband. (4/5)
Comfort (4/5) The strap fits nicely on my wrist, though it can feel a little looser when I am swimming.
What I like: It's a good-looking watch that you don't have to worry about taking off when doing sport, it tracks more than just swimming, and I also like that it tracks my sleep.
What I dislike: My only real dislike to that the distance tracking isn't as accurate in open water.
Garmin Fenix 5 (RRP £450)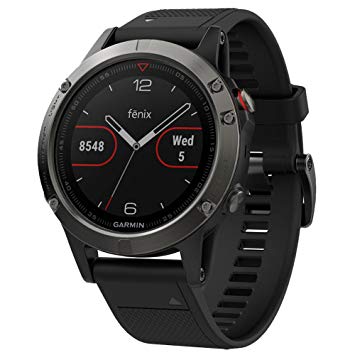 Overview I use the watch to track my pool and open water swimming as well as other sports like cycling and running. It has a built-in heart rate monitor which is trackable and displayed on the watch. It has sport functions for a wide range of sports including golf and skiing and has built in navigation which is helpful after you've completed your activity for getting home.
Accuracy (4/5) For tracking pool swimming, it can miss a length here and there, and you also have to manually input into the watch what length the pool is. Periodically It can be far out with distance in the open water.
Aesthetics (4/5) There are lots of choices of straps and colours, and a large watch face but you get used to the size. I like that it is simple and sleek, especially the all black design, and not too flashy.
Durability (4/5) Having owned the watch for around a year, I haven't sustained any scratches, though I feel the strap is starting to stretch over time.
Comfort (4/5) The rubber [strap] is comfortable and not too heavy. Thee hart rate monitor does raise the watch face up so doesn't always fit under a long sleeve shirt.
What I like: That you can change digital face when you want, the battery lasts a couple of weeks and it displays the battery percentage on the watch face.
What I dislike: It doesn't fit easily under a long sleeve shirt.
Sunnto Ambit 3 (RRP £319)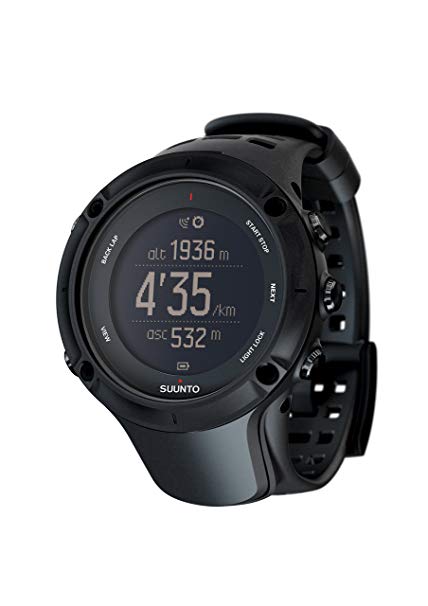 Overview I've had this watch a few years now. It was one of the original stylish watches which you could wear in the water or on the town. That's why I chose this watch as it was to be my only watch. It does feel sometimes that you need a high school qualification to fully utilise all the functions.
Accuracy (3/5) Although it takes a while to pick up the GPS signal, once it has it, it gives what I have determined is pretty accurate data. It's altitude data in my experience is über-accurate.
Aesthetics (4/5) Love it. Can wear it just as easily for training as you can for going out. It looks smart!
Durability (4/5) It looks rugged and it doesn't disappoint. I've dropped it countless times on various surfaces and I've never had a problem. The glass face is super strong!
Comfort (3/5) Didn't much like the original strap that came with the Ambit which tended to soak up water. After changing to a more comfortable rubber strap I was happy as it's great for swimming as it doesn't fill with water.
What I like: The stainless-steel trim that goes around the watch face. I also really like the ability to be able to invert the display in bright light conditions.
What I dislike: It is slightly chunky, so you know you have it on your wrist. Also, the water temperature reading never seems to bear any connection with reality!
Garmin Fenix 3 (RRP £429.99)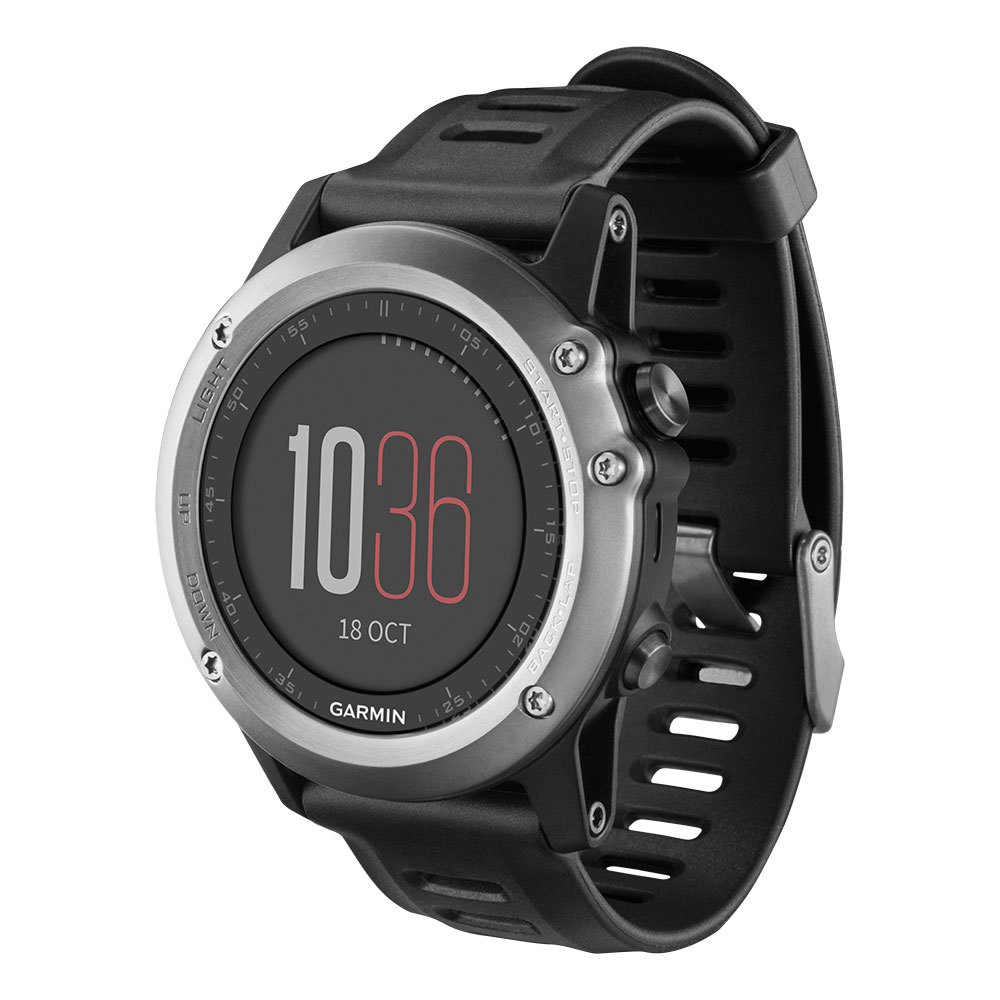 Overview A large watch that looks smart and I can wear to the pool and to work. I am primarily a swimmer but also use the watch in the gym and with the cycling and running features as I start to train for a triathlon. It switches very easily between different sports and find the data easy to read and track.
Accuracy (3/5) Running and cycling GPS is very accurate, particularly with distance over ground, speed and average pace. For swimming, it can get mapping and speed wrong. It can be sometimes time too fast or too slow, and it tends to overestimate how far I've swum in the pool. It also only registers how far your swimming if pulling, (so won't be able to recognise a kick set) but it can recognise different strokes.
Aesthetics (4/5) I like the rugged look to it. I also like the large watch face. This suits me as I have a bigger wrist and have found other comparable watches come up too small for my liking. I really like the big screen as it is easy to read.
Durability (2/5) I actually had the watch break on me after I hit it on a lane rope. It was replaced by the manufacturer and haven't had any problems since. The first watch broke after just a year.
Comfort (4/5) The band is comfy, and as it is rubber, it has a bit of give to it. The watch face is heavy, but I like the feel of it.
What I like: I like the way it looks, and I like how customisable the watch faces are, you can have as much or as little on the watch faces as you want.
What I dislike: The fact that it broke, and that it doesn't have compatibility with other brand products like heart rate monitors or sailing equipment, it only works with other Garmin products. This shouldn't be a problem for the price of the watch.
Casio W800H (from £16.97)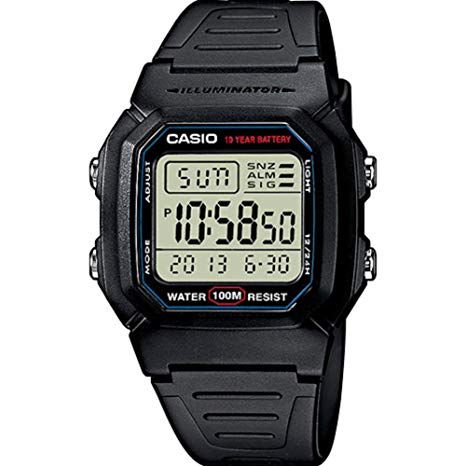 Although this may not be much of a smartwatch, we also tried out the Casio W800H, a cheap and cheerful water resistant watch that is a great affordable option and has been used and owned by one our own staff members for several months. Here's the review:
Overview A very simple, water resistant watch that works well for everyday use and for getting in the water. It has a built-in stopwatch and can also do split times, but this does have to be done manually. It has a simple digital watch face to display the date and the day as well. Other features include a light and water resistant to 100m. Very affordable at £10. Accuracy (4/5) for the price and its capabilities it is very good, however it is simple with limited functions. Aesthetics (3/5) Not the best looking, a simple and functional watch over beauty! Durability (4/5) Having owned for around year and wearing every day, the watch is tough and capable. The Casio brand is known for well-priced, resilient watches and it lives up to its name. Comfort (4/5) Light and easy to wear. It's a comfortable watch. What I like: It's simple, reliable, hardwearing and light; it does what I need it to do. What I dislike: The strap, the original strap is not very strong, and I think it is likely to break at some point.
If you're looking to put your swim watch to test test on a swimming holiday, you can check out our range of trips here.