Holidays, swimming, the great outdoors and a sense of adventure. Too good to be true, I hear you say. Someone moans.. Insufficient time to organise it.. Someone quirks... Can't afford it.. For someone like me, I think... The perfect assortment of words that combine to make a terrific break away with SwimTrek.
I first laid eyes on SwimTrek in 2013 after completing my first UK open water swim in the bluest of blue waters of London's Rotherhithe Quay, an urban oasis abounding with tropical fish and Palm trees.. Ok so just a slight exaggeration there but at the end the glimpse of this imagined paradise caught my eye on what was a poster for SwimTrek, with the now ubiquitous bright orange neon t-shirt clad swimmers selling the dream of an adventurous holiday swimming in the great outdoors.
I spent the next summer wishing I too had booked one of their sell out trips and spending a week with friends sailing around Croatia whereby I just wished to be swimming during the day. With more research I decided upon my first trip, to a place I had already visited and found so beautiful that the chance to swim there seemed practically perfect: Sardinia.
So a holiday to sunny Sardinia awaited me in July 2015, a week promising cultural charm, great gelato, beautiful boats and astonishingly Aqua-coloured water; and Swimming! Never before had My samsonite accompanied me on a holiday containing so many goggles, and speedos! We were in for a treat, I could just tell. Our days were spent in the water swimming and onboard the boat and our evenings back on shore (goodbye sealegs!) unwinding over great food and wine, savouring the fine food for which Sardinia is so renowned. The sense of accomplishment at day end having swum around islands and over crossings, balanced by a gentle lunchtime siesta in the Sardinian sun was surreal. A true holiday which happened to feature around 4-6km of idyllic swimming per day. Guilt free gelato, day after day.
Swimming and more swimming awaited me having so thoroughly enjoyed Sardinia, to be followed by later that summer completing my inaugural Dart 10k swim in Devon. The Sardinian SwimTrek proved excellent for my training and the encouragement and technical guidance from the so very charismatic guides Ricky and Francesco set me on good stead. Suddenly my eyes were wide open to the brightly coloured SwimTrek hats bobbing around the London lidos promoting the many other swimming holiday destinations. Before I knew it, I had booked Greece for July 2016.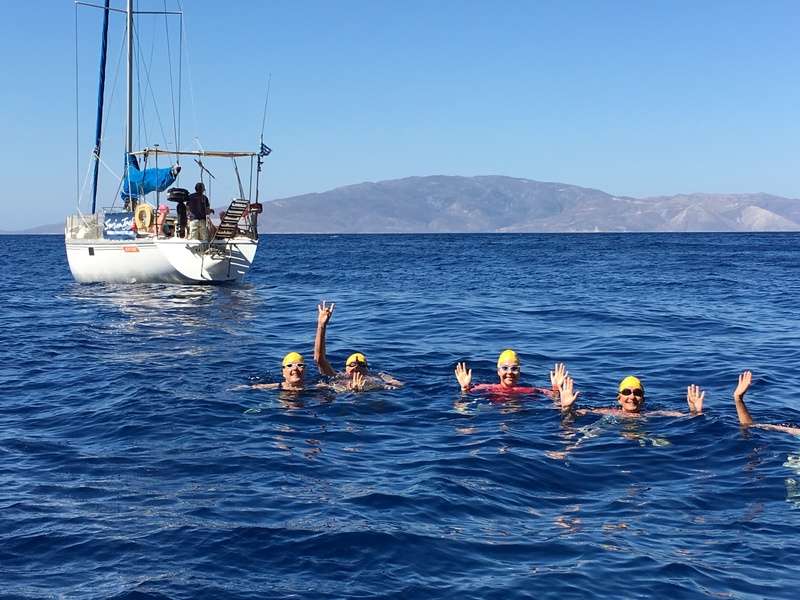 The great outdoors that is the lower Cycladic islands around Naxos, Schinoussa and Koufonissi were calling. Once again I had seamlessly selected a ruggedly beautiful Coast line dotted with eucalyptus trees in parts and arid beyond imagination in others. This landscape, a welcome relief from the daily banalities of spreadsheets, the FT and queuing for the tube, was made even more beautiful by the blanc holy trinity of whitecap waves, white sails and white seagulls. Of course in keeping with the spirit of a swimming holiday it was also complemented by awesome swimming technique improvement, a fun group and guilt free eating to enjoy a flotilla's worth of feta cheese.
What better way to end a Greek swimming odyssey than with more adventure! Awaiting me was another lovely swim planned in Devon at the Dart 10k with the Outdoor Swimming Society. Post Greece SwimTrek I kept my training going outdoors at the Serpentine with the club, the oh so amazing gym Third Space and the iconic, Olympic London Aquatic Centre. SwimTrek were also onboard with this epic swim, playing host on the "island" feeding stations. Once again the unmissable neon orange tshirts would grace us in the water to help us enjoy yet another great swim. Mixing up my training caps between SwimTrek pink from Sardinia, yellow from Greece and the previous year's Dart swim kept me focused until the big fun weekend in Devon.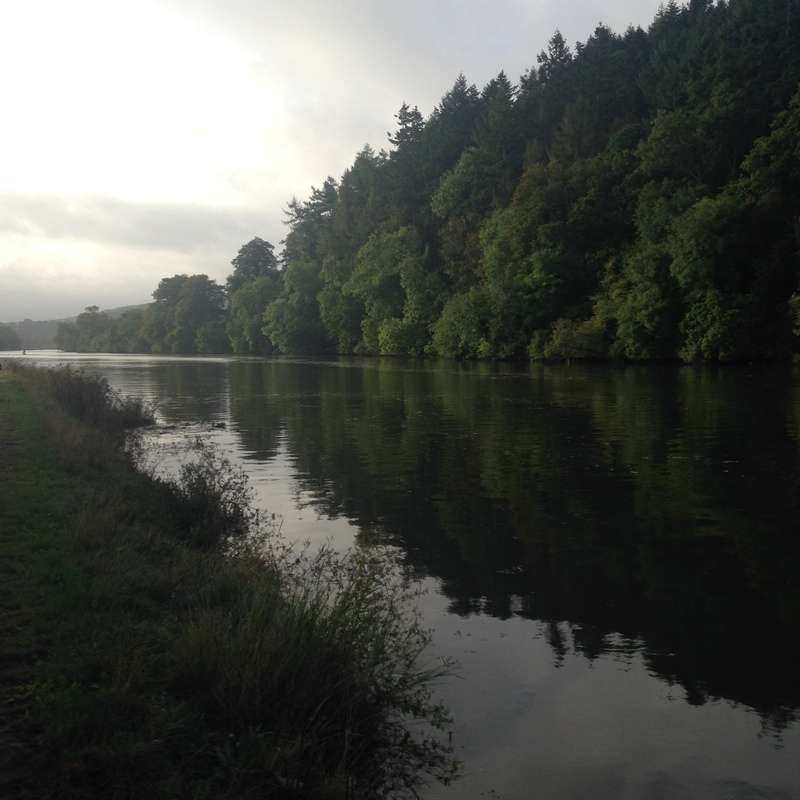 So what's next? Saturday morning serps races.. Captaining a Channel relay for the Serpentine Swimming Club.. Surely, but of course Dart again.. Oh and running my work swim group off the side of desk. For anyone who loves swimming, this list I've laid out sounds pretty good.. Oh and surely, top of the list, planning another SwimTrek .. the idea of an adventurous holiday swimming in the great outdoors seems practically essential!
To follow my adventures, follow me @whatisonmyshelf on Twitter and Instagram.