With stunning waters, great food and like minded people, it's not unusual for friendships to form on a SwimTrek trip. For some something a little magical happens, and a romance blossoms. And so with Valentines day this weekend, we thought we would share some loving tales of SwimTrekkers who have found love on a trip;
Rib & Jon, Greek Cyclades, 2011;
So where will a love of swimming take you? It's taken us round Europe, down the aisle and to a maternity suite!
Jon and I met in early 2009 and we spent all our time together out on the bike, up on the fells or in a pool somewhere. We avidly worked at our fitness, getting ready for triathlons (including an iron man for Jon and a Half iron man for me) and loving being out and about together.
Jon had read an article in a cycling magazine about a swimming holiday.... I thought he was joking and I saw no reason anyone would go off to swim anywhere (finding pools a bit monotonous), but something from our discussion festered in my mind and the next thing, we had booked onto the 2010 Dalmatian coast trip. Even as we boarded the plane, we couldn't actually believe we were going to swim for a week and decided that if we didn't like it, we could just hire a bike.......
I was hooked! Warm water, Dolphins, good food, good company and swimming next to the one you love in crystal clear water.... It didn't get much better than this!
Our group, the timeless island of Privic Luka, the clock that goes bong at the weirdest times of the day, the fresh seafish, the sunsets, the swims....
So the next year saw us heading for the Greek Cyclades trip in May (2011). Our outward flight was cancelled and we arrived in the dark, later than everyone else, but yet again, the fantastic swimming, sun on your back, fab people, beautiful boat and lots of laughs all added up to a wonderful second SwimTrek. On the final morning, it was off for the sunrise swim, and just as the sun slipped over the horizon, jon produced a ring and proposed!!! Very beautiful and very memorable!
We were married in March 2012 in Greystoke and had our reception on Derwent water, with the first morning of married life spent with our hardiest friends in a swim in the lake before breakfast! The snow on the fells made for fab pictures but chilly temperatures!
In April 2013, we were lucky enough to give birth to a wonderful bundle. We had lots of girls names, but couldn't agree on a boys, until in the final weeks of pregnancy, I was looking wistfully at my SwimTrek photos and the beautiful island of Privic Luka took my thoughts away.... So when our son was born, we only had one name... Luca, to remind us of beautiful, happy, sun-filled days, with optimism and peace..
So, thank you SwimTrek, for making us swim better and for making us come closer together!
Rib, Jon and Luca Williams
Dirk & Susan, Emerald Coast, Sardinia, Sept 2014;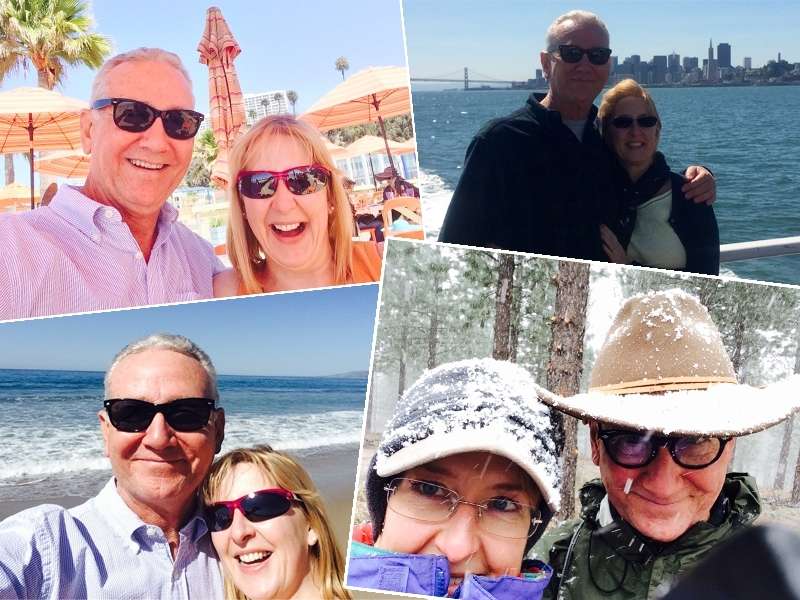 It was a fantastic week. Trish and Piers were great guides and the 14 swimmers coalesced into a fun and cohesive group.
After Sardinia, I [Dirk] visited friends in Sweden for two weeks but found myself thinking about what made that SwimTrek week so good. The water was warm and clear, the hikes were fun, and the food was delicious, but I kept thinking about our conversations—three in particular. I thought about where we were and who was there for each. All were in different settings with different people, except Susan. She was in all three. Hmmm….
I sent Susan an email, asking if I could visit her at home in Sussex on my way back to California. She warned me about her yowling cat and that she'd be working. But I accepted her offer, exploring the south coast by day and talking with Susan in the evenings. We had a big dinner out the night before I left. It ended with a kiss that surprised us both.
Many emails and internet chats were followed by Christmas in England, Easter in California, last summer together, and a wedding in Worthing next month.
Chrissie & Paul, British Virgin Islands, 2014;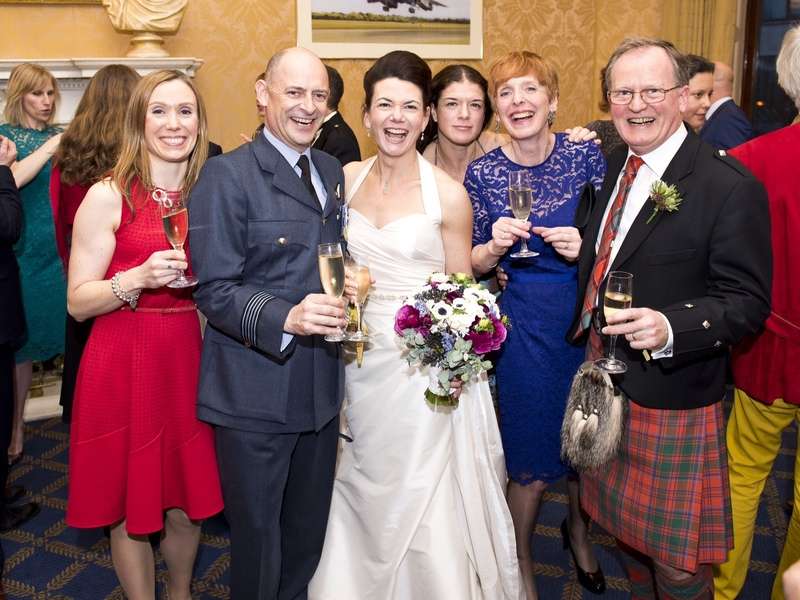 It's a true story of serendipity as were were living on opposite sides of the Atlantic when we met on the BVI trip in March 2014. I was in London and Paul in Washington DC (he's in the RAF and was posted there). We got married just before Christmas and for our honeymoon we sailed around the BVI where we met swimming. It was amazing.