In 2016 Surfers Against Sewage had their most successful national beach clean. With 946 beaches cleans, 19,500 volunteers and 64 tonnes of marine litter being removed from the coastline. So when we at SwimTrek heard that they would be running another campaign this year, we jumped at the opportunity to be involved. With another bad winter of storms across the UK, our beaches up and down the coastlines have suffered. SwimTrek HQ is only meters from the coast, and with most of the office being regular sea swimmers, we are all passionate about keeping our beaches clean and safe.
So on the 9th April, SwimTrek HQ closed our offices for few hours, to begin our beach clean event. Heading down to our local beach (with bin bags and gloves in tow) we met a bunch of willing volunteers that had chosen to take time out of their day to help us. With the sun shining, sprits high we began walking along a 1km stretch of the beach, collecting rubbish.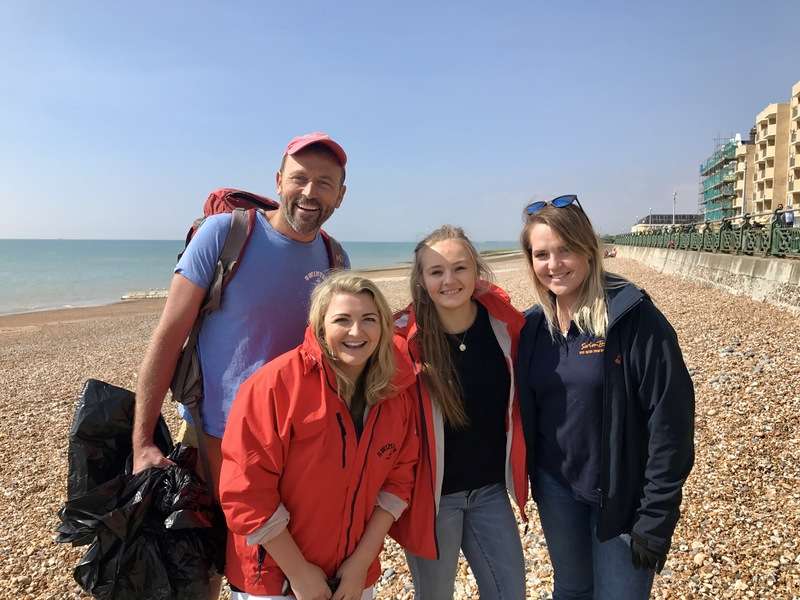 Now I am sure that I don't need to go into full details about some of the items that we collected, but as a local I was shocked at the amount of rubbish we collected in such a small percentage of our coastline. Having worked as a beach lifeguard for 2 years I know that, that particular beach is mostly used by locals, and very rarely will you see a group of travellers/tourist hang out there. For me I see the beaches as a extension of my home and I treat it as such. Now; a fair amount of this rubbish was brought in from the sea. Such as abandoned fishing rope, pallets etc.. However there was also a vast amount of plastic bottles, paper cups, glass beer bottles and left over BBQ's. Items that could have only been left by beach goers the from the previous days.
Here are some facts that may surprise you:
4.5 trillion cigarette butts are dropped every year. It can take over 10 years for a cigarette butt to break down.
More than 320 sanitary items are found per mile of beach in the UK
99 plastic bottles were found per km of UK beach in 2015. It takes at least 450 years from a plastic bottle to break down
There has been a 140% increase in plastic litter since 1994.
1 million sea birds are killed by plastic annually
100,000 marine mammals and turtles are killed by marine litter annually
At least 267 marine species have suffered from contact with marine debris
80% of marine debris comes from land based sources
Yes, these facts are quite surprising, however this is changeable. If everyone was to make small changes into their usual beach visit routine, we could make a huge impact. Such as picking up litter when you see it, choosing to use a reusable water bottles rather than a plastic one and lifelong carrier bags. These are just a couple of things, but when you think about it the options are endless, into making an overall large impact for our coastlines.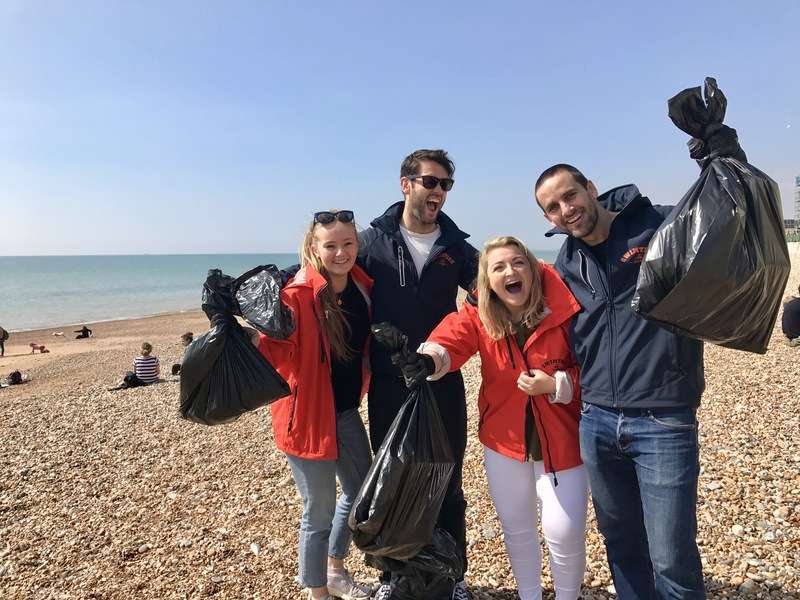 Overall everyone that was involved on the day had a great time and it was very rewarding to know that we had made an impact to that beach, even if it was a small one. It was great to get to know each volunteer and why they chose to help out, and their dedication in keeping our beaches clean.
Beach cleans happen thought-out the UK during the year, if you are looking for a rewarding day out I would highly suggested signing up to one. Who would have thought picking up rubbish would have been such a fun afternoon out!