My first SwimTrek experience came in 2014, I had a vague recollection of a work colleague telling me about a holiday she had in Greece where you swam from island to island, this type of holiday always appealed to me and the idea stayed with me until about 10 years later when I was finally in a position to find this holiday! Google led me to SwimTrek, it was very easy to make contact and talk about what holiday would suit me best. I went for Croatia short swims as a friend with less open water experience was planning to join me. In the end, they weren't able to come, but I went ahead with the week as planned. I could have handled longer, but for me, it was the perfect holiday as it was. I really fell in love with open water swimming here with the crystal clear, calm and warm waters. At no point on this week was the focus ever on swimming hard, there was always something to look at, no matter what swim we were doing. It's fair to say I was hooked after this week and it became a matter of when, not if there would be the next trip.
I had swum competitively as a child, so swimming was never something I struggled with, but I do remember my first open water swimming experience and the panic from the effect of the cold on your chest, making you think you can't breathe. Over the course of a few years, I gradually got over it, but I don't know if I could ever really say I loved it, it was just a thing I could do.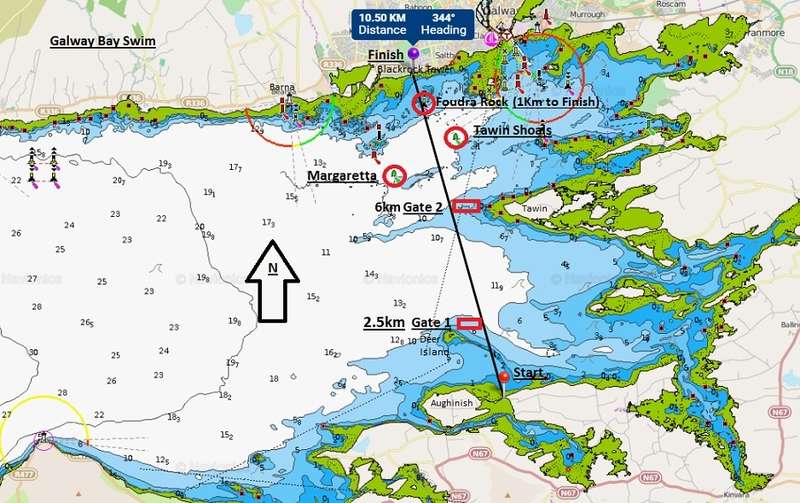 My first BIG open water swimming experience came in 2012 when I completed the Frances Thornton Memorial Swim (13K) wearing a wetsuit and on a year with very difficult conditions. In the lead up to this swim, I did become a lot more confident in the water and gained some good experience swimming in all conditions. As it turned out on the day the training conditions seemed to match the swim day conditions and all I remember of that year is chop, wind, rain and a lot of thinking this is what it must be like in a washing machine. After the swim, I said never again and I really did think that way, until I began to enjoy open water swimming again, this started on Galway Bay in 2014 when we had a week of beautiful weather (a full Irish summer) and I decided I couldn't cope with swimming in a wetsuit anymore. Off came the wetsuit and since that swim I've never looked back. The same year was my first SwimTrek experience in Croatia as described earlier.
At the end of 2015, I wasn't near a body of water where I could do any decent training, but I did have some time off approaching. I knew there was only one type of holiday I was going on and once I knew the dates, I was straight on the phone to the SwimTrek office. The Greece Activity Week was the only option available and while it wasn't my first choice I was happy to be going anywhere that swimming was on the agenda. I was very excited when I saw the guides for the trip as it meant being re-introduced to Sian who had inspired me with channel dreams in Croatia. On the first day, I befriended fellow swimmer Andrea, who features in the adventures to follow. By the end of the week, I had already booked the 10k training camp in Mallorca which was a brand new trip and I was very excited at this concept of not quite a holiday, not quite long distance training camp. For me and the goals for the year ahead, this trip was perfect. At this stage, I had recruited Andrea to join me in both the 10k training camp and the Galway Bay 13k swim.
The 10k Training camp began with meeting the guides and the other swimmers. We started with the introductions; Cliff was particularly interested in finding out why we were there and what the greater goal was. Most people in the group had a goal and three of us (Andrea, Rory and me) had the same goal being the Galway Bay Swim. From here we went on to dinner which was complete with birthday celebrations for me and fellow Irish swimmer, Gerry who had come all the way from Dubai, craic out of the way down to swimming. The water temperatures started out around 15 degrees rising to 16 and the majority wore wetsuits. Before joining the training camp I had a grand total of one 1k pool session and a dip in the Atlantic (a panicked acclimatisation effort) which at this point was a toasty 9 degrees and that was the one time the wetsuit has gone back on since I first changed to swimming in skins. Everyone is different in how they prepare for things, I booked this week as a kick start for my training for the Galway Bay Swim, it seemed to me that a lot of people had actually been training for the training camp which made zero sense in my head but was perfectly logical to everyone else. Despite the given approach this was the perfect start to the Galway Bay Swim training, as despite it being located in Mallorca it was a very good match to the expected conditions for July in Galway. My "training approach" did end up meaning there was probably more hardship involved on this week that might have been if I had done something more than one dip to try and get used to the cold water, yes coming from nothing 15 degrees is cold! The week was really well planned, as always building us up to the 10k swim and allowing adequate recovery for each swim.
We did a 5k swim in preparation for the 10k swim. It was structured in the same way with a 1k lap and had boat feeds available if you wanted to practice. This was my first experience of real hardcore shivering and to be honest, it did almost break me, I have never found anything as hard as that 5k swim, but I did keep going out of pure stubbornness and out of trust for the swim guides. I knew if I became an issue of safety they would have pulled me out which helped bring back my mental toughness. It did take a while to warm up after, so that tells me that 'yes' maybe it was a bit more than just my mind screaming at me, but it's nice to see how you can push your body and great to have these experiences with people you can trust. The next swim was in the morning and the mind was still playing games; I was sick and not able to get any food in that morning which gave me a bit of a wobble. I did eat a whole pizza the night before so the muscles had the glycogen in there, so again no excuses! This swim turned out to be the one which got me back to my happy swimming place and the one where we discovered 'by the wind sailors', a pretty little member of the jellyfish family but luckily not a stinger. This was a beautiful 4k swim that started a bit out from the coastline as there was mild chop, but these are the conditions which seem to suit me best and the cold was the last thing on my mind. The sun was out and the cold wasn't even an issue. After about 1k of coastal we turned into a bay where the waters turned a lovely clear blue and some cave exploration was an option. I was feeling so good on this swim I did run up onto the sandy beach for some headstand action before jumping back in and joining the group. We continued on to another beach and carried on for about another 1k before getting back on the boat ready for some lunch. This was a really enjoyable swim and came just at the right time to get the confidence back before the 10k. The 10k itself we did in a cove. I was one of a few in skins on that swim and one of the slowest, taking 4hrs 20 to complete it, but at the end of the day that is the longest time I have done in the water in skins so it's all little things to keep in the memory bank to refer back to when you think you can't do the next thing. This swim as well as the 5k both stood to me massively in completing the Galway Bay Swim, as it turned out in Galway Bay on the day of the swim waters were warmer than Mallorca but had more jellyfish and no Sian and Ricky fishing them out! This swim actually only took me 3hrs 44 mins so the 10k in Mallorca is still my longest time in the water in skins and the 5k will forever be my bar for asking myself am I really that cold.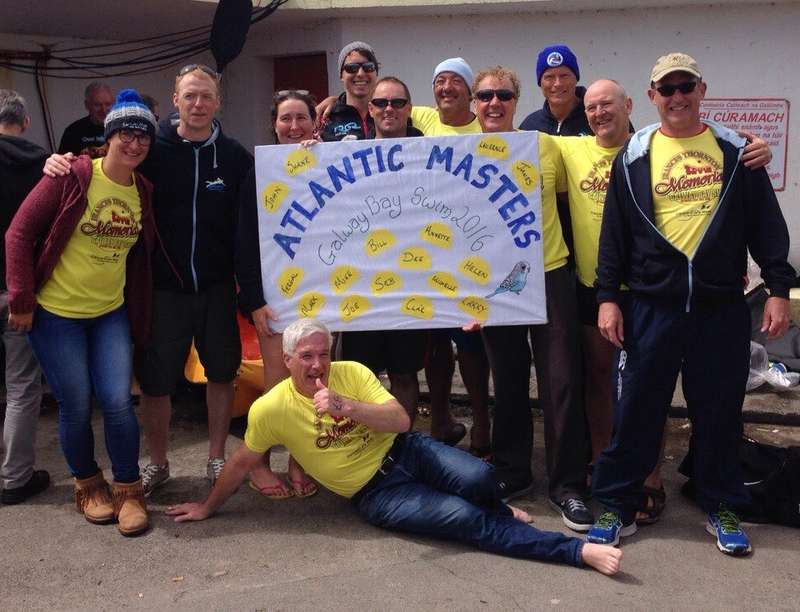 The Galway Bay Swim began in 2006 with three local guys wanting to push the boundaries beyond the regular swimming spots and raise some money in the process for a charity close to their hearts. Kevin Thornton was one of the original three to complete this swim and at the time his mum Frances was undergoing treatment for Cancer. As she was being supported by Cancer Care West, this was the chosen charity and this charity continues to provide free services to cancer patients in Ireland as well as undertaking cancer research. In 2008 the swim was renamed the Frances Thornton Memorial swim after she died and since then over 250 people have completed this challenging swim with well over €500.00 raised for Cancer Care West. People take on this swim as a personal challenge, as a stepping stone to another challenge or in memory or in support of someone they know who has died or is currently fighting cancer. For me to do this swim again but in skins had been the goal, but after the 10k training camp, it became a stepping stone on the way to the channel. In the first 2k of this swim I had the fears which seem to pollute the start of every swim no matter what distance and I said no I'm not into this why am I doing it but to be associated with this charity and to have your health for once it was quite easy to shake off that thought when you think of the long road of treatment people have to endure with no choice in the matter. I have real hopes of a channel solo and have become a member of a channel relay team made up of swimmers from that 10k training camp. Cliff was truly inspirational in his talks with us and he cemented the idea that Sian had originally placed in my thoughts back in 2014. In recognition of the week where the team was born our channel team is called 'by the wind sails' after those pretty jellyfish type things and the team is myself, Andrea and Steph who was also on the trip.