Of all the bucket lists doing the rounds out there, this surely has to be one of the most obscure. These aren't your steamy infinity pool haunts or crowded natural wonders – these are places that offer the ideal conditions for Ice Swimmers and chasers of Ice Kms (one km in water under 5C without gloves, neoprene socks or wetsuits) and Ice Miles (same as before, only a mile distance)...
Cryotherapy is growing in popularity and more and more swimmers are looking for the endorphin kick that extremely cold swims hold. These black waters and rugged locations might not look too inviting, but in terms of serving up a unique environment and the specific conditions coveted by the mad and the brave, they're nigh unbeatable.
The question is – what does an Ice Swimmer want from their dream spot? We know the water has to be sub-5C to count as Ice Swim ready (this is officially ratified by Ram Barkai and the International Ice Swimming Association). Some prefer to measure their distances in enclosed environments, like outdoor lidos. While others resent the opportunity to stop at the end of each length. Many insist on saunas, dry robe access or warm showers for the dreaded recovery. There also has to be room for essential support to stand and watch, or for a kayaker to paddle nearby.
Whatever it is each swimmer requires, their needs become paramount when the after-drop descends and cuddling warm drinks turns to letting warm liquid fly from shuddering hands. To learn more about what to expect in sub-5C waters, check out our new Introduction To Cold Water.
These following 15 spots/events all qualify as bucket swims for having the requirements needed to suit a range of ice swimmers. They're also pretty incredible to look at, which definitely helps!
---
15. Tyumen, Russia
It was the first place of Russian settlement in the cold mountainous clutches of Siberia. The winters here are long, cold and brutal. It's one of the best places to go in Russia for winter swimming, with ice pools and freshwater lakes, and also the location where the annual championships are held. In 2016, Jaimie Monahan swam here and became the First Female to swim an 'Ice Zero' (0C) Ice Mile, which was ratified by the International Ice Swimming Association (IISA). The bristling air temperature hovered at around -30C.
---
14. Lake Wohlen, Switzerland
Switzerland has more than her share of steamy Instagram-friendly spa and resort pools. And yet, from December to March, many of them are shunned for various cold water capers. Among these are countless New Year's Day dip and sauna combinations and longer distance event swims in places like Lake Wohlen, where the calm waters often sink to sub-5C.
---
13. Brockwell lido, UK
Brixton Beach, in South London, is crammed with hardy folk who bust out Ice Kms and Ice Miles before retiring to the coal-fired sauna. In fact, a local swimmer called Julie Reynolds swam an Ice Mile here one morning and then swiftly went to work directly afterwards. By December, the temperatures are usually teetering on sub-5C.
---
12. Lake Bled, Slovenia
Slovenia is famous for its lakes and rivers – not to mention little heaven-sent chunks of delicious Bled Cake! A popular SwimTrek location in the warmer months, Lake Bled hosts winter swimming events in partnership with the local tourist board. There's a venue below the Grand Hotel Toplice and it's close to Triglav National Park, which offers all kinds of snowbound activities. In 2015, the waters invited 60 international plungers into water as low as 4C.
---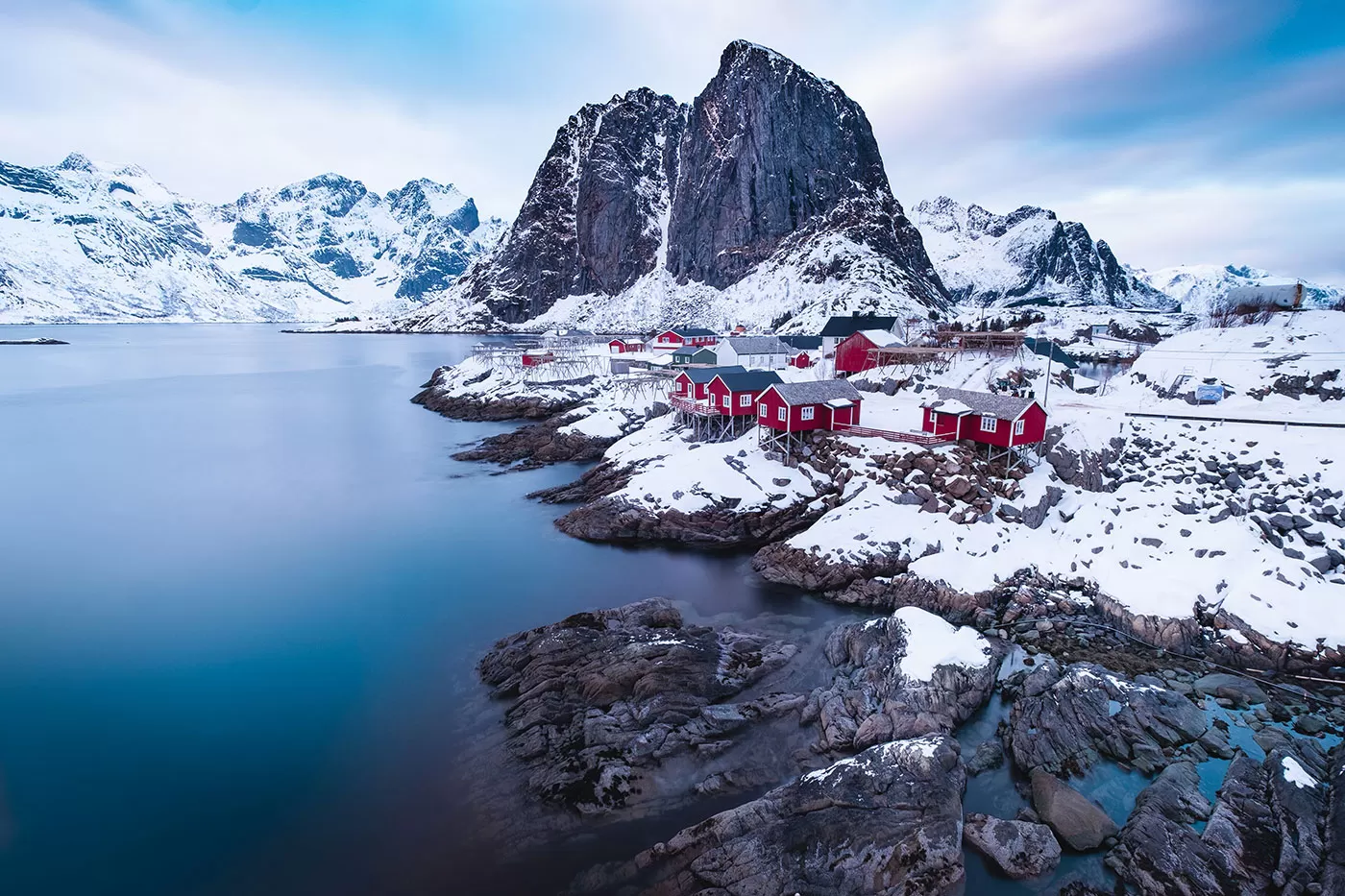 11. Lofoten Islands, Norway
Photographers flock to the traditional Norwegian cabins and stilted fishermen huts here in the far-flung archipelago of Lofoten. Glassy waters patrolled by orcas and sea inlets, bays and small lakes offer the perfect setting for wild Ice Swim practice. The water is pristine, shallow and clearer than you could ever imagine. You can swim surrounded by glacier-carved mountains in easy-access spots, like the small fishery of Kalle or Svolvaer Harbour.
---
10. Maloti Mountains, Lesotho
Ice Swimmers are often driven to the mountains in search of suitable temperatures – here, in the highlands of Lesotho, ice swimmers can seek out untested frozen pools and lakes, with various ice-cutting devices in hand. The high altitude presents an altogether different challenge and a much longer period of time is needed to test the waters and acclimatise properly.
---
9. Cairngorm National Park, Scotland
Followers of photographer/adventurer Calum MacLean will know a few of the many moods this national park conveys. Icy waterfalls, lochs and rivers scatter the undulating landscape and spots like An Lochan Uaine and Loch Morlich serve up ideal conditions for would-be Ice Milers, wrapped in pine forests and protected from prying eyes.
---
8. The Allas Sea Pool, Finland
Finns have mastered the art getting cold and warming up on the right side of an afterdrop. Helsinki's Allas Sea Pool is a great place to get into ice swimming for the first time – a floating pool complex situated in the city's central harbour. It's open to everyone and the lifeguards are always on hand, as well as a collection of heated pools and nearby saunas to thaw your numb extremities.
---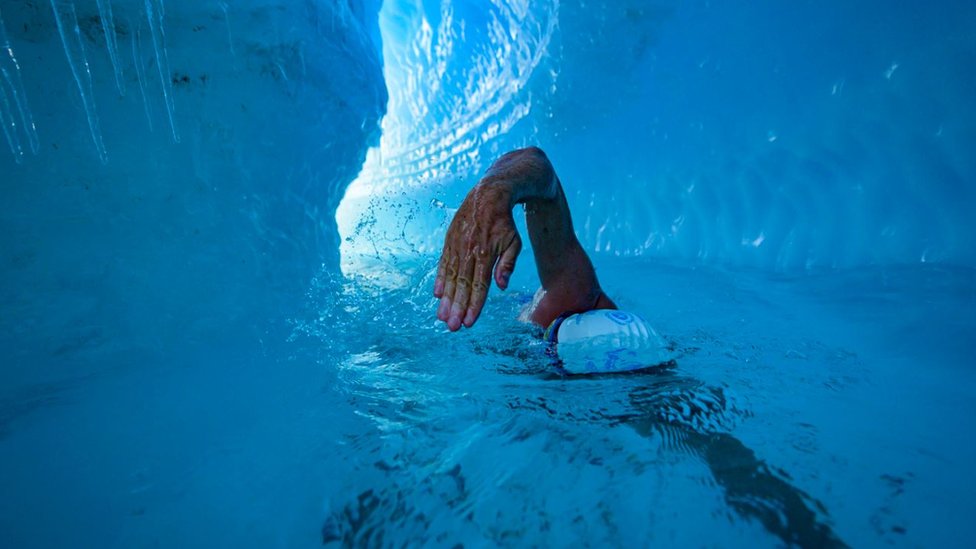 7. Antarctica
As you can imagine, Antarctica is Zero Ice Mile territory, with huge swathes of haunting open water, edged by ice floes. Swimmers like Cath Pendleton, from Wales, venture out here to complete their distances under close supervision (Cath swam her 8th Ice Mile here). It was also Antarctica where legendary endurance swimmer Lewis Pugh completed his recent 10 minute and 17 second sprint swim, under a creaking ice sheet. The path he took has only opened up due to the impact of global warming. His hope was to show the world that the frozen continent is melting, with over 65,000 supra-glacial lakes in the region encircling his swim.
---
6. The Forty Foot, Ireland
"The Irish love the ice…" – so the saying goes. Of course, St Patrick's Day never fails to draw a crowd of wave-bound folk, wintered and ready for a good ice swim. One of the most popular spots for locals to get their fix is the Forty Foot. This stair-carved outcrop leads down into the bracing grip of the Irish Sea and has a backdrop of Martello tower. It was also featured in the opening chapter of James Joyce's Ulysses.
---
5. Nauthólsvík Beach, Iceland
Naturally when thinking of Iceland your mind is drawn to geothermal pools and naturally heated pools. If you can resist the lure of such places, Iceland is also a haven for Ice Swimmers. There's a manmade beach in Reykjavik that's perfect for the job, with a hot spring nearby, so you can warm up post-dip. Swimmers visit the beach year-round and sometimes venture into the ocean beyond the cove.
---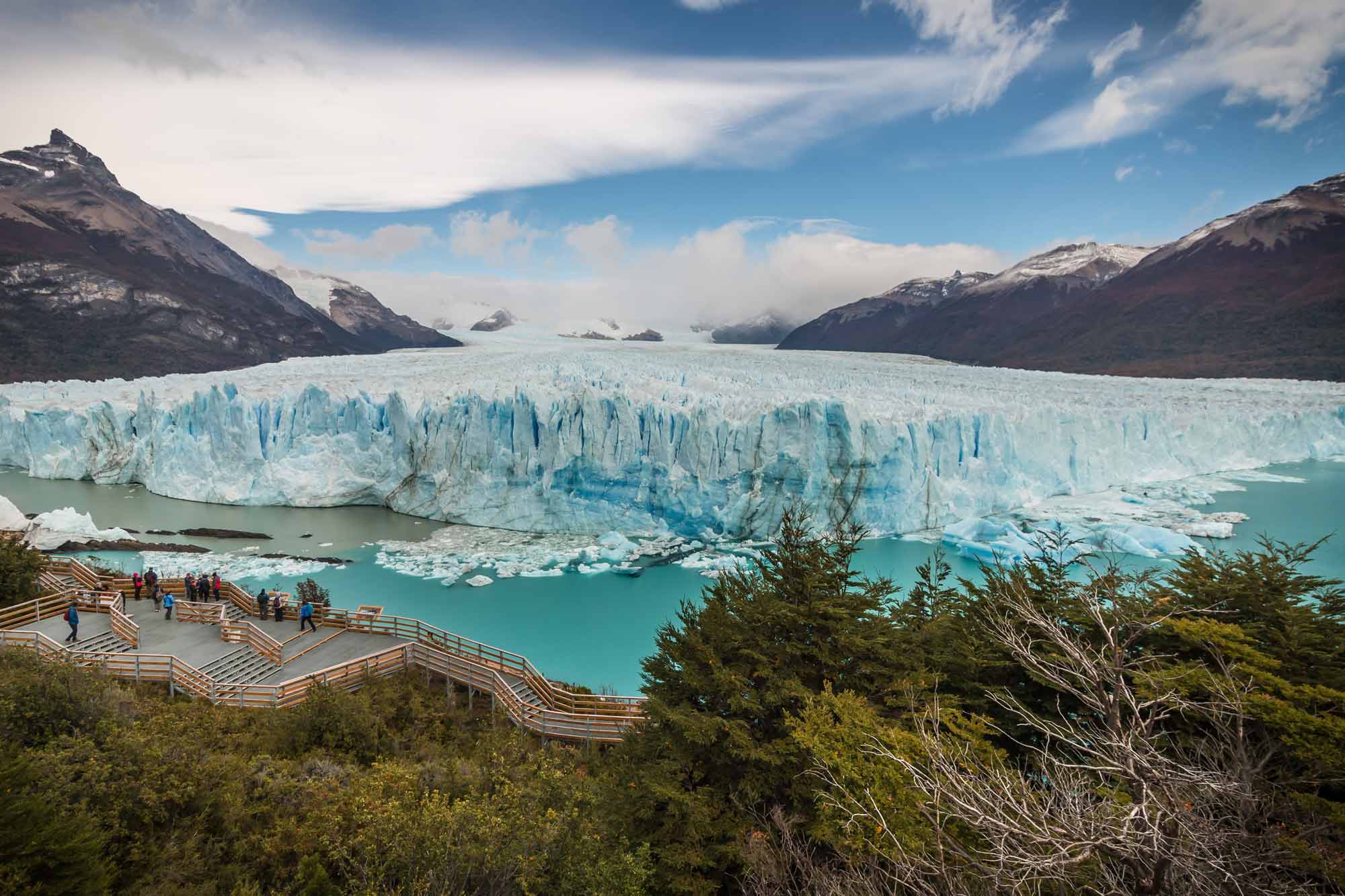 4. Perito Moreno Glacier, Argentina
Here be tough-as-coffin-nails grandparents! In a remote part of Argentine Patagonia, on the southern fingertips of South America, sits this stunning blue glacier. It was here that an ice swimming pilgrimage once turned up with 53 extreme swimmers, including 67-year-old Margot Anderson. They then strode in together into still, ice-encrusted water that was close to freezing – "If this is the last thing I do in life," said Margot, "I'll go with fullness."
---
3. Daming Lake, China
Daming Lake, in Jinan, is the largest lake in the city, fed by nearby karst springs. Huge armies of swimmers (sometimes up to a thousand-strong) arrive here from different corners of the globe and take part in winter swimming events. Swims range in distances and difficulties. Some take place in a floating lane pool built in the lake and others span the shivering distance from Lixia Pavillion to the banks of the lake.
---
2. Coney Island Beach, USA
Home of the Coney Island Polar Bears, there's an annual winter dip that unleashes swimmers onto this beach on New Year's Day. Deep within the soaring heart of New York, hundreds of sprinters disappear at intervals into the icy shallows – a long-standing tradition that raises big sums for charity and usually goes ahead regardless of blizzards or snowdrifts.
---
1. Tern Lake, Alaska
Finally, the placid waters of Tern Lake, on Moose Pass, can be found on the forested Kenai Peninsula, where the Sterling and Seward Highways meet. The lake waters are likely to get a few subdued screams and sighs from most swimmers, but the views all around you, and the possibility of spotting a resident moose, are surely worth the initial raw shock.
---
Take a look at some of our colder trip options, from maelstroms to sleepy rivers, with our selection of UK swimming experiences!