Nothing beats the freedom and the beauty of swimming in the open water, but if you're landlocked or unable to get to your nearest river, lake or seaside, then an open air pool is the next best thing! We've picked out some of the most beautiful and interesting lidos from across the country. How many have you visited?
Saltdean Lido
Right on the doorstep of SwimTrek's offices, the stunning Art Deco Saltdean pool was originally built in 1937 and enjoyed many years of patronage until it was permanently closed in 1997. But following almost a decade of passionate fans campaigning for the building to remain standing, it was restored and reopened to the public in 2017.
Tooting Bec Lido, London
This iconic London lido has become a firm favourite within the open air swimming community. Lined with its brightly coloured changing rooms, it is the largest open air fresh water pool in the UK at 100 yards long and 33 feet wide. Tooting Bec is a particular favourite location of SwimTrek's, our London coach Dan Abel carries out private coaching and open water fitness sessions throughout the summer here. If you're interested in sessions at Tooting Bec please contact us at coachtootingbec@swimtrek.com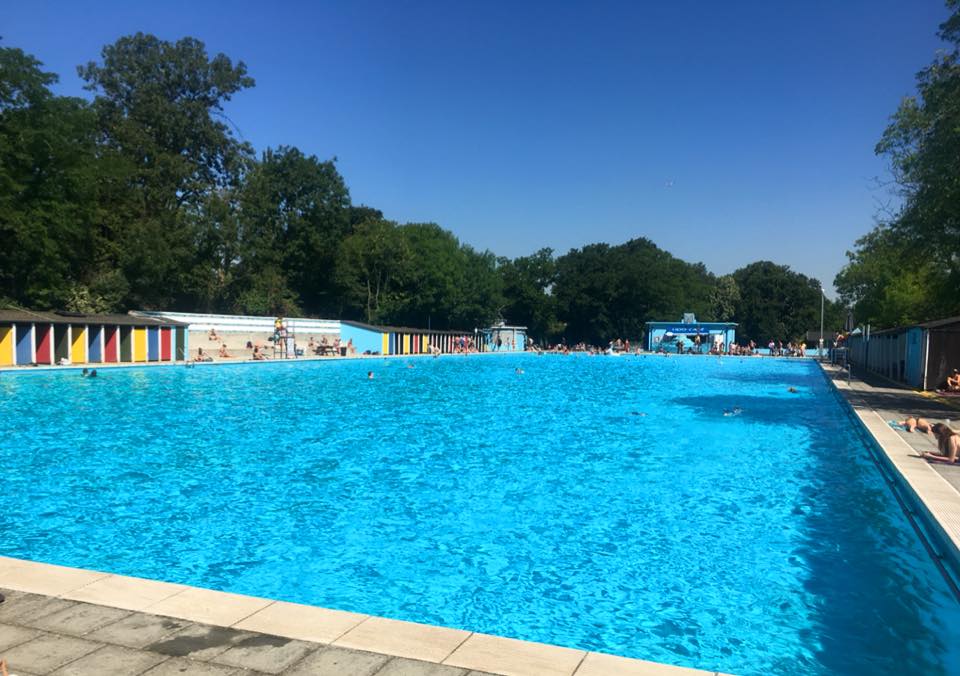 Photo credit Tooting Bec Lido
Tinside Lido, Plymouth.
Plymouth's stunning Tinside Lido constantly features in must see lists of the best outdoor pools across Europe. An unusual semicircle shaped pool, the stunning art deco inspired lido is only open for the summer months, so be sure to visit and take in the impressive view of the English Channel from the pools edge this summer.
London Fields Lido
Set in the London Fields green space in Hackney, London Fields reopened to the public (having previously been known as Hackney Lido) in early 2018. A 50m flood lit pool, enjoy some open air lane swimming in East London, and when you're done with training, you can hit the sundeck for a spot of sunbathing!
Lido Ponty, Pontypridd, Wales
The National Lido of Wales, Lido Ponty is a Grade II listed site and, like many of the UK's oldest lidos, underwent considerable refurbishment in recent years and reopened to the public in 2015. With 3 pools and a variety of activities available on site, Lido Ponty is the leading aquatic attraction in South Wales. Any visit to the lido is also worth stopping in the visitor centre, filled with charming black and white photos of the original Pontypridd Swimming Baths.
Jubilee Pool, Penzance
With the palm tree lined terraces and whitewash walls, you could be forgiven for thinking you were somewhere along the Mediterranean rather than the southern Cornish coast, but the Jubilee Pool in Penzance stunning cubist inspired waterside lido has been a feature in the town for over 80 years. With a new fundraiser currently in the works to pay for a geothermal pool, exciting times are ahead for the popular, turquoise, open air pool that looks out across the sea.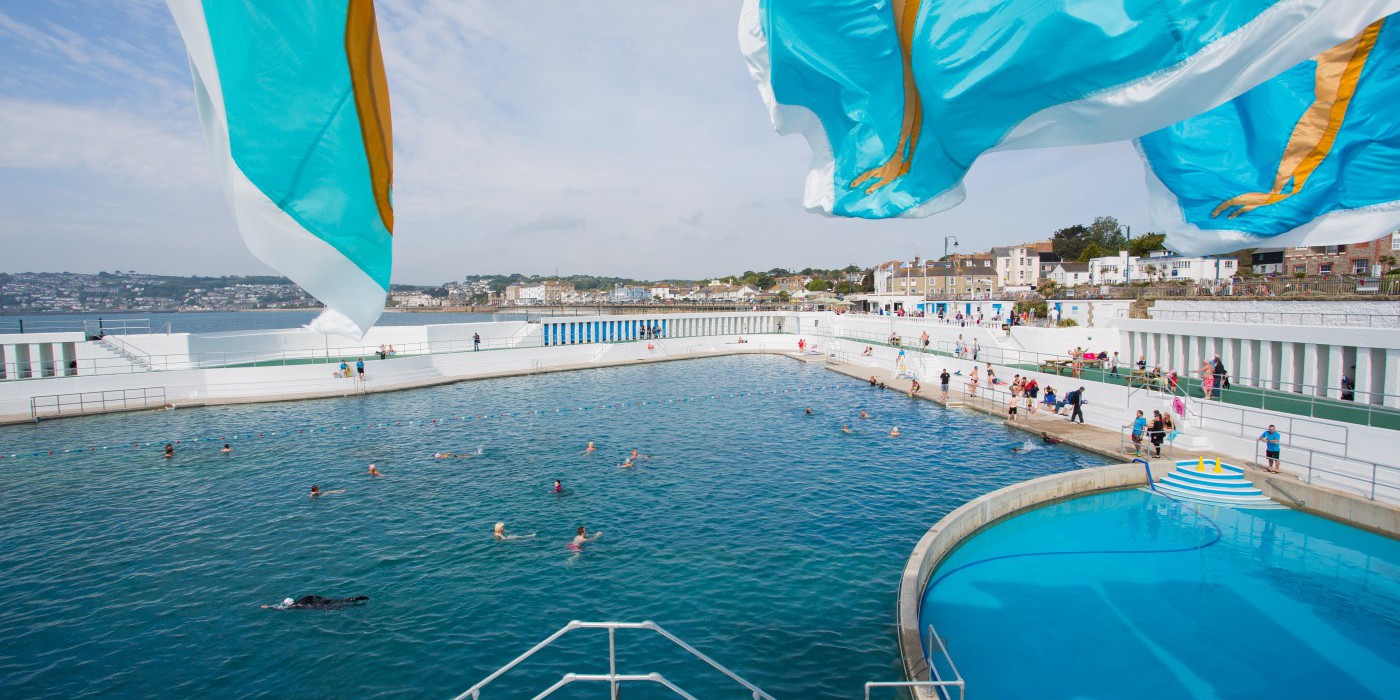 Photo credit Jubilee Pool
Thames Lido, Reading
Kings Meadow swimming pool (also known as the Thames Lido) is set on the banks of the river after which it is named in the charming Berkshire countryside. Following a refurb in 2017 by the team that transformed Bristol Lido, this Grade II listed building has stunning Edwardian architecture and rooftop alongside bolder features such as brightly painted doors and walls.
Pells Pool, Lewes
A charming little pool set in the stunning historical county town of East Sussex, Lewes. A simple open-air pool to enjoy a sunny open-air swim or a day out by the water side, Pells Pool offers affordable open air swimming in the South East of England, as well as hosting exciting events throughout the summer such as adult night swims and a summer solstice swim.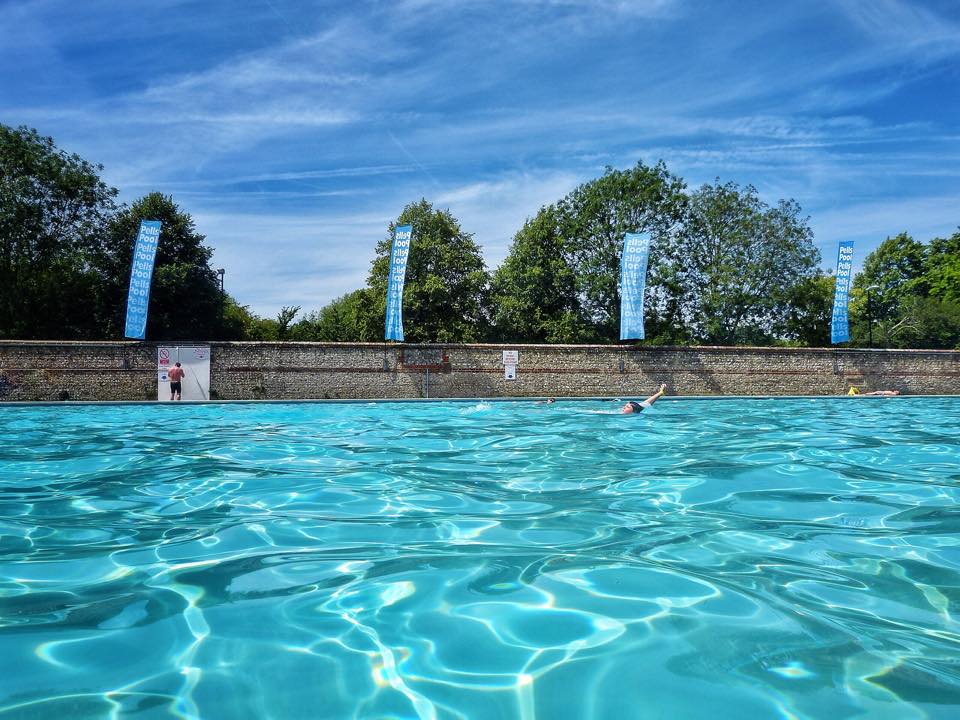 Photo credit Pells Pool
Stonehaven Lido, Scotland
Stonehave is the UK'S most northerly lido on the Eastern Aberdeenshire coast. When originally opened in 1934, the pool was filled with sea water and was also heated! Though the lido has had stints with fresh water, the pool has since returned to its saltwater roots. The pool is now a strong attraction for families, with a water slide and regular inflatable sessions.
Brockwell Lido, London
Situated in Herne Hill and a year-round open water favourite, Brockwell Lido is an Olympic sized 50m pool that is open for regular general swims every day as well exciting events such as the Luna Cinema and a Christmas Day swim! Brockwell Lido was also the inspiration and setting for the recent Libby Page novel The Lido.
Ilkley Lido
A lido with a strong community focus, Ilkley lido has an unusual shape that is resemblant of a mushroom! Surrounded by green lawns and set just outside of the Yorkshire Dales, a trip to this pool can satisfy your open air swim craving as the nearest seaside is over 65 miles away by road!
Bristol Lido
Another stunning small city based lido, the Bristol Lido boasts a boutique feel with its floor to ceiling windows looking out onto the pool and quaint pastel coloured changing rooms. Industrial style large metal beams feature throughout this Victorian building which offers a restaurant and bar as well as spa facilities.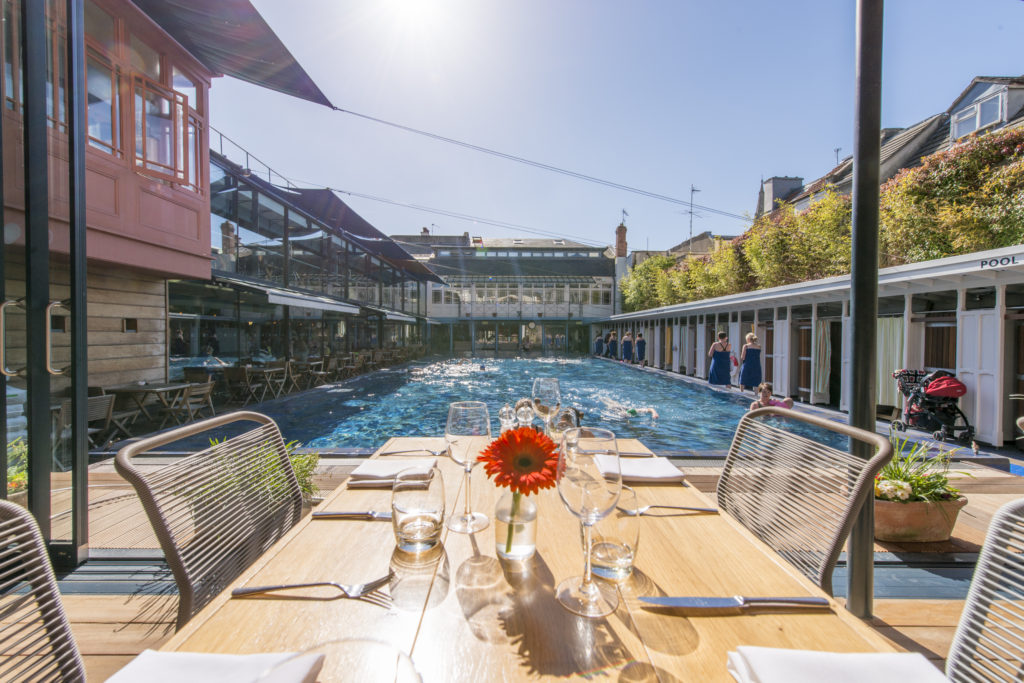 Photo credit Lido Bristol
And coming soon…
Sea Lanes, Brighton
SwimTrek are excited to be part of an exciting new development on the Brighton seafront, combining a new open air swimming pool as well as retail units, exercise studios and the new SwimTrek HQ offices! More information can be found at sealanesbrighton.co.uk