After several years without a 'big swim' Senior SwimTrek Guide Telly took on the Sri Chinmoy Marathon Swim in Switzerland in August 2019, a 26km around Lake Zurich. Here she takes us through all the emotions she felt on the day and all of the aspects that made the swim so special for her!
I had been thinking about doing this swim since I first applied for entry in 2013. I applied again in 2018 and got my place. That was in December. I guided some SwimTrek trips to some amazing places and I attended (my second) Long Distance Training Camp as a guest. Some more trips guiding and then suddenly it was the end of July and the swim was tomorrow! I knew I would miss it when it's over, so here are some of my musings from the day.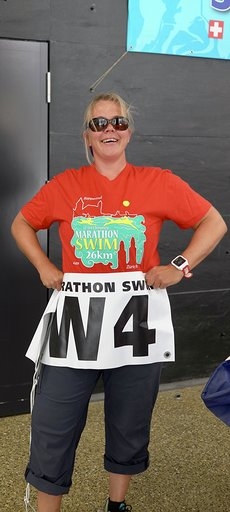 I had some misgivings about taking part in this event because I was nervous and worried: it has been 6 years since my last 'big swim'; I found I was lacking that sense of urgency and the abject fear that propelled my English Channel training all those years ago and I've had very inconsistent training in the lead-up (it turns out watching other people swim doesn't actually add much fitness…) All the same, I was excited and nervous in equal measure. I've been craving an 'all-day swim' since 2013 and I kept that thought as my main motivation and mantra in the many months leading up to the swim, managing to handle my own expectations by hoping to just make the cut-offs (at 14.3km at Meilen and at 21.8km at Küsnachter Horn) so that I wouldn't get pulled out and could spend as much time swimming as possible.
As soon as we arrived in Rapperswil my dear friend / colleague / support crew / personal SwimTrek guide Marlys and I went for a swim. It was 24°C in the water and it tasted sweet! I knew I was in for a treat. I could happily spend all day in that water. Now I really really wanted to make those cut-offs.
The swim was beautifully organised and the atmosphere was warm and welcoming. My boat pilots came to find me at registration on the Saturday and turned out to be Finnish speakers! Coincidence?! Heidi and Kurt are lovely people and invited us to go to see the boat straight away. You don't get to find out about your boat pilots until the day before the event, which was a little nerve-racking, for example, not knowing the height of the freeboard can make planning your feeds and the paraphernalia you might like to bring with you a little awkward, but as soon as I met them I knew there was nothing to worry about. I was also secretly pleased that I'd be able to ask Heidi "are we there yet?" in Finnish without breaking my promise to Marlys that I absolutely would not ask her about time or distance and that I would not want to know. I didn't want to wear a watch partly because it only causes frustration over long distances like this, and mostly because I wanted to burn off my watch tan.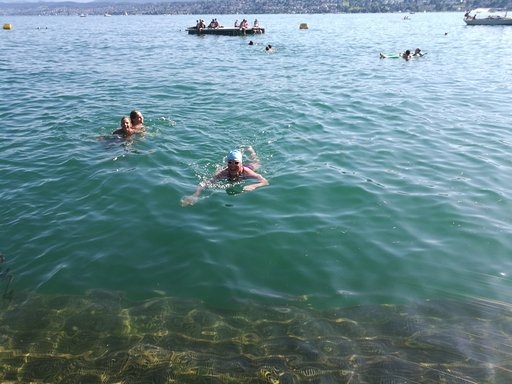 One of the things I like about long swims is the cleansing that happens with the detritus in my head. Weird thoughts, odd songs, and dark places, find their way out, entertain / torture me for a moment and then I leave them in my own wake feeling clearer-headed, happy and focussed. I was hoping that this swim, like previous ones, would provide me with some sort of a revelation; after all, last time I did this long a swim I ended up giving up my day job and becoming a Swim Trek guide. Unregrettably, I had no great revelations in Lake Zurich, I was having too much fun. Perhaps I didn't suffer enough – the conditions were too good to allow too much petulance to take hold. When you've got a day like we had (flat calm, air temp up to 30°C, water temp 24°C) you best be prepared to get those toys back in the pram before too long or the water nymphs will wreak their revenge.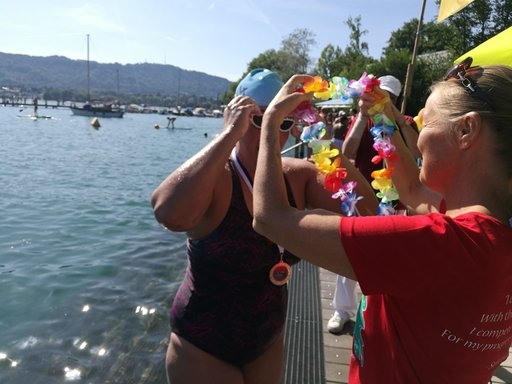 OK, I'll admit, it wasn't all brilliant, I did have a mental meltdown with the church at Meilen which is around the halfway point of the 26kms. Let's call it "Meilen Mental Meltdown 2019". That church was taunting me from afar, it never seemed to get any closer. In my childish annoyance, I refused to sight toward it for ONE THOUSAND whole strokes, counting with venom, and it still never got any bigger. But then all of a sudden it was so big that it seemed to take hours to leave it behind. Infuriating.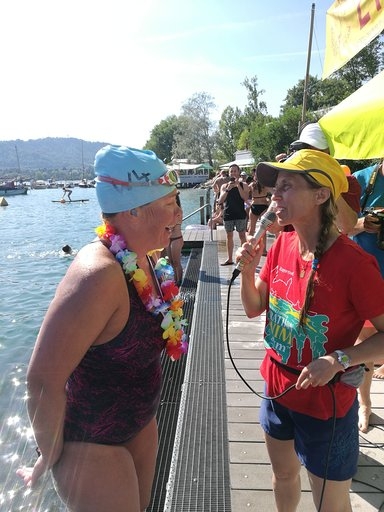 But you have to have some moments like those otherwise you might not feel as much of the amazing fuzzy feeling that you get from having amazing friends with you at times like this. At the next feed Marlys had put through a video call to my lovely [boyfriend] Ray back home who reminded me that I was finally able to swim all day. Sometimes hearing your own words repeated back to you mid-tantrum is a bitter pill to swallow, but boy did it cure my ills. After scoffing that pill down with a peanut butter smothered banana and chugging down another Ella's kitchen blueberry wonder-pouch and some other delights from my 'feed buffet', I had a much better time of it.
The highlights:
Marlys getting in and swimming next to me was fabulous and hugely uplifting. We spend much of our lives looking after other people swimming so it was wonderful not just to have my own personal guide looking after me but getting in to swim too.
Gratitude: when you take part in events like these, it's humbling how much other people put in to allow you to have your day: from all the volunteers in the event who transported out bags, arranged our boats, cooked our curry (confession: this was the ultimate goal and I had two helpings), organised the massages, and celebrated all the successes of all the swimmers, to the crew on your boat who keep you safe, and fed, and swimming in the right direction. I had a little cry into my goggles on the final stretch thinking about this and I'm very grateful to have had this experience.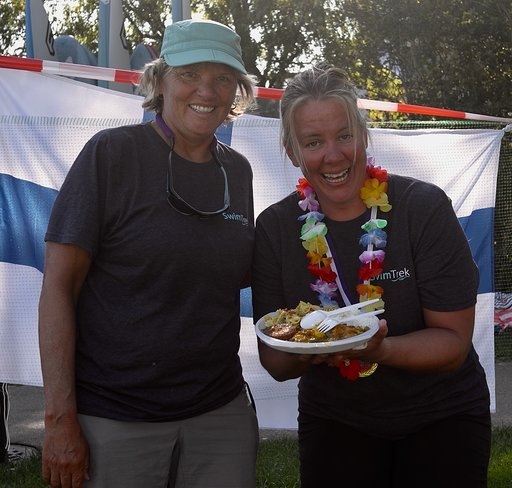 Speaking of crying into my goggles: I managed this at the beginning of the swim too. There was something particularly special that happened at this event and that was the realisation of the extent of my SwimTrek tribe. As I was preparing to get in at the start, a lady I had never met before came up to me and said, "Are you Telle?" and I said yes (partly hoping that the paparazzi of my imagination had finally caught up with my inner celebrity), and she said "Krešimir said to say good luck!" it was my good friend/guide-colleague Krešo's mother-in-law, Ursula, who lives by the lake! She also knew Marlys who guided one of her trips earlier in the summer and said to say hi to her as well. It was so touching that someone who didn't even know me took the time to come and say hello. I thought about that for much of the swim and it was a very happy thought. We saw her and her husband waving to us 6kms later from the shore, too! Thanks Ursula, it was lovely to have that encouragement and great way to start a long swim! Then, at the end of the swim, I found three other Swiss guests from various trips over the years, who live locally and came to say hello! It was so lovely to see them and such a touching thing for them to do. Thanks again to Lorena whom I met in Turkey last month, and Holger whom I appear to have been accidentally 'following around' on three previous trips, and Francesca whom I met in Lithuania many years ago. And a huge well-done to Monika who came second in the women's non-wetsuit category. What a lovely woman and phenomenal swimmer!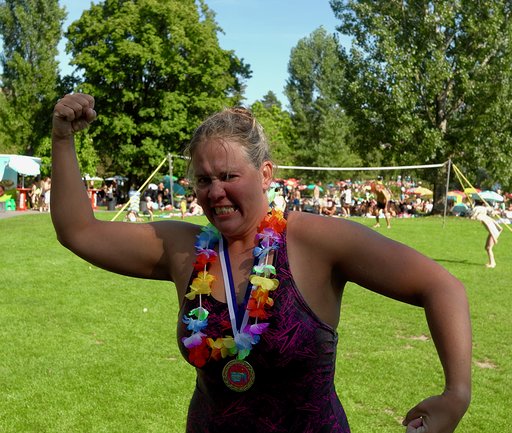 It wasn't just them either. There were two other SwimTrek guides in the lake with us at the same time: Heidi [Kearsey] was swimming a relay and their two-person team came second at an amazing time of 07:05. Very quick! And Mark [Johnston] who won the men's masters category and beat the existing record by quite a margin!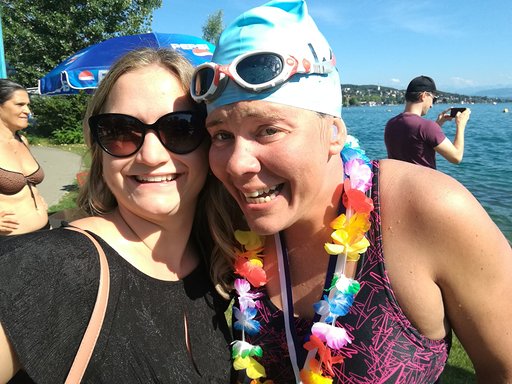 Much as it was before the start of my Channel Swim 2013, the great friends I'd met on trips when I was still a guest who inspired me into it in the first place, and who then rallied together to help me with my fears in the days preceding the swim, the friends I've made since then, from the guests I've met in all the weird and wonderful places I've have the pleasure to go to the guides I've worked with, have reassured me that this watery world is my happy place. Perhaps I want these distances, and this physical pain, this sunburn and well-earned cap-tan, just to prove to myself how much I love it. Masochism? Sure. Addiction? Absolutely.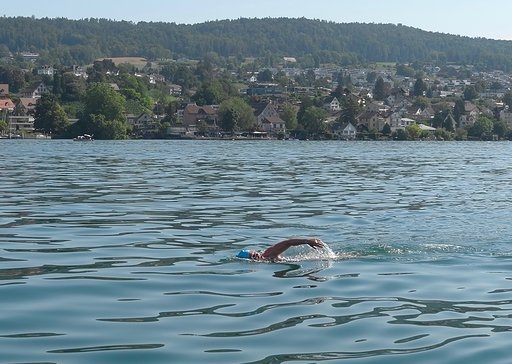 So, for the sake of finding a pattern, I think the one thing that struck me, apart from the amazing organisation and the whole warm, generous, and uplifting atmosphere of the Sri Chinmoy Marathon Swim event at Zurich, was how many wonderful people I have had the privilege to meet through this crazy obsession over the years and what a wonderful world the watery one is. Many people leave work at the end of the day / week grateful that they don't have to see their colleagues / clients for a while. It seems I can't escape mine, and I love it!