Last year SwimTrek introduced trips in River Canyons, Arizona, USA. This is the first weeklong SwimTrek holiday in the conterminous USA. I have been particularly excited to help SwimTrek develop trips in the USA. Though world travel is very rewarding and exciting, there are plenty of excellent swimming locations in the US. I also really like figuring out the details and logistics of a new trip. Most of the arrangements had already been figured out by HQ. Simon and co-guide Mark Johnston and I arrived a few days early to ensure we had covered every last detail and tested out the waters. The River Canyons trip takes place in three of the four large reservoirs formed by dams on the Salt River. The Salt River project was developed in the early 1900's for water storage (consumption and agriculture) and hydroelectric power generation. This also serves as the watershed for Phoenix, AZ and is a popular recreation area.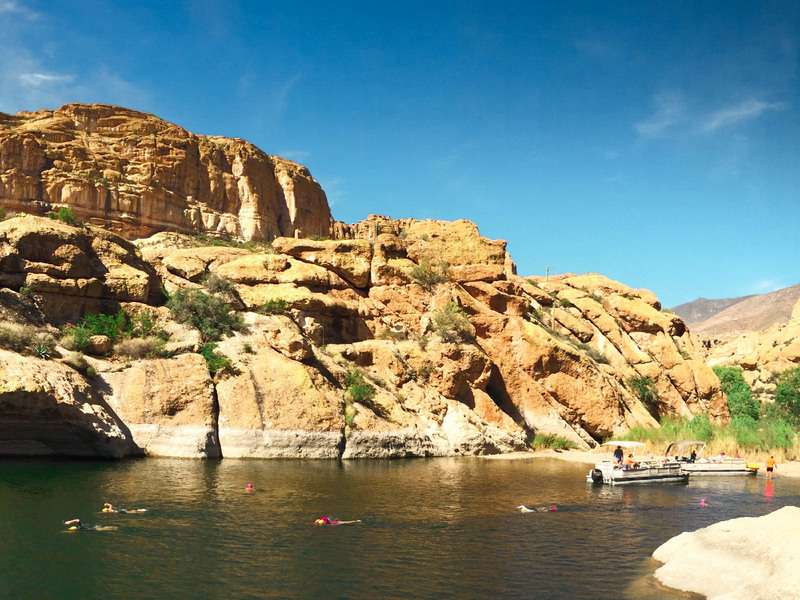 Swimming in the canyons is an ideal location for a swimming holiday. Fall in the Southwest gives us days as warm as mid-summer and the water is refreshing. Over the week we traversed nearly the extent of Saguaro, Canyon and Apache Lakes. Here the landscape is enticing and unique. The reservoirs are all within the boundaries of the Tonto National Forest, the countryside is spectacularly beautiful; it's a desert peppered with majestic Saguaro cacti that seem as old and sturdy as the land they stand on. We had ample opportunities to see the diverse desert species: bald eagles, coatimundi, bighorn sheep, roadrunners, and swimming wild horses.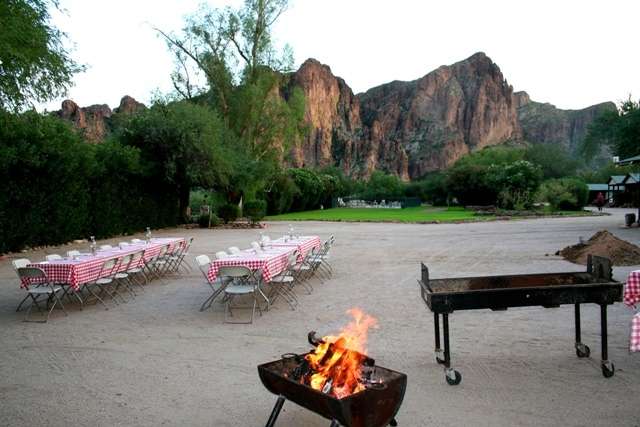 During the week, we stayed at the Saguaro Ranch. John and Sean A'Lee were most excellent hosts. Every meal provided opportunities to sample local fare, and plenty of it. I thought rather than drone on with my obvious and slightly biased love of SwimTrek, I'd interview one of our guests. Sandy Mitchel, who is from Arizona, participated in the River Canyons last October, it was her first SwimTrek holiday….. and I dare to guess, not her last.
Q: Why did you take this trip?
A: I signed up for this trip because my good friend and swimming partner saw the ad in Swimmer magazine. It was quite funny. She texted me one of the cartoons out of Swimmer magazine that was very apropos for us and then a picture of the SwimTrek ad saying we need to do this. I have been racing in Saguaro Lake and Canyon Lake since 2009. So, the chance to get way back into the lakes and do long, point-to-point swims there was almost more than I could believe. The two of us were ready to pack up and go right then!
Q: How did you hear of SwimTrek:
A: Through the ad mentioned above in Swimmer magazine. But, I had also heard of SwimTrek previously from another swimmer who trains at the same pool I do. I was introduced to her by a common friend since we both have a love of long swims! I had never done more than listen to her stories and dream about it. Her trips all seemed so far away and sort of unattainable for me at the time.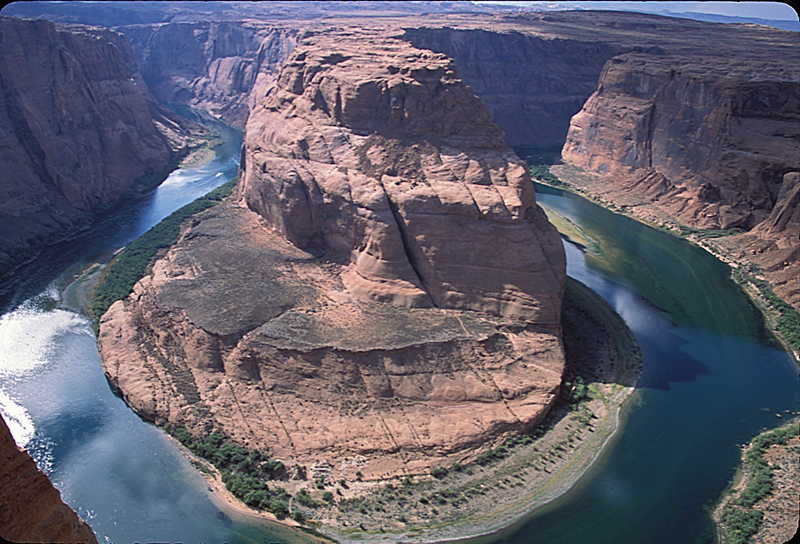 Q: Did it matter that it was a US location:
A: Yes and No. The reason I say yes is because I had never been on a trip with SwimTrek before, so it was very convenient to try this one since I live in Arizona. Less travel, less logistics, that sort of thing. Now, I would answer No because having been on a trip with SwimTrek I know how incredible it was and I am ready to travel to places much further away. I am really looking forward to my next swim and I hope it will be either the Lakes of Lithuania or the Galapagos.
Q: What did you like about this trip?
A: That's funny. Is that a trick question? Absolutely everything!!! It was more amazing that I could have hoped for. It was so fun meeting great people from all over who also had a passion for swimming. I am still in contact with some of the friends I met on that trip and we hope to swim together again on another trip. The guides, yes you Marlys, and Mark, were beyond wonderful. I felt like we became friends immediately. You were both well prepared, safety conscious, accommodating, funny, I could go on and on. I find it hard to imagine that any other guides could be as wonderful as you two were. The food on this trip was excellent and plentiful. Lastly, the swimming itself was out of this world. The views were breathtaking.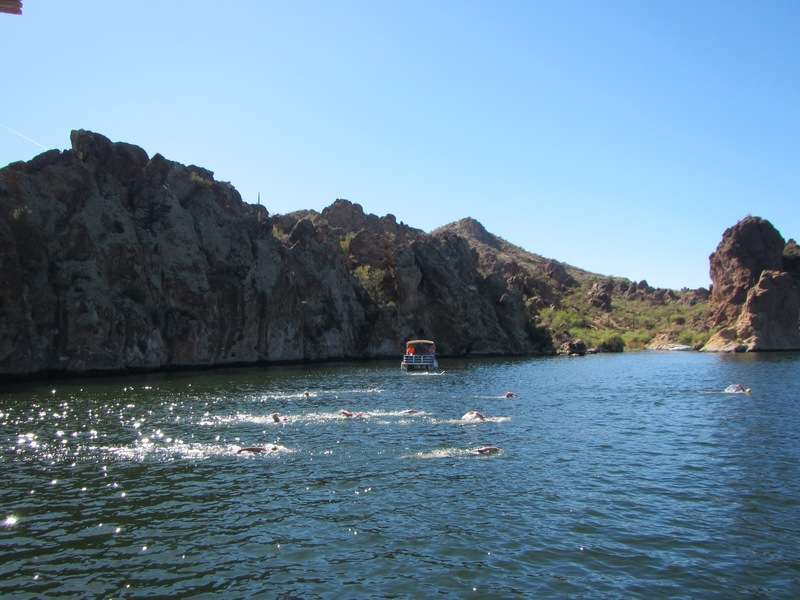 Q: How was the: accommodation? schedule? safety? food? logistics? swimming?
A: The Saguaro Ranch Lodge is fun . The owners were lovely people and were always checking to make sure we had everything we needed. The little rustic two person cabins fit our needs well. We had a little porch to sit on and enjoy incredible views of Bulldog Cliffs, comfortable beds, shower, refrigerator, etc. No frills, but it was clean and all we needed was a good place to sleep after our long swims.
The schedule was wonderful as far as I was concerned. I am used to getting up before dawn to get to swim events. Here we slept in, met for breakfast around 7:30 or 8:00 am usually and then headed out for the day by 9:00 am. It was perfect! Getting to swim multiple times in one day was my dream. We came home tired, happy, hungry and already excited for the swims the next day.
The safety was superb. I always felt that the guides had safety foremost in their minds. I never felt that we were doing anything risky or was uncomfortable with their plans.
The food was outstanding. I really loved the fact that we ate all of our meals together. It really gave us a chance to get to know each other even better. It was so nice to just get up, walk from our cabin down to the ranch lodge and have our big picnic table filled with swimmers to eat with, share stories with (pretty much all swim related stories naturally. Do swimmers talk about anything else? Oh yeah, food!) Anyway, it made it so convenient. We never had to think about what we were going to do about food. It was all done for us and the variety, quantity and quality was exceptional. Each day besides a wonderful breakfast and dinner at the lodge, they sent us off on the pontoon boats with the most incredible picnic lunches you could imagine. We had hot beverages, cold beverages, water, watermelon, baked cookies, deli meats for sandwiches, salads, etc. I was very pleasantly surprised at the beautiful lunch spread we had every day. What a treat!

The logistics worked well. I thought we moved smoothly from the ranch to vans to marinas to boats and into the water about as quickly as it could be done. I did like the fact that the Apache Lake swim was moved earlier in the week. That is a very long day and it worked out just great doing it earlier in the week when we were still a bit fresher.
The swimming was unbelievably beautiful. I have raced in Saguaro Lake and Canyon Lake since 2009. But, I have never been back in the lakes where we went. I had no idea how gorgeous they were. At one point as we left the marina at Canyon Lake and were heading back into the canyon we stopped and looked up. I felt so insignificant as I looked up 2,500 ft to the top of the sheer cliffs. The colors of the cliffs were just stunning as the clouds moved over and they were in full sun and then shadow. The rich, vibrant colors of the rock were just breathtaking. We also saw a couple of blue herons and a couple of bald eagles. It was wonderful to be swimming along and our guide would call out to us to stop and look if they had spotted some wildlife. I would do this trip again in a flash. It was one of the best experiences I have ever had. I think the smile lasted on my face for weeks afterwards.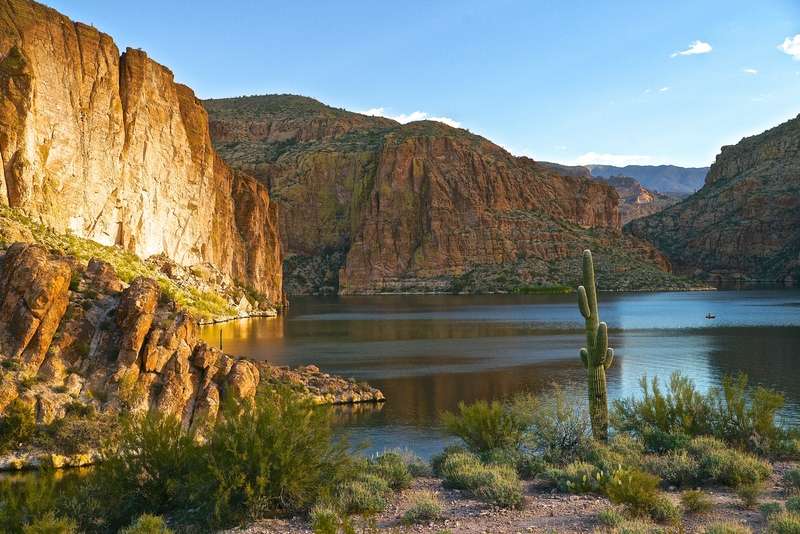 Q: Is there anything about the trip that you would like to do differently?
A: I would have loved to have stayed longer and swum a few more days. I really hated to go.