We caught up with Saorise Mcgrath who is currently guiding on the Greek Cyclades trip, we asked her some questions on what it is like to be guiding for SwimTrek.
1. What do you like best about being a guide?
I enjoy interacting with people and being part of their SwimTrek adventure. Every week, to see the excitement and satisfaction on their faces is inexplicable. I am so interested in how every guest, every week has their own objective, whether it be just to relax, improve fitness, or maybe succeed in finishing the swims. Having the ability to positively influence and encourage the guests in achieving their goals is truly exhilarating. I can't think of a more pleasing environment to work in.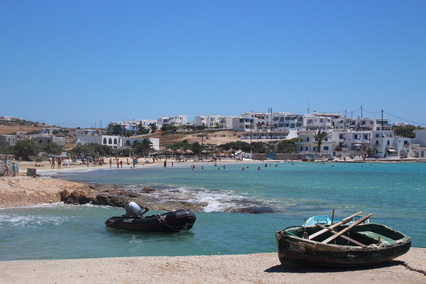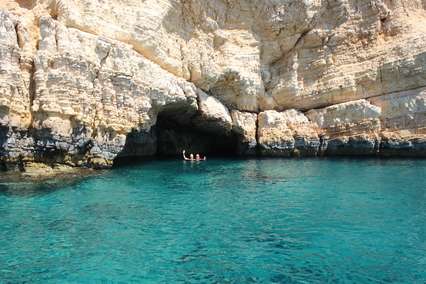 2. What do you love about the Greek Cyclades?
I absolutely love the Greek Cyclades. Each island is beautiful and vibrant in their own way. The islands allow you to see an authentic perspective of the Greek islands, more genuine than some other, more populated, 'holiday destinations'. From the generous and kind locals, to the white-washed cuboid houses, the old windmills, and not to mention the ridiculously tasty food, the Greek Cyclades SwimTrek allows these idyllic images become a reality.
3. How do the waters of the Greek Cyclades compare with other waters around the world that you've experienced?
From growing up on the West Coast of Ireland, I've been so used to swimming in dark green, murky water, only being able to see a couple of meters ahead of me and getting caught in random pieces of seaweed! In comparison, the crystal clear Aegean sea is truly stunning to swim in. The rays of sunshine glistens through the water, whilst you spot the pools of fish below. The scenery above and below the water constantly reminds you of how incredible the locations are.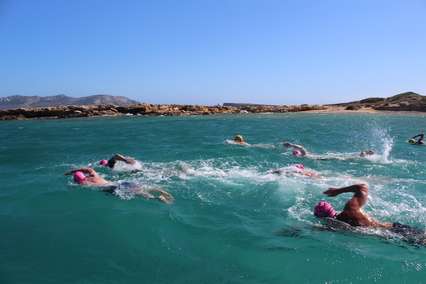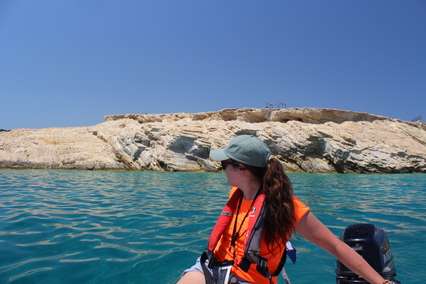 4. In your opinion, what makes the Greek Cyclades unique?
Having access to uninhabited islands and unique routes makes this trip extraordinary. You get to swim beside breathtaking natural wonders such as cliffs, caves and unspoiled historic monuments. You'll find yourself quite often needing moments to take it all in.
5. What do guests say to you about the Greek Cyclades on the trip?
Every guest is blown away by the picturesque landscapes and relaxing atmosphere on the islands. When it's time to finish a swim and hop on the yacht, they never want to get out of the water! By the end of the trip, the guests tell me how well the group bonds together and how they've surprised themselves in terms of their swimming abilities and overall confidence. I don't think I'll ever meet anyone who dislikes the Greek Cyclades. It's absolutely amazing.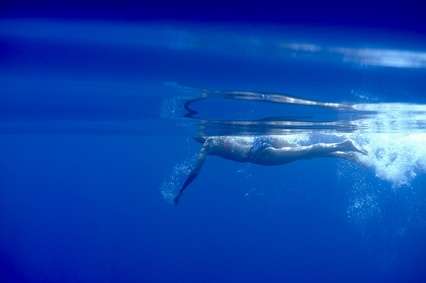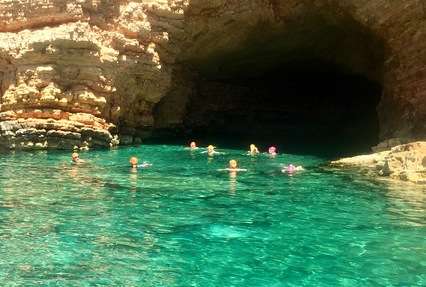 6. Do you think that the Greek Cyclades trip encompasses what SwimTrek is about and represents the company well? For example, do you swim/explore/discover on the Cyclades trip?
Yes, completely. We have 2 swims per day which involves a perfect mix of coastal swims and crossing swims. The coastal swims allow for more exploration and discovery by swimming through caves or identifying the sea life. The crossing swims are great for a bit more of a challenge as you cross from one small island to another, practicing your sighting and swim techniques. Each day is different and each day you will discover something wonderful, whether it be about yourself and your own personal development, a cool underwater feature, or perhaps a turtle or some dolphins!
7. As a guide who has a lot of experience with pool swimming, what would you say to someone who was thinking about making the transition from the pool to open water swimming?
One of the main reasons I got more involved in sea swimming was because as I grew up, I got tired of the same chlorinated box of water. I quickly realized there's much more to swimming than following a black line at the bottom of a pool! There is something about the ocean that is so majestic and everlasting. I have met countless pool swimmers who go from fearful of the ocean, to playful with the ocean! If you can do the distance in the pool then I am confident you can do it on this trip. The salty Aegean sea increases buoyancy and the clear blue visibility will pleasantly surprise your transition.