You may have come across the occasional talented person who can sew their own clothes, but sewing a swimming costume may seem a DIY job that is a step too far for many. After getting introduced to the open water by a sewing student, professional sewing teacher Amanda combined her creative skills from her day job with her newfound love of swimming outside and did just that – creating a wardrobe of swimming costumes in the styles she loves! Amanda joined us on our 10km Marathon Swim Camp in Mallorca in 2019 and took her handmade designs with her – here she tells us about her experience on the trip and how she mixes her two passions.
My name is Amanda Bowden and I took up open water swimming as a result of a rather fabulous lady (Louise Stratford of Open Water Ladies Relay team) attending one of my dressmaking classes. I live 2 minutes from the sea in Felixstowe, East Anglia and have enjoyed very casual pool swimming since being a small child. However, the prospect of entering the sea for more than 10 minutes and being out of my depth sounded to me like a ridiculous thing to do. Louise offered to go swimming with me at the pool and then in the sea. With her calm, clear and supportive coaching, I became hooked on a new hobby. As I run a sewing school, and like to be quite individual in my appearance, it was a natural progression to start experimenting with making my own costumes. Additionally, trying to find a 'proper' plus size swimming costume in amusing colours and prints and designed to accommodate my bosom proved very tricky.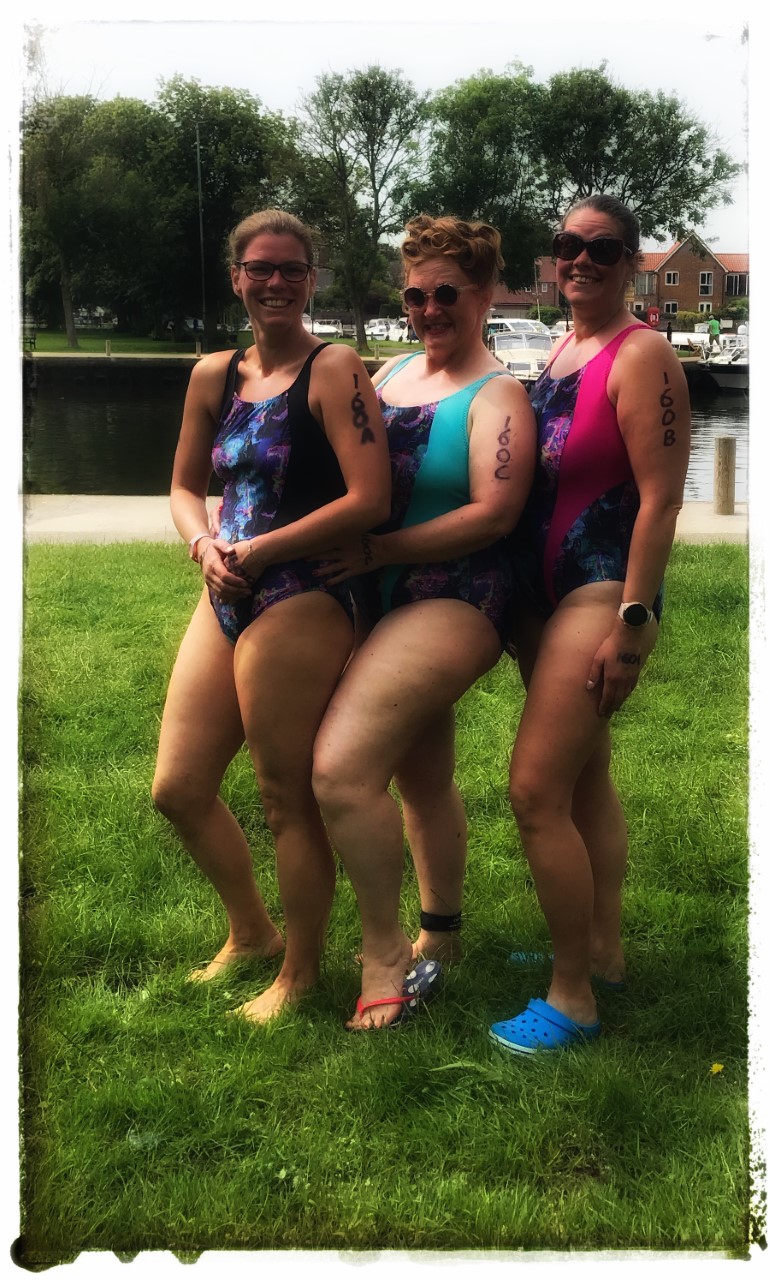 Me and my friends sporting my handmade jellyfish costumes!
The next stroke in my swimming journey occurred after I successfully completed a 6km sea swim in October 2018 and I decided I fancied the idea of becoming a marathon swimmer. Booking the SwimTrek Marathon Swim Camp in Mallorca I decided was going to give me the focus for training and preparation for a season of 10km swims in the UK. As my SwimTrek holiday was also going to coincide with my 52nd birthday, I decided that I was going to create a wardrobe of swimming themed clothing to wear whilst away; including a wonder woman inspired cozzie for my first 10km sea swim. Subsequent costumes flowed from my machine with a crown jewels themed cozzie for the 10km Jubilee swim and then a jelly fish team cozzies for a relay with the aforementioned Louise and her sister.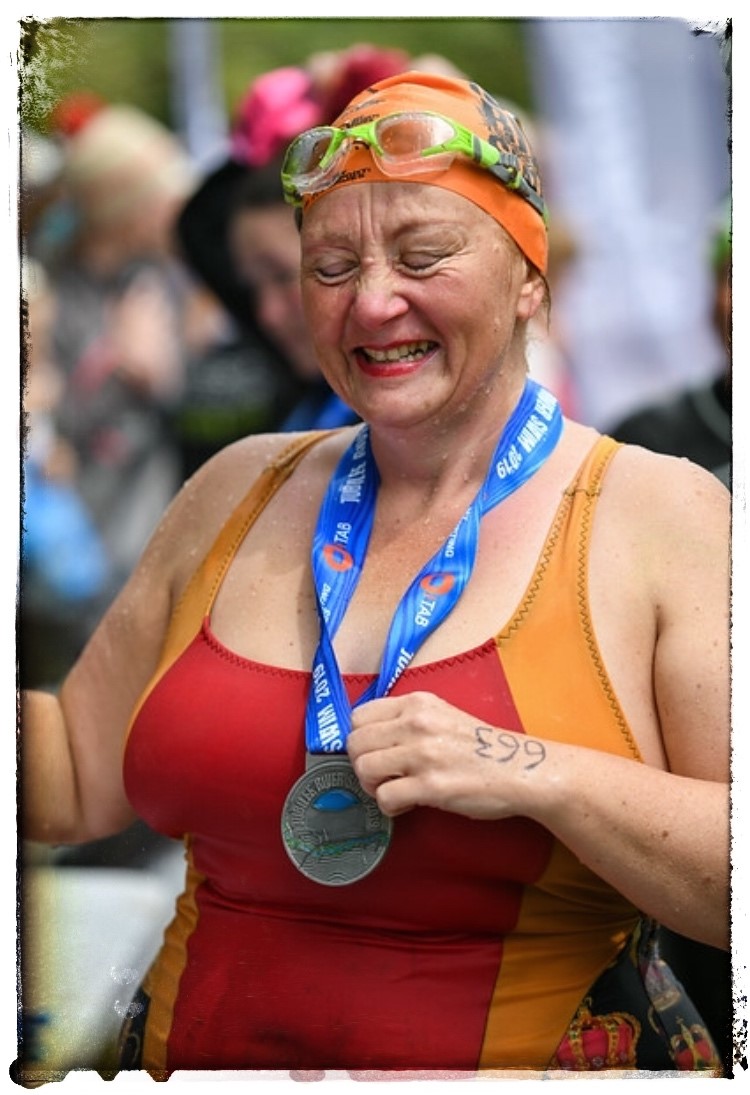 The jubilee cozzie, complete with crowns!
(Just in case anybody is wondering if I always swim with fancy hair-do's, the answer is a resounding no. On that occasion I had peeled myself away from a 1940s jitterbug weekender (hence the updo) to complete the relay. The hair-do did not survive the swim!)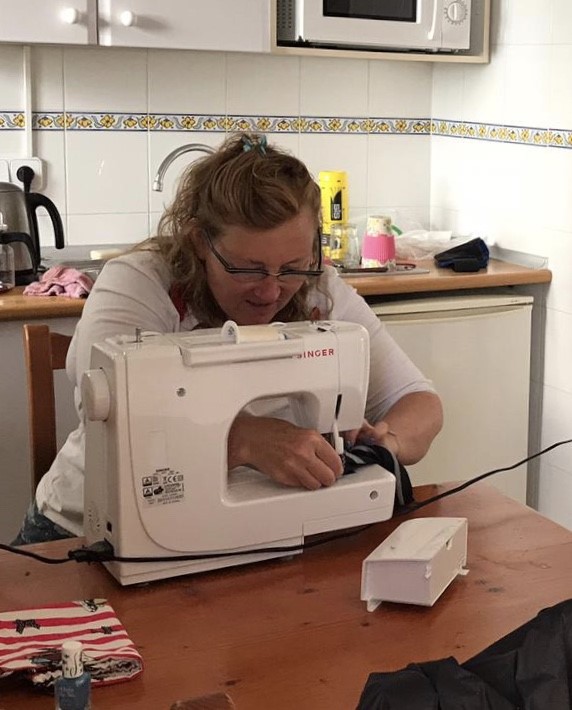 One of my fellow SwimTrek guests had terrible trouble with a tight pair of rash leggings which I altered for her on holiday with the loan of the hotel sewing machine! You can take a girl out of the sewing school but you can't take sewing out the girl! This caused much hilarity and offers of work whilst I was vacating.
So onwards and upwards! I am now enjoying a sunny season of sea swimming in my hometown. I have a charity place for the Dart 10km in September 2019 and will be wearing a very special cozzie for that – still to be made. I will also be making a new costume featuring octopi in preparation for the end of season swim in Felixstowe. I cannot tell you the joy and comfort my memade cozzies bring and I have been very flattered by folk asking me to make cozzies for them as a new little business venture... it's all gone rather swimmingly.
Amanda x
You can contact Amanda at www.felixstowesewingschool.co.uk if you're feeling inspired to learn how to sew for yourself or would like to commission your own hand sewn swimming costume!