As one of the SwimTrek guides, I've been to some incredible locations and have spent much of my time watching swimmers, sometimes leading to a shortage of my own swimming. Although many guides have some serious credentials many like myself are pretty comfortable paddling reasonable distances in the clear, warm waters in the Mediterranean. I was complacent until last year when I guided on the Long Distance Training Camp in Mallorca. It was here I was taken by surprise by swimmers with serious purpose and drive. It was like a cold, wet-slap round the face in a literal sense. It's time I stopped observing and started testing myself physically.
I started in Cala Ferrera bay, after a long 2hrs in 14°C, through numbness, cursing and feed-stops every 7 minutes or so, I felt refreshed, and mildly hypothermic. I had completed the qualifier for a channel relay swim. (Thanks Fifi). I am tempted to try more but I realise cold water probably isn't my thing just yet, but I was still looking to push my boundaries of personal achievement/stupidity I continued to look for a swim that tested my limits without killing all my passion for swimming in the process. I'm not hanging my trunks up any time soon!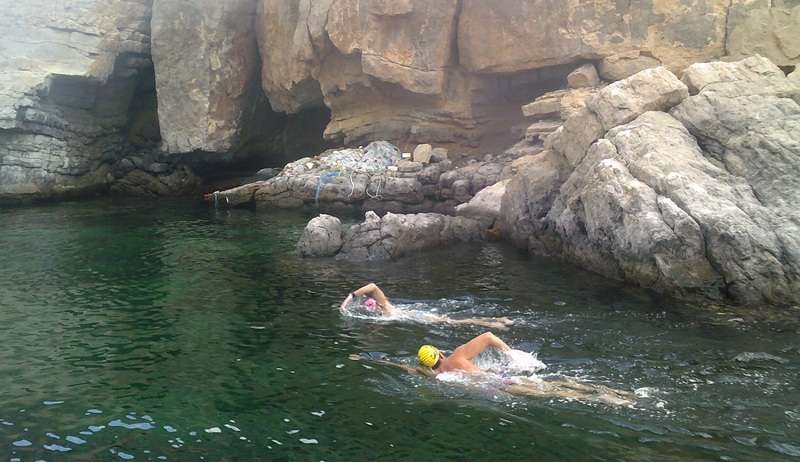 I found the Swim! I was going to swim the full length of the Khor Asham in Oman. I couldn't know for sure, but it's probable no one has done this yet. The full length of the sound is 16km so I worked out a way to throw some more distance in the mix and make it a little more entertaining. The spot is perfect for a long swim, it's sheltered, broken up with a few islands, has plenty of coral and has diverse marine life. At 23°C it is just about right to test me at this distance. It was important that I could concentrate on the swim without the concerns of boat traffic and changes in conditions, so seasoned seadog and fellow guide John jumped on-board to watch, feed and liven it up a bit! Local boat pilot Jasim took the helm. I met Eric on the LDT camp and revealed the plan. He just happens to live in Muscat and by chance it turns out we swim almost stroke for stroke. This is a huge motivator on a swim this distance, so he flew over to take the plunge. We had a day in Khasab to acclimatise, and chucked 2 swims in from our hotel beach.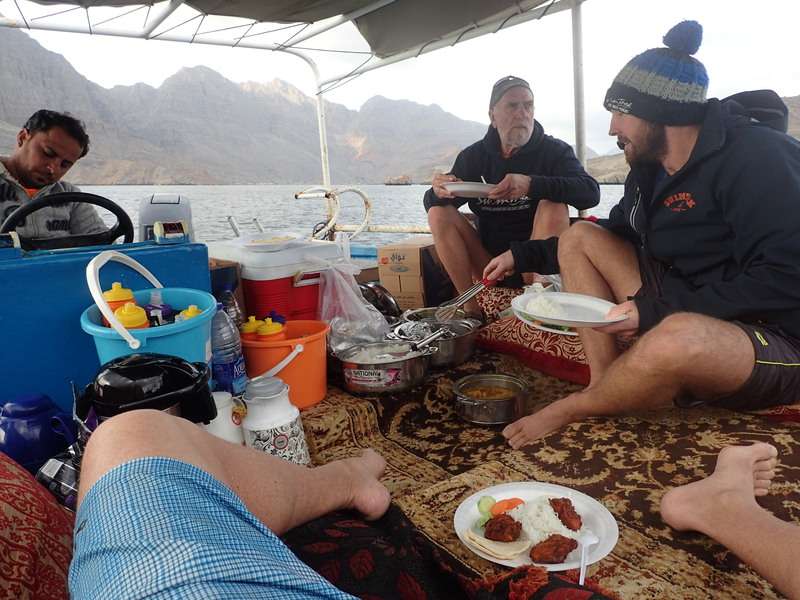 On 28th January, after a serious breakfast we dived into the Khor Asham from its most Westerly tip. Immediately meeting a coastline lined with coral a few feet beneath the surface, and boulder weaving options. Hump-back Dolphins soon followed us across the first bay and into the Khor. Hugging the coastline for safety and so you can see more. After surging through a large gap in the land mass we glared a black-tip reef-shark passing. Arabian angelfish packed the reefs, rays were strewn out along the way some gliding beneath us for some time before turning into the deep. With feeds roughly every half hour we just kept them spinning until the next whistle. We crossed to telegraph island where you lose sight of the bottom and just aim for the small flat mound amongst the baron, jagged scape of the Hajar Mountains. Then anti clockwise around the back and onwards to Shamm Island. In places the water was various shades of green and full of plankton although for me, welcomed warm patches. The tide was high which allowed us to sneak through a small inlet leading into a lagoon and shortly afterwards coming face to face with more dolphins. I had to keep moving due to shivering. Rounding the next corner we could see the full length of the Khor, we knew we had a bit more swimming to do. The current started its ebb and the easterly wind picked up too to amplify our challenge. At this point the harmless smacks of moon jellyfish were inviting and took our minds off fatigue. It was like a Jellyfish slalom- going as close as you can get without touching, loads of fun. Anyway, I needed to get warm. Crossing to Seebi island made a difference by upping the stroke rate and effort, I realised the cold I felt wasn't going to get any worse. Pretty sure that I just broke through a small barrier and didn't need the warmer drinks anymore. On meeting the island, John had his eyes locked with an Osprey whilst we had a kilometre break with still water and a generous current. The finale involved a head wind growing from the finish line and a bit of chop when crossing from Seebi Island to the village.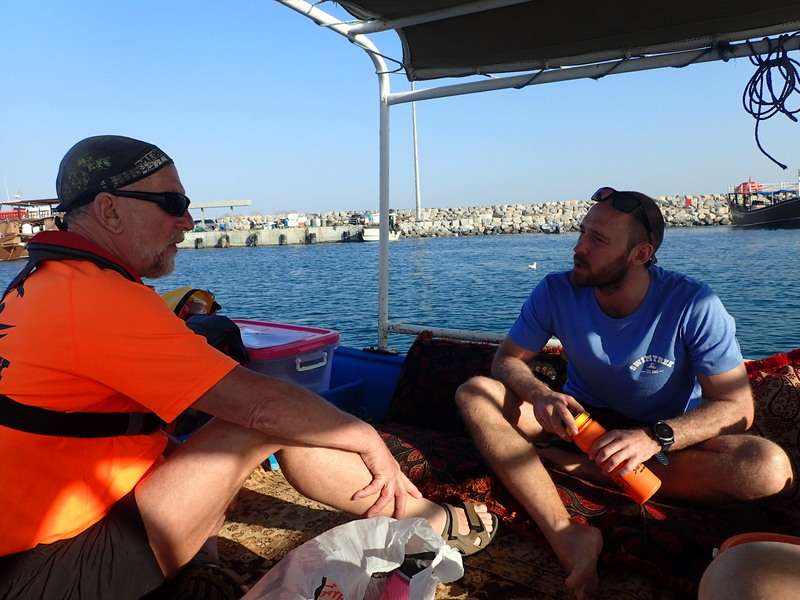 We saw the end and went for it, completely full of adrenaline and arms like lead we were steaming across, showing no signs of stopping- On the final headland however, we were confronted by local fishermen. We didn't understand any of it from the water, but got the gist that it doesn't sound all that positive! In translation from Kumzari (local dialect) to broken English our pilot tells us it went something like- "you're not going past this point!" so we swam another 300m or so down the coast and put a halt to it all. The locals here are protective of what little they have. Full respect to them… even if we have just swam 20km… Apparently, in this case history is written by the survivors. We climbed the ladder on-board our vessel and tucked into our immediate reward which was a curry on the boat and a pleasant journey back digesting what just happened.
We stopped off on Telegraph Island for some snaps where John rattled off his historical spiel of what happened there. That was enough to send all of us "around the bend," and back to the hotel bar to finish.
We can both be sleep well knowing that unofficially we were the first people to swim the full length of Khor Asham without seriously annoying the locals and then living to swim another day! Eric is already planning bigger swims in Oman from Muscat and I look forward to making the most of each location this year by extending the distance and planning more swims!
Thanks to John for your support, Zakirayah at Dolphin Travel and all at SwimTrek HQ for making it a success, best of luck to Eric who is attempting the channel this year.