Senior Guide Marlys has spent several years exploring and swimming the world with SwimTrek. On her first visit to the Sporades islands, she recounts a particularly memorable week making the best out of challenging weather conditions.
Alonissos is a beautiful Greek island. It was my first visit to this location and I was surprised by how green it was. More northerly of our other Grecian locations, with a bit more rain and a slightly different climate. It was beautiful. Working along with my colleague Tasmin, we were all set for another excellent week with guests from around the world. It was a typical blend of folks celebrating something, overcoming challenges, or a simple holiday reward. We had a couple of mother/daughter combos, a pair of sisters, a few friends, and some unaccompanied swimmers.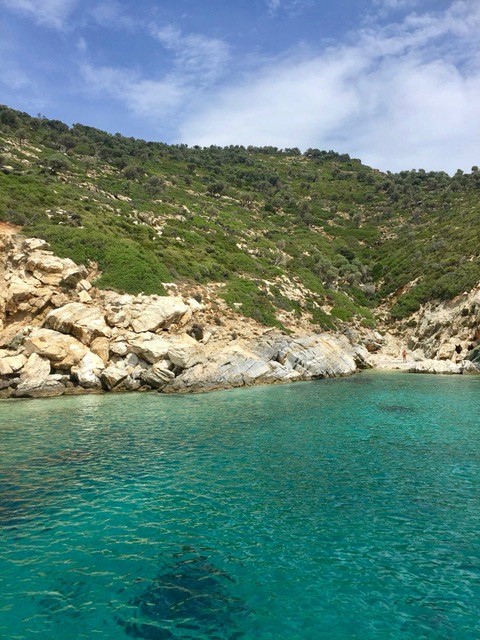 The first few days we settled in with some nice swims. The weather forecast was a bit daunting with a day projected to have particularly high winds. In all my years of guiding, I have yet to have to cancel a swim. It looked like it might happen, so I scheduled as many swims as possible early in the week and set about thinking of alternate activities.
I always think people enjoy learning a bit about the local area so I took bit of a leap, thinking this group might also enjoy this. The morning of the winds came and we gave out options. The rules were simple. Split into three teams (trying not to be in a group with either (a) someone you travelled with, or (b) someone wearing your same cap colour). Once that was accomplished, each group could pick a task from one of four categories. The choices were (1) Physical Activity, (2) Local Interaction, (3) Arts and Culture, or (4) Science and Technology. Of course there was also the option of just going back to bed. Interestingly, each group picked a different category and no one picked the physical activity (cumulative fatigue may have already been setting in). The guidelines for each assignment were purposefully vague. The Local Interaction task was to find a native of Alonissos, interview them and then find 2 people related to the first person and interview them. The Arts and Culture task was to create an artistic interpretation of Alonissos; it could be a painting, a poem, a pantomime, a dance... Finally, the Science and Technology task was to gather information and describe an element of the local infrastructure (e.g. recycling, water use.) The tasks were assigned at 9 am and we were to meet at 1 pm for lunch, so there wasn't much time. Tasmin and I set off to tend to some other duties and it was clear these assignments were being taken seriously, as planning was already underway as we left the hotel.
We met for the 1 pm bus to lunch and there was much whispering about the morning. Directly after lunch we went back to the hotel for the presentations. The group did not disappoint. Tasmin and I sat there in awe during the presentations. They were well thought out, informative, and most of all fun. I thought the other residents of the hotel might either throw us out or ask to join us for all the laughter.
First up was the Arts and Culture group. They created a multidimensional map of Milos that had an overlay of significant items; some flora and fauna, local specialities, shells, pebbles and of course a SwimTrek hat. The really captured the flavor of the island after being there for just a few days.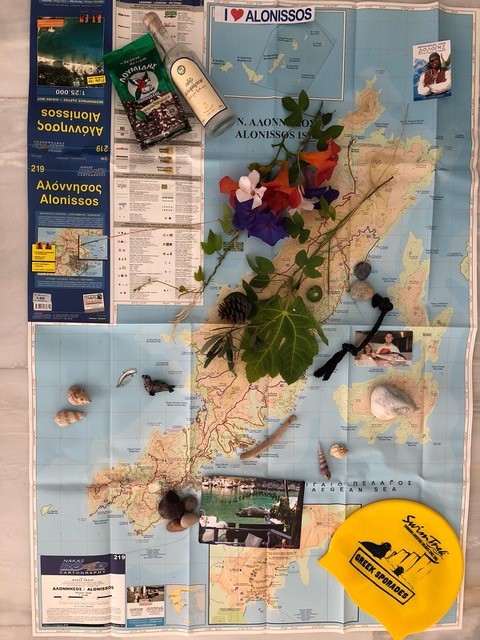 The second group to present was the Local Interaction project. They described meeting some very puzzled residents when they set about to pepper them with questions at 9 am. I think to get to the bottom of this project, there was a lot of coffee drinking and ice cream eating. It didn't take them too many stops to hit the jackpot. They found the original founders of the Alonissos cafe. This of course made it fairly simple to identify and interview relatives. They produced a lovely family tree of these folks.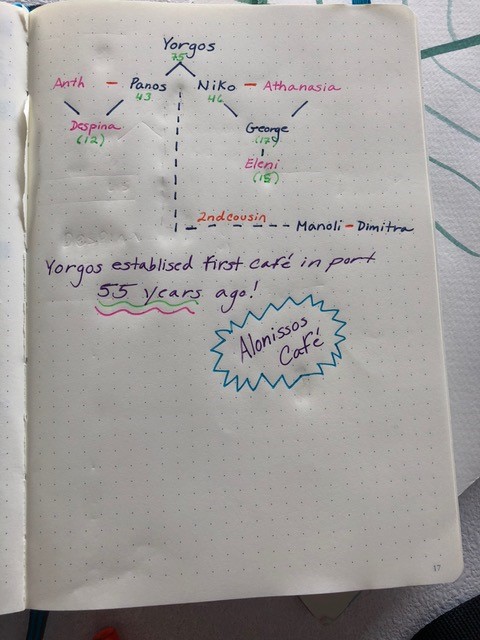 The last group up was Science and Technology. These folks went all out, and presented a six act play about sewage and sewage treatment on the island. The play was narrated by 'Kostas' who took us through the development of sewage treatment from the beginning of civilization. We all learned much about the waste, sizes of pipes, the national origin of primary offenders, as well as future plans for sewage treatment. It was a dazzling amount of research and all set to song and dance, with the final act of the play included a nice rap. I believe most of the information was collected by visiting the town plumber... If time weren't limited, this group was prepared to make a site visit to the treatment plant/dump on the other side of the island!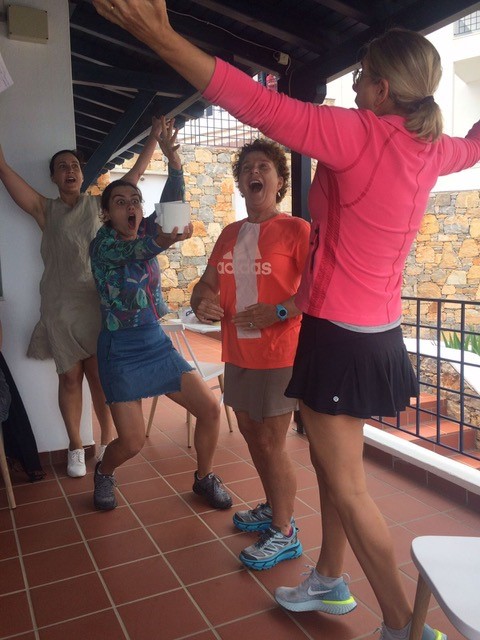 So, all of my concerns about having to cancel a swim were short-sighted. Our guests not only bring a sense of adventure and enthusiasm to our trips, but grace to be able to adapt to any situation with humour and good spirit. I am grateful for that and it's certainly a large portion of the reason that is the best job in the world. I'd be remiss if I didn't note that we did get in a lot of great swimming over the week. Hope to see all of you in the water again soon.