_Long time SwimTrekker Virginia has swam with us from the Mediterranean to the Middle East and is a self-confessed SwimTrek super fan! Read on for her incredible account of her recent Galapagos adventure… _
Six years to the day since I embarked upon my very first Swim Trek trip, I found myself swimming near the equator, wondering how I had become so comfortable in this environment. After all, I had nearly turned around at the airport and not even made it to Majorca to learn how to swim in the sea, so nervous was I about the whole affair! Ten trips down and I think it is safe to say, I am well and truly hooked and will, as long as I have the ability to, go on as many trips as I can.
My friends think I am mad, crazy, a risk taker, adventurous, brave; you name it, they have an adjective for me. I am none and all these things. What I am, is not prepared to have a moment's regret about things not done, or wished I had done. It is a cliché, but you only have one chance to see as much of the world as possible, so my philosophy is very simple… just do it!
This is how I found myself in February, travelling solo to South America with the prospect of sharing my space with sharks, rays and the scary creatures. Not for the faint hearted! I was nervous, but knowing what I know now after so many trips, I knew I would be looked after and would never be put in the water if there was a shred of possible danger.
After our arrival, we stopped off at the tortoise reserve on the way to Santa Cruz where we enjoyed lunch and a wander around the site, admiring these gentle giants. Who knew the species had so many different types- long necked ones to reach foliage higher up the trees, others who like to soak in muddy ponds. Totally fascinating and a great start to the trip.
Santa Cruz was our first stop- what a crazy place! Noisy locals but a wonderful vibe. The acclimatisation swim took place at the local beach where the locals were leaving to go home as we arrived. The walk down to the beach was our first sighting of the iguanas which we would become so blasé about seeing! They littered the road, lazing on the warm tarmac, totally oblivious to passing feet and bikes. Oh, what a way to live!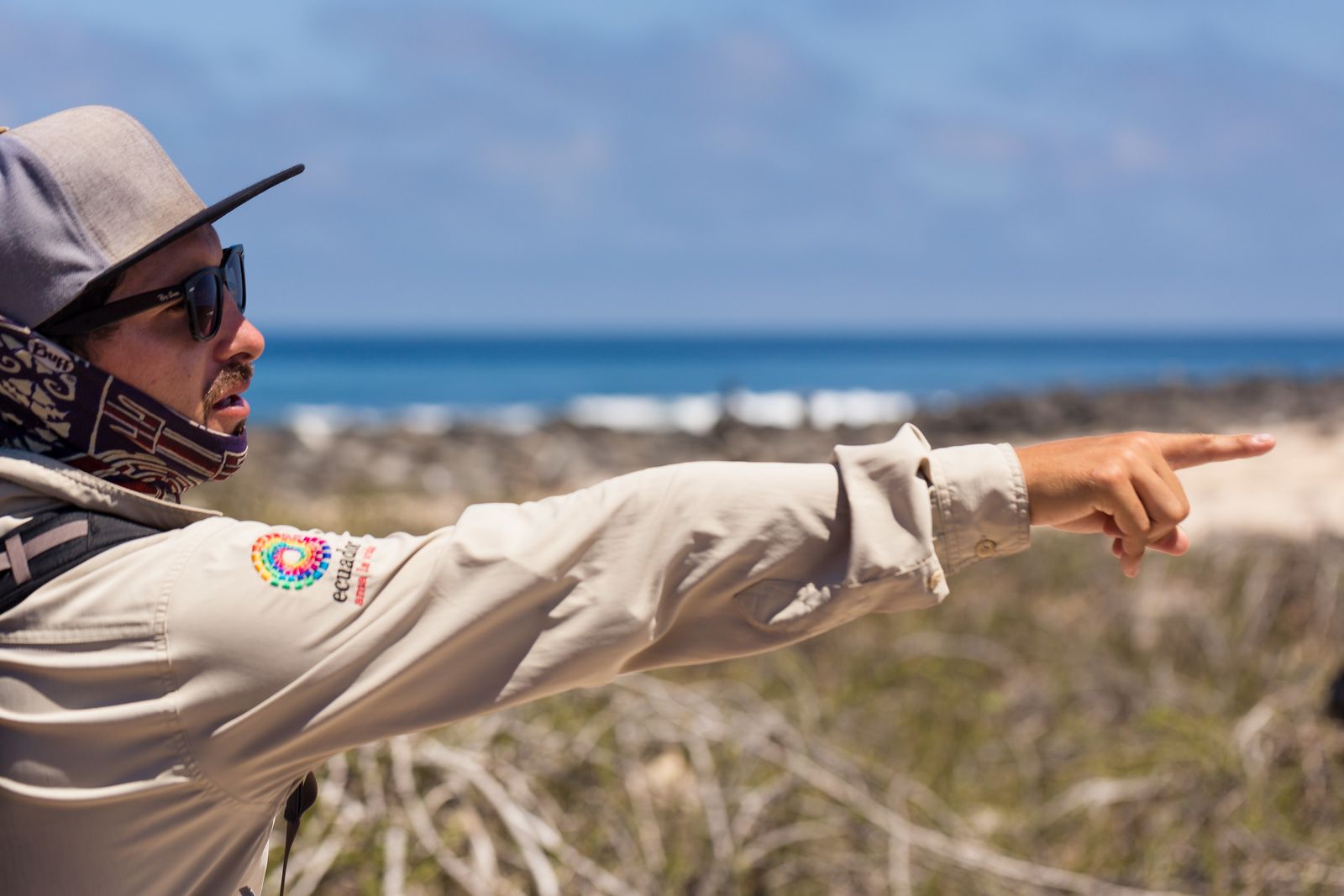 Dinner that evening was a group outing where we became acquainted with our fellow travellers before the first swim the next morning. Local elections were taking place so we were unable to enjoy a drink of any type- it's the first time I have been on a trip and not been able to enjoy a glass of the local plonk on the first night! An alcohol ban until the results were cast so water was the drink of choice, which seemed appropriate as we would be spending so much time in it.
Early breakfast in the cafe next door with a great choice of potato cakes, eggs, fruit and bread. We soon learned to say yes to everything as our two South African swimmers relieved any of us of any leftovers! Water taxis were the transport which took us out to our boats for the day, low sitting in the water and steered by young men in a variety of buffs to cover their faces from the searing sun. We saw our first family of rays swimming by, spotted a stray turtle and watched with great amusement. The comical pelicans which alternately floated by or tried their hand at a spot of fishing. Great early morning entertainment.
We quickly moved to our boats and sped out of the bay, about an hour's drive where we chatted, were fed stacks of wildlife information by our national park guide, Gustavo, and soaked up the rays of the hot, hot sun. We slowed down and had some of the local bird life pointed out to us, more pelicans, but also shearwaters whizzing by, male frigates with their huge red chests and sea lions basking in the sun and sliding into the water to inspect our boat.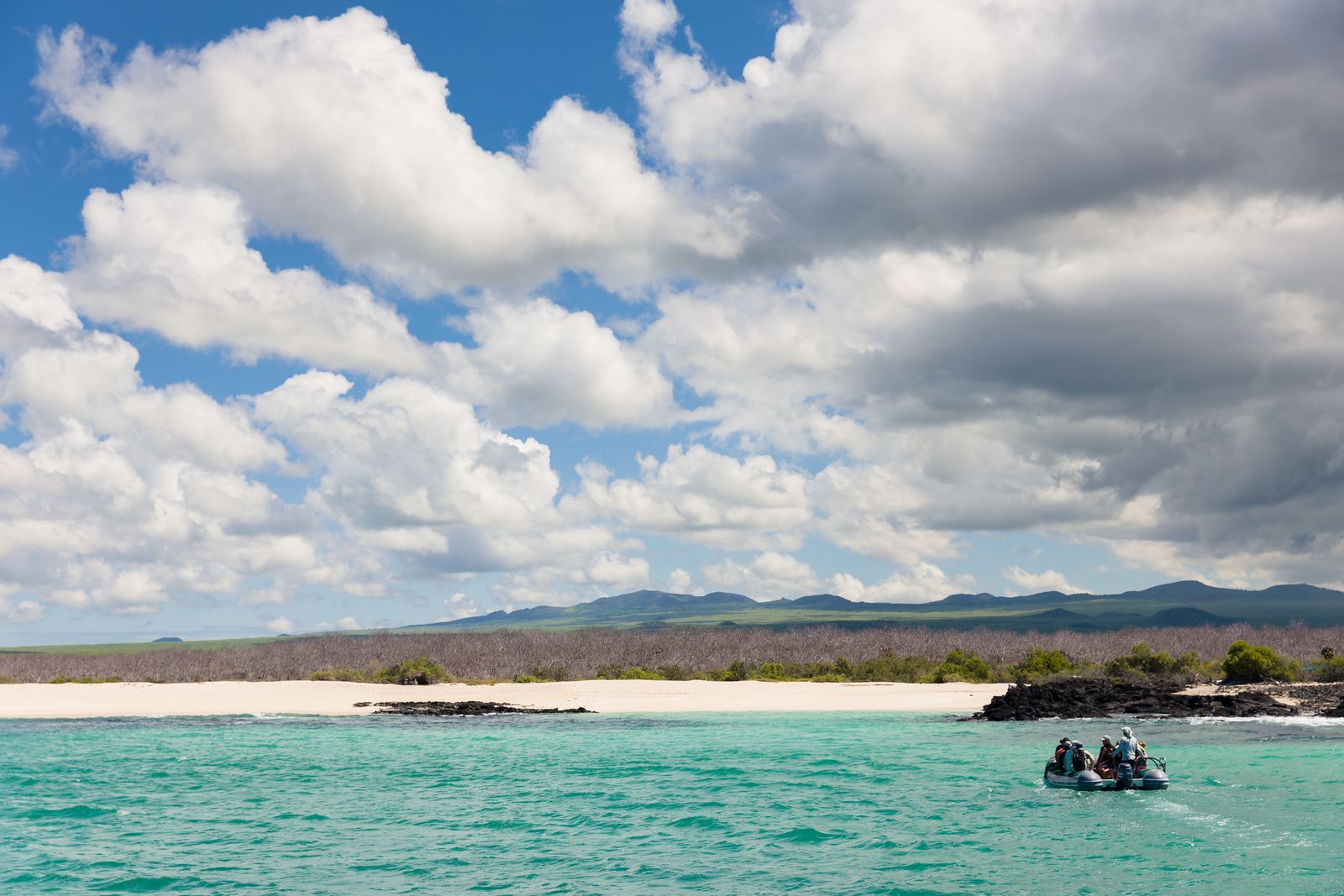 Shortly after stopping we jumped into the sea, much colder than I was expecting! However, after about twenty minutes of speedy crawl, we warmed up and had the huge variety of wild life pointed out to us. Fish life was abundant, sea lions came to see us and then the turtles appeared! Languorously flapping fins at just enough speed to keep going, what beautiful creatures. I felt so privileged to be in the water with them and squealed to myself every time one floated by. We passed chocolate chip sea stars, aptly named as they looked just like a cookie, and fish of the most beautiful azure blue with stunning long arms.
We swam about 2.5 km then stopped for lunch and a snorkel. This was probably the highlight of the trip for me; shallow and warm clear, turquoise water which was teeming with wildlife. Turtles, sea lions and reef sharks lurked in the shadows with that evil smile which all kids story books seem to draw on their faces. Iguanas sped past like mini torpedoes, heads up, on a mission to who knows where. An hour whizzed by so quickly, no one wanted to get out as there was so much to see, but another swim beckoned!
The days followed in much the same way; boat ride out, swim, lunch, sunbathe, swim. Every day there was a myriad of wildlife to see; we were lucky enough to spot a hammerhead shark one morning in the distance! Eagle rays were shy and fairly elusive, but we spotted them! Penguins were also shy, away on the protected rocks and blue footed boobies, as comical as their name suggests. They were spectacularly unsuccessful in finding any food; plenty of diving, but no fish to be seen! At the end of the day we moored up off a little beach and were taken to see where the turtles nest, the tell-tale tractor tracks in the sand leading up to the nests, but no sign of the turtles. We were not permitted within about 10 metres of the nests but could still see the fantastic job these creatures had done to ensure a safe place to lay their eggs. We also had the chance to catch the comical crabs performing a dance on the rocks, bright red and quick as you like, skimming from one slippery surface to another. We sampled local cuisine, copious amounts of fish as you would expect and cooked to perfection. Coco loco cocktails appeared in the freshly harvested nuts, delicious and just what was needed after a day in the sun.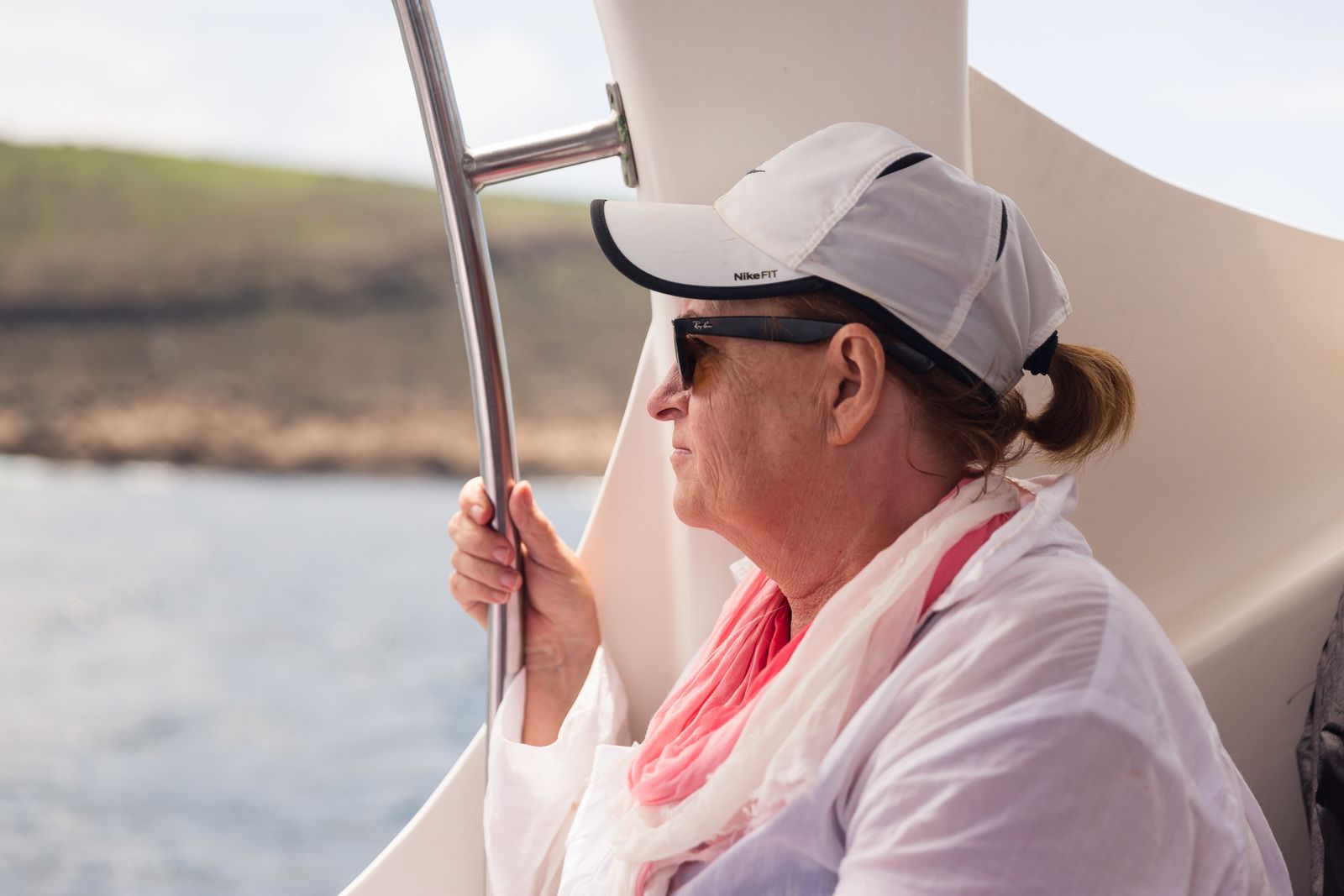 The second half of the trip we were based on the island of Isabela. Spectacular, quieter than Santa Cruz and slightly less developed, I preferred it here! The hotel was stunning, food excellent and the sunsets were magnificent. Our days started with a short bus trip to the jetty, where yet again we were greeted by cheeky sea lions lounging on any bench going free, huge iguanas blocking the pathways, and local government staff intent on their job to ensure nothing contraband was brought onto the island. I was struck by how passionate all the locals were about this special place: first and foremost came the wildlife and nothing was going to impede the staff in their job to protect the islands and their inhabitants.
The swimming was superb from here; long, challenging and tough. Currents were strong, and if you tried to swim against it, you soon discovered how tough it was! The water was warmer and we enjoyed longer times in the sea. Sharks swam under us, not at all bothered about the strange shapes above them. Bizarre, but true! One of the funniest moments of the trip was watching iguanas trying to find their way onto the rocks, struggling in a huge swell and nearly making it, then getting washed back into the sea. Who would have thought a group of fifteen swimmers could have been so engrossed in this that we were all shouting and egging the unfortunate ones onto the rocks! Fortunately, they all made it. Highly entertaining!
Another stunning trip where friends were made, stories told, and fantastic swimming experiences shared; what's not to like? The wildlife was out of this world and I am so glad I pushed the "book now" tab on the booking page. This trip will no doubt be one of the highlights of my life- three days in Quito prior to this was well worth it as I saw condors, zillions of humming birds, and Cotopaxi volcano as well as managing to acclimatise before the main event. Thank you to guides Kelly and Marlys for looking after us so well and thank you SwimTrek for giving me the best of experiences, opening my mind and pushing me out of my comfort zone!