What Our Swimmers Achieve Following a SwimTrek Coaching Camp
We've been running our coaching camps for over a decade, helping many swimmers go on to achieve incredible feats afterwards. From ultra-endurance long-distance races, to overcoming personal obstacles and completing a challenge for yourself, these camps can open so many doors to swimmers. Here we've compiled just some of our amazing guests' stories.
Anel joined our coaching camp with an English Channel crossing in her sights. She took part in our Channel and Long Distance training camp in 2016 and 2018:
Hello, I'm Anel, I come from Almaty, Kazakhstan. I joined the SwimTrek Long Distance Training Camp in 2016 in preparation for my Channel swim booked for the same year. I had a great goal in front of me. If I completed my swim the Channel, I would have been the first person from my country to do so. My coaching camp with SwimTrek was my first taste of open water swimming and cold-water acclimatization! I was new to this sport and was both excited and nervous to swim in cold waters.
Needless to say, the camp was the right place to be. In addition to swims it provided swim technique analysis and seminars which were great. I was absorbing information and learned about a whole new area. We had excellent guides around us and we could talk to them any time and ask questions. (I was so inspired by the stories Cliff talked about!) This is also where I met the most incredible people whose swimming resumes are just amazing, and we continue to communicate on Facebook and WhatsApp groups. The camp went very well and my 6 hour qualifier swim was completed but I did not finish my main English Channel swim that year.
So, I came back to the camp in 2018.
Sometimes the script doesn't go to plan, but I am motivated to keep going because it is my dream to walk out onto the French beach. I want to show my children that anything is possible if you want it bad enough. What a wonderful example to set to your children.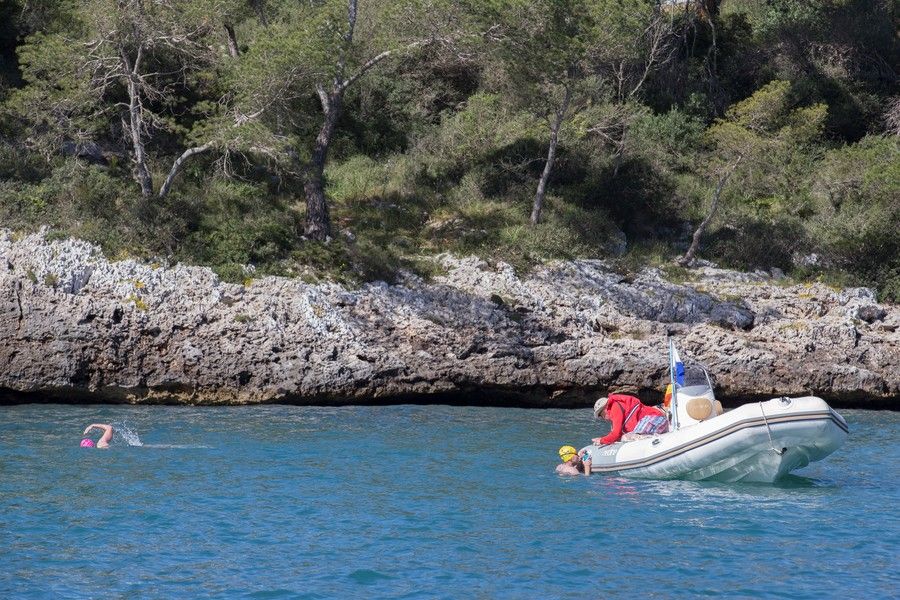 Anel recieving some motivational words from coach Cliff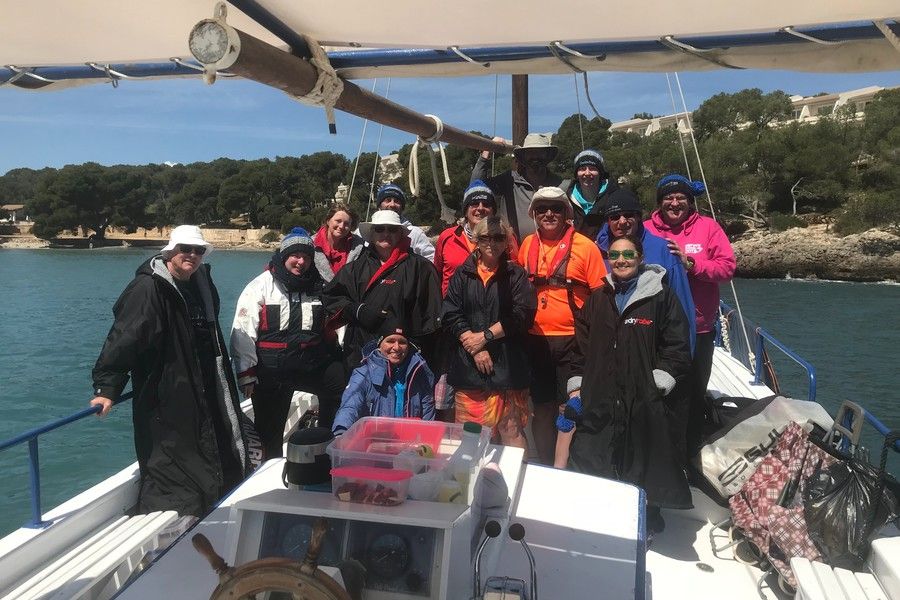 Anel and her group on her 2018 SwimTrek coaching camp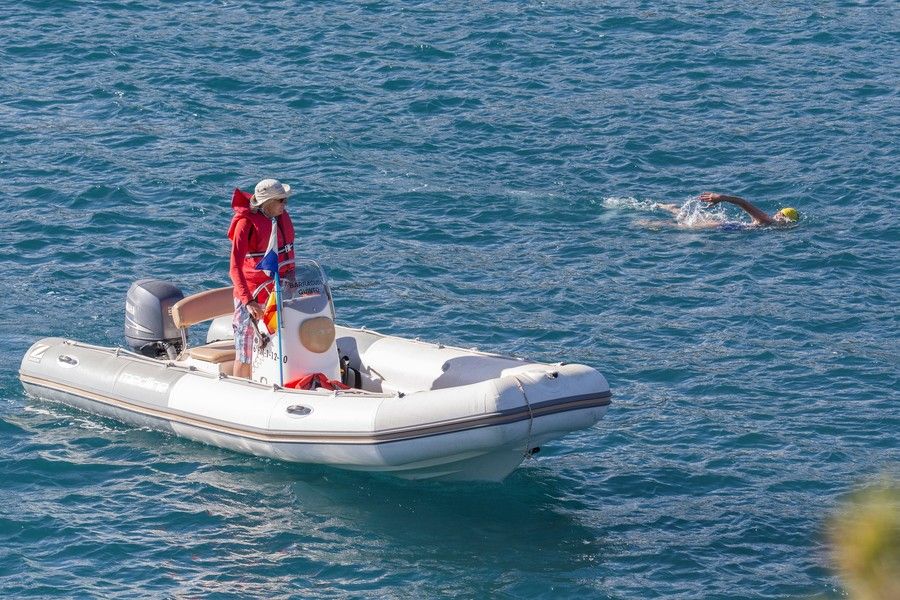 Getting into her stride on the SwimTrek coaching camp
---
Friends Poldy van Lynden and Rob Macarthur took on the their self-created 'Arch2Arctic' challenge in 2018 after having completed their Channel and Long Distance Training Camp in 2017:
When Rob and I came up with our challenge to try to get from London to the Arctic by human power, in the way of running from London to Dover, swimming the Channel, cycling from France to the top of Norway, and finally rowing 700 miles to the Arctic island of Svalbard, it was the aquatic stages that filled us with the most apprehension. When it came to swimming, neither of us were even vaguely competent, and we knew nothing about open water swimming, never mind swimming the Channel. We found out about SwimTrek's LDT camp in Mallorca and signed up for it. We turned up genuinely concerned we'd be laughed at and given a slap in the face of reality. What happened was that we became part of a really inspiring group of swimmers, each with their own fascinating story. And we were led by three of the most knowledgeable Channel swimming guides out there, who imparted their expertise, each with a different angle. We came away feeling inspired and motivated. After 3 consecutive LDT camps we both completed our Channel swim last summer, and ultimately that led to us completing our Arch2Arctic expedition successfully.
You can find out more about Rob and Poldy's challenge at http://www.arch2arctic.com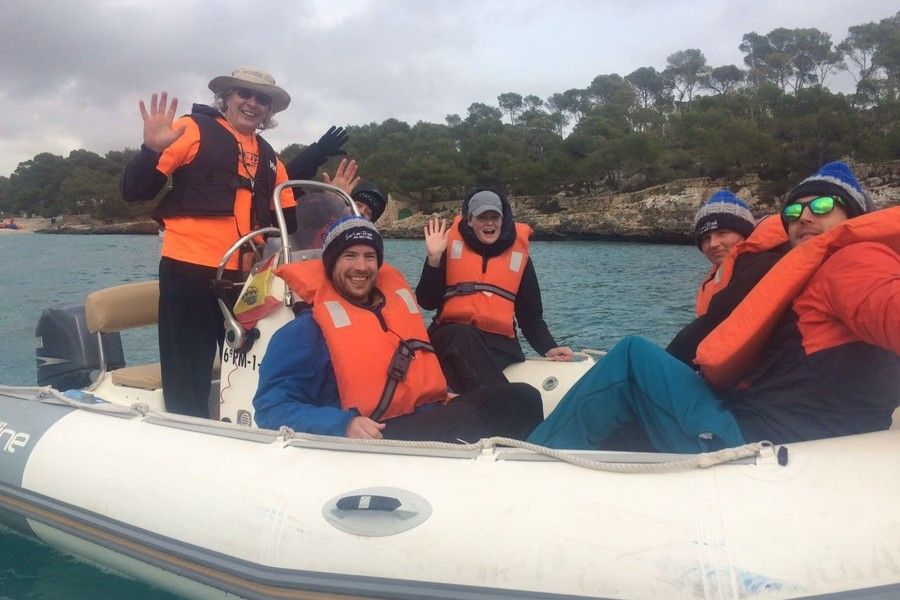 Rob and Poldy on their SwimTrek coaching camp in 2017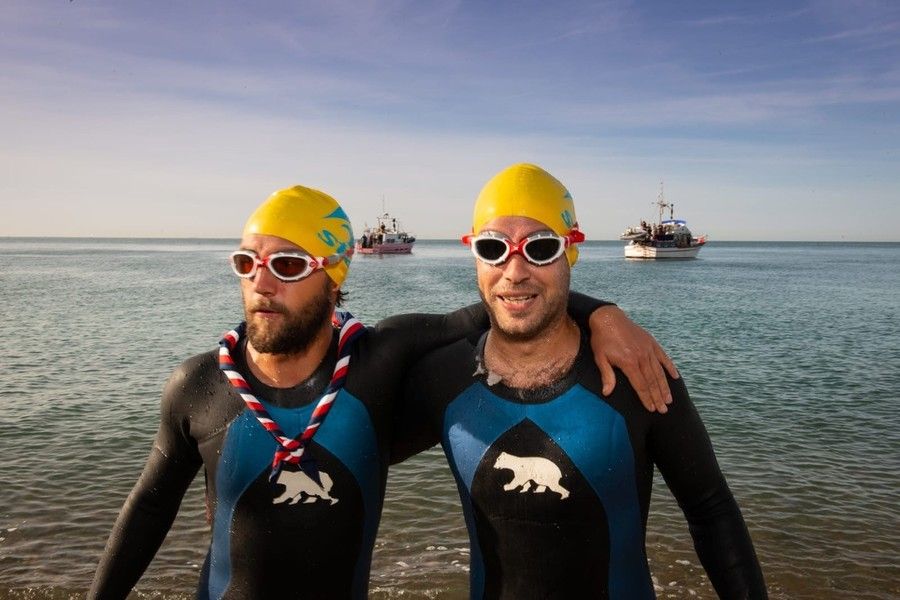 Rob and Poldy after completing the Channel Swim leg of their Arch2Arctic challenge
Australian native Sam took her first SwimTrek trip on our 10km Marathon Swim Camp in Mallorca with no specific events in mind as an end goal, but she soon found that the open water was her passion after first joining us in 2017:
"Would you consider the Rottnest Channel Swim? No way!" That was me two years ago, before taking part in any SwimTrek tour. But that attitude soon changed after signing up to the Mallorca Swimtrek 10k Training Camp in 2017. To be honest, I didn't know what I was getting myself into. Sure, I love a challenge and had never swum 10K before, but that would be my limit. The thought of swimming the English Channel or Rottnest Channel Swim had never crossed my mind.
I arrived at the accommodation on the south east coast of Mallorca and was greeted by 3 amazing and inspiring guides, Fiona, Cliff and Sian. They were all so welcoming and talked us through our week: we were all asked to tell a little about our swimming history and what we hoped to achieve this week. Well, what a week! The stories that our guides shared were inspirational, their knowledge about nutrition and their constant support and encouragement during every swim, just amazing! I have now been on 4 SwimTrek tours. One might say I'm slightly hooked!
Since Mallorca, I have been inspired to take my swimming to another level. I organised a team of 4 to swim the English Channel in 2018, raising money for the Brompton Fountain. But it was probably my 2018 SwimTrek tour in Mallorca that really pushed me to believe in myself and see what I could achieve. I used this week to build up my tolerance in the cold water (sub 16 degrees) and managed to complete my 2hr qualifying swim in 15degree for the English Channel team swim. I couldn't believe it! It was such a mental and physical battle! The encouragement from my guides; Fiona, Cliff and Mike, and the other swimmers was incredible. Swimming is an individual sport, but this week really felt like a team effort. I am still in contact with this group and my guides.
Unfortunately, I had to leave the UK and made the tough decision to pull out of the Channel swim 2 weeks before our allocated time. I was devastated! I returned to Sydney, Australia and after settling back, the hunger for a new challenge began to grow. I thought of the Rottnest Channel Swim. Really? Could I do it? Well, it's on my mind now! And I know I'll regret it if I don't try. I now have the attitude that if you really want something and believe in yourself, you can achieve anything. All it takes is commitment, determination and a positive approach.
When I told my coach Chris Hanrahan from PB3 about Rottnest being my new goal, he loved it! And that's when a dream started to become a reality. I immediately began to look for my skipper and paddler for race day. So excited! The build up to Rottnest was such a great challenge. As race day came closer the nerves began to build, but with that, there was also excitement. Rottnest Channel Swim is the largest ocean swim in the world. What swimmer wouldn't want to take part in this amazing event? 2019 had over 200 soloists and with added teams and duos it came to a total of 2000+ swimmers. Absolutely brilliant! Come race day, I can't say I wasn't feeling a bit nauseous at the start line but I was there, on the start line, and ready to take part in one of my biggest challenges ever!
I saw 2 sharks and was stung multiple times but I did it! What a day, what a race! Yes, it was tough but I would do it again! And if it goes well, I may even start to rethink about trying to take part in a slightly bigger channel with slightly colder water… let's see!
For anyone thinking about doing a long distance SwimTrek tour or the 10km training week in Mallorca I say do it! You will not only meet the most beautiful and encouraging guides but you will also meet likeminded people and make new friends. Highly recommend it!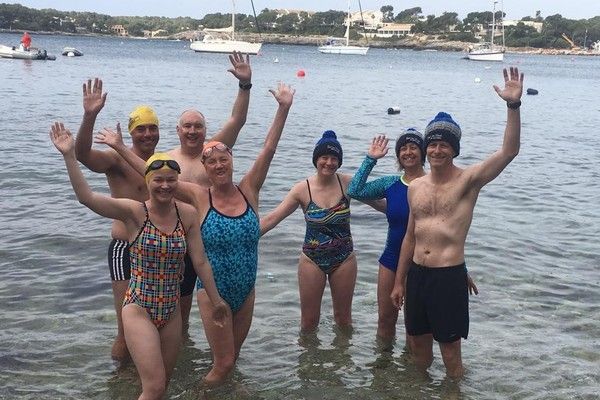 Sam and her SwimTrek tripmates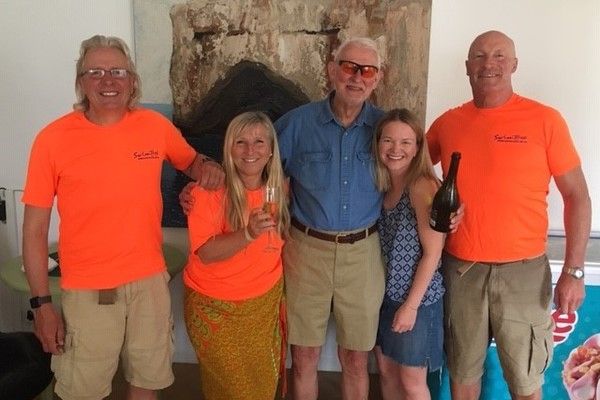 Sam with her coaches Cliff, Fiona and Mike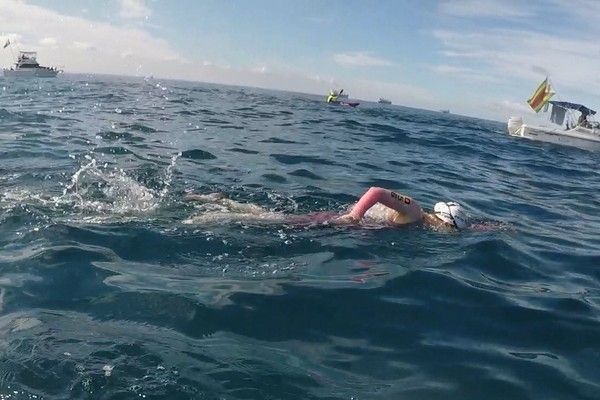 Sam on her Rottnest Channel crossing!
We're so proud of all that our long distance training camp guests achieve. More information on our long distance swimming coaching camps can be found [here.] If you have you own story that you'd like to share with us, please do get in contact at marketing@swimtrek.com.