What Our Swimmers Achieve Following a SwimTrek Coaching Camp
We've been running our coaching camps for over a decade, helping many swimmers go on to achieve incredible feats afterwards. From ultra-endurance long-distance races, to overcoming personal obstacles and completing a challenge for yourself, these camps can open so many doors to swimmers. Here we've compiled just some of our amazing guests' stories.

---
Rob Lea made history in July 2019 when he became the first person to summit Mount Everest and swim the English Channel in the same year. Rob joined us on our Channel and Long Distance Training Camp in Mallorca in 2018.
We all have a story. A reason the Channel, or the open water has called to us. A reason we've spent years training by staring at a black line. But if that's not enough, we then put ourselves in nature, pushing the natural limits of our mental and physical being. We push ourselves to places where we'd all be crazy not to question our own mental status. You'd think with all those hours in the water, with nothing but my own thoughts, I could tell you the reason for it all. Maybe I need just one more swim, one more dip in the pond, or one more Channel and I'll have that answer for you. Until then, this is my story. I've always been an athlete. I competed in triathlons for years at a high level. In 2012, I was the world champion in the half Ironman distance for my age group. I've also always loved climbing mountains. In 2009, I summited my first high altitude mountain, the highest mountain in South America - Acongaugua (22,841 ft/6,959 m). But after an ankle injury in 2016, my doctor told me "medically speaking, you shouldn't be running"–in that moment, at the doctor's office, I decided I needed a goal. Because of my swimming background, I resolved to swim the English Channel despite knowing almost nothing about it...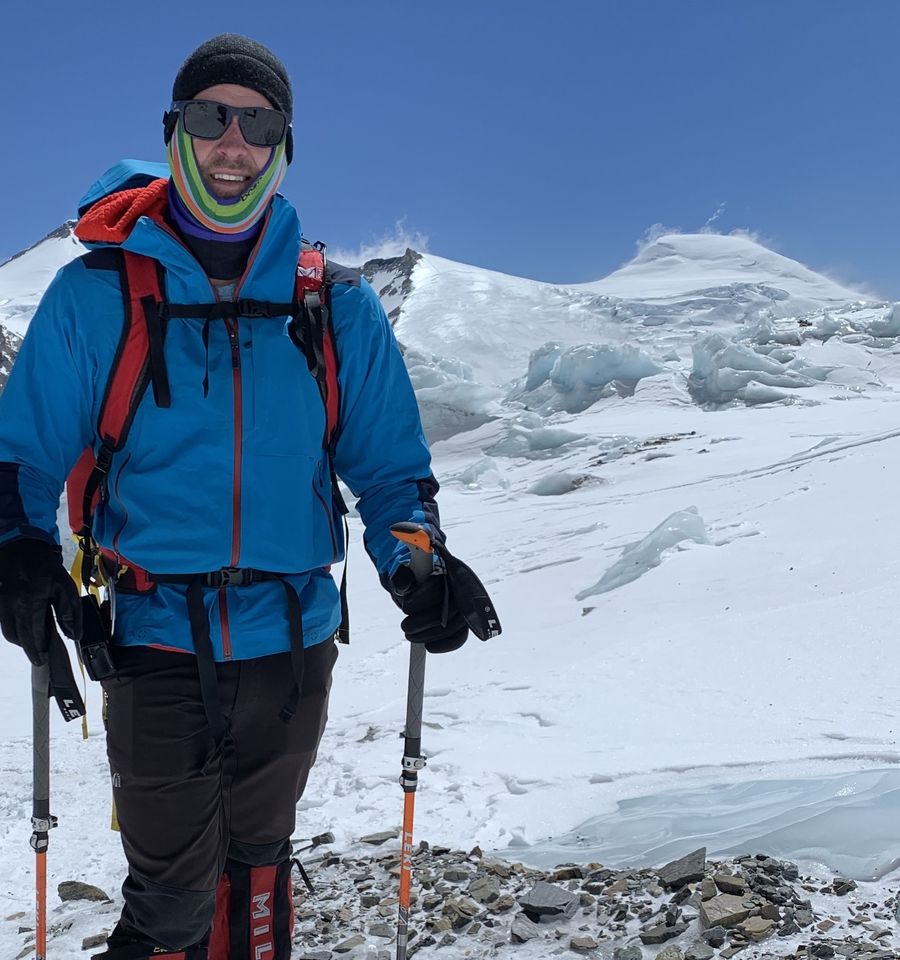 Rob on Everest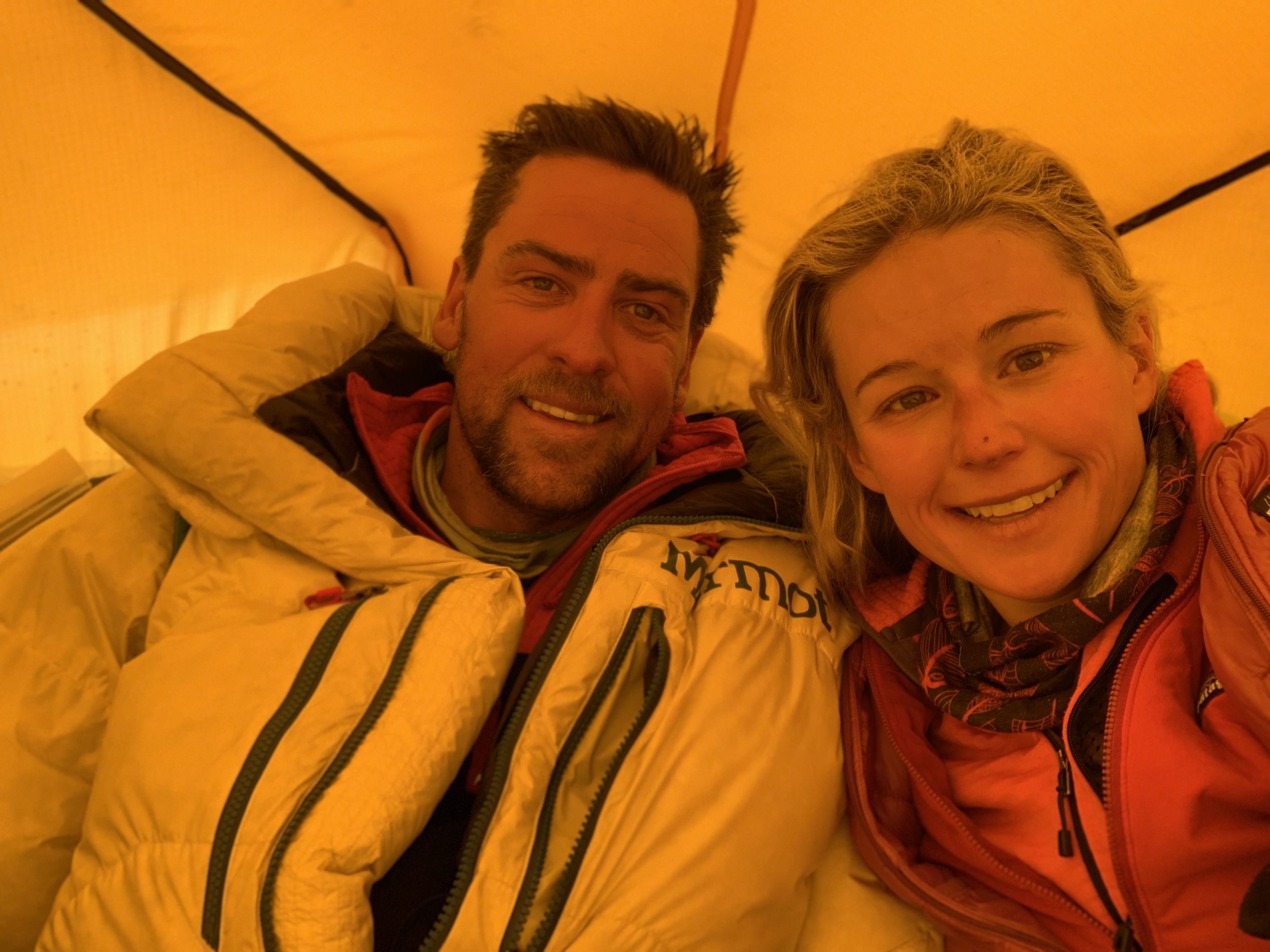 Rob with fiance Caroline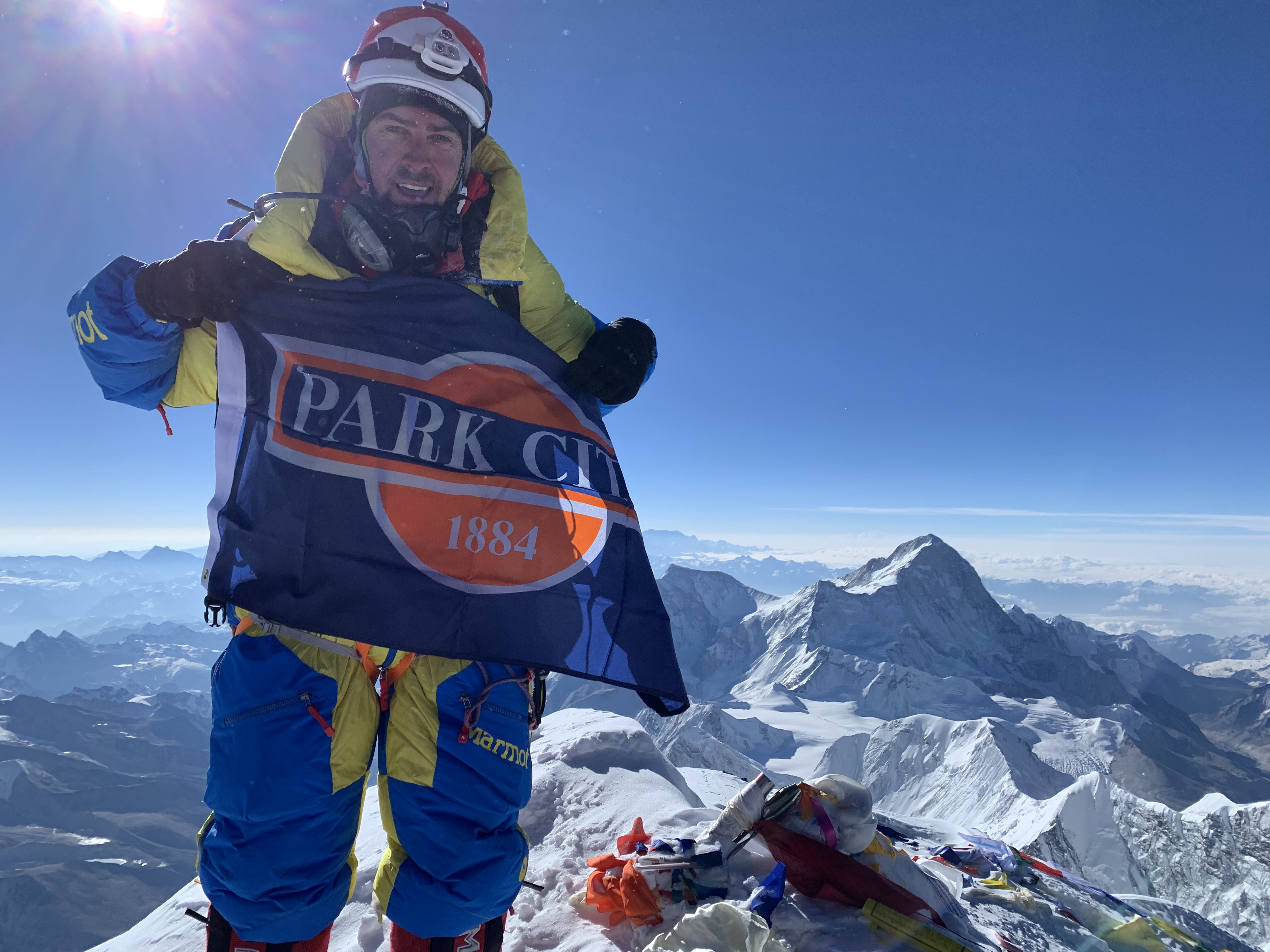 Rob on top of Everest with his hometown flag
As I researched the English Channel, I learned swimmers call it the "Everest of Swimming". And because I was also a mountain climber, I looked to see if anyone had swum the English Channel and summited Everest? During my research, I found that eight people had (Peak and Pond Challenge). When I discovered no one had done it in the same year, I set out to achieve that. But, as a triathlete at heart, I chose to create my own, sort of triathlon out of three athletic events, they would become my Ultimate World Triathlon: to summit Everest, swim the English Channel, and bike across America–all in the same year.
At the time, I decided to attempt the "Ultimate World Triathlon," I hadn't swum longer than three hours straight, and had limited experience swimming in cold and ocean water. At the advice of a high school swim mate, Candice (Chaney) Wright, I signed up for a SwimTrek camp, the Channel and Long Distance Training Camp in Mallorca, with the hopes of improving my long-distance swim skills and to learn techniques for swimming such an expansive distance.
It turned out that I got a lot more from the SwimTrek camp than just swimming techniques and knowledge for long distances swimming in cold temperatures–maybe most important, I made invaluable friendships that brought support and encouragement as I trained for my swim. To this day, I have close contact with all the members of my Mallorca swim camp via a WhatsApp group chat. A legend, Martyn Weber (an EC swimmer) helped this novice with logistics for the swim. I meet Anna Ploszajski (EC swimmer in 2018) in the cold water of Mallorca and she crewed me along with my fiancé during the English Channel swim and was invaluable. I also met Ashleigh Seymour at the swim camp. During the year leading up to my swim, Ashleigh (a new inductee in the EC swim club!) and I went back in forth with our accomplishments, setbacks, positive affirmations and doubts. And, although I don't have time to name ever person on my Mallorca swim trip, I can tell you that during my swim, I had an enormous wave of support from ever person in that group I met in the Spring of 2018.
In addition to the friendships, one of the important takeaways from the camp was understanding the importance of body weight when spending hours in cold water. When I showed up for my SwimTrek camp I was a good pool swimmer who could do alright in open water. I was ok in cold water, but not for hours on end. I couldn't sustain hour after hour in open water–in fact, I couldn't complete the 6-hour swim during my SwimTrek camp because my body wasn't equipped to withstand the cold at that time. That was about 16 months before I was supposed to swim the Channel.
This became a tricky aspect of my preparations before and after Everest. I went into Everest the heaviest I've ever been. I knew I would lose weight on the climb from past experience and in fact, I lost 20 pounds on the mountain. I was successful in summiting Everest and did so on May 24th. I arrived back home On May 30th and was set to leave for the UK for my swim on July 7th. I had just over a month to figure out how I was going to get across the Channel, and I hadn't swum for about 3 months at this point. In that month, I needed to regain the weight I lost, plus add some additional weight to stay warm enough on my English Channel attempt. This meant I couldn't do the swim volume I wanted to do because with that sort of training, I wouldn't be able to put on the weight I felt like I needed. My only major swim between Everest and the Channel was my 6-hour qualifying swim, which I completed at the Jordanelle Reservoir 16 days before my channel window started. That was my longest swim ever by almost double, and it was in a lake. Cutting it close is an understatement! But I knew I could swim, and I had to trust in my mental and physical training that it would all come together.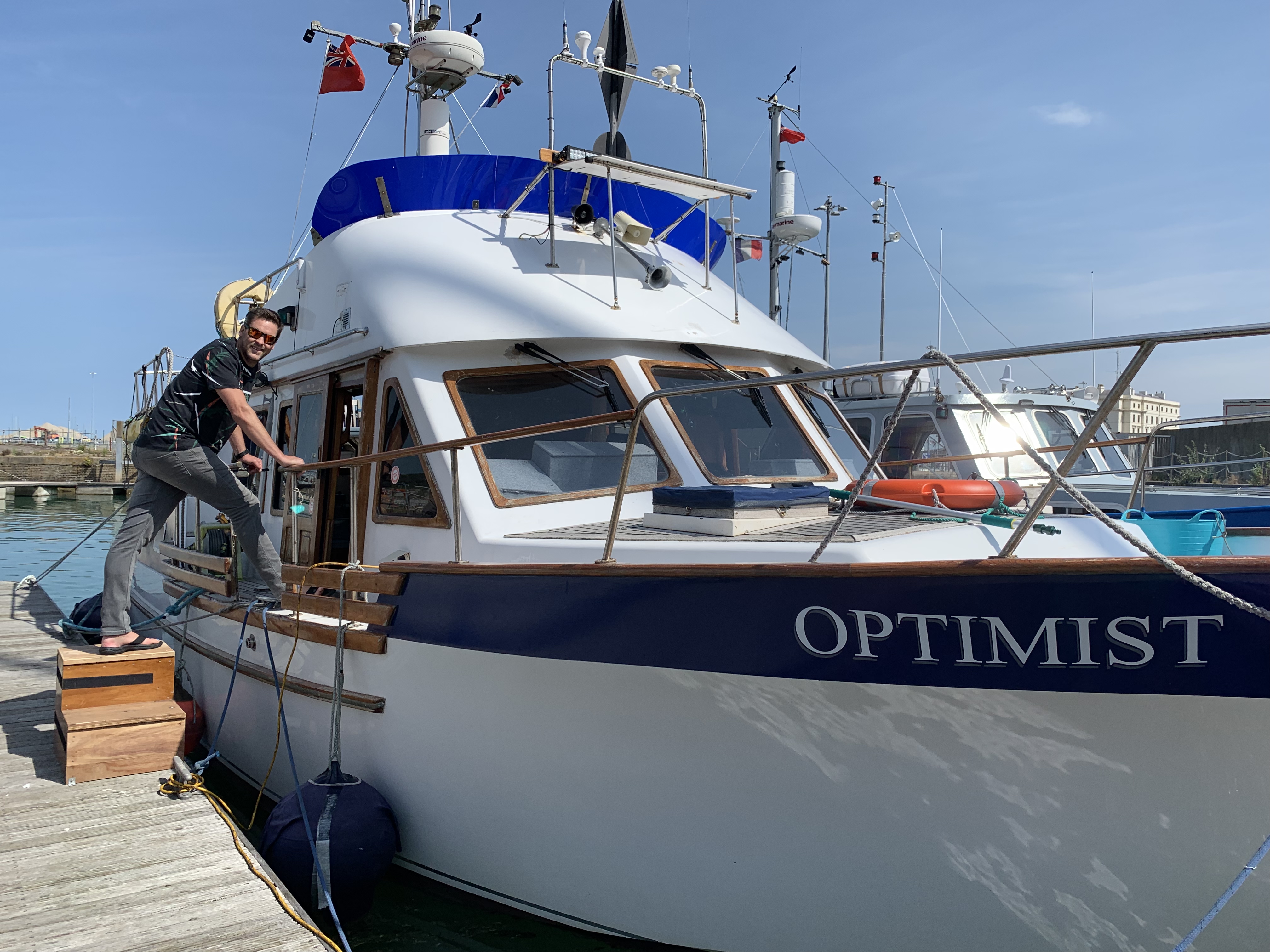 Rob with his support boat, the 'Optimist!'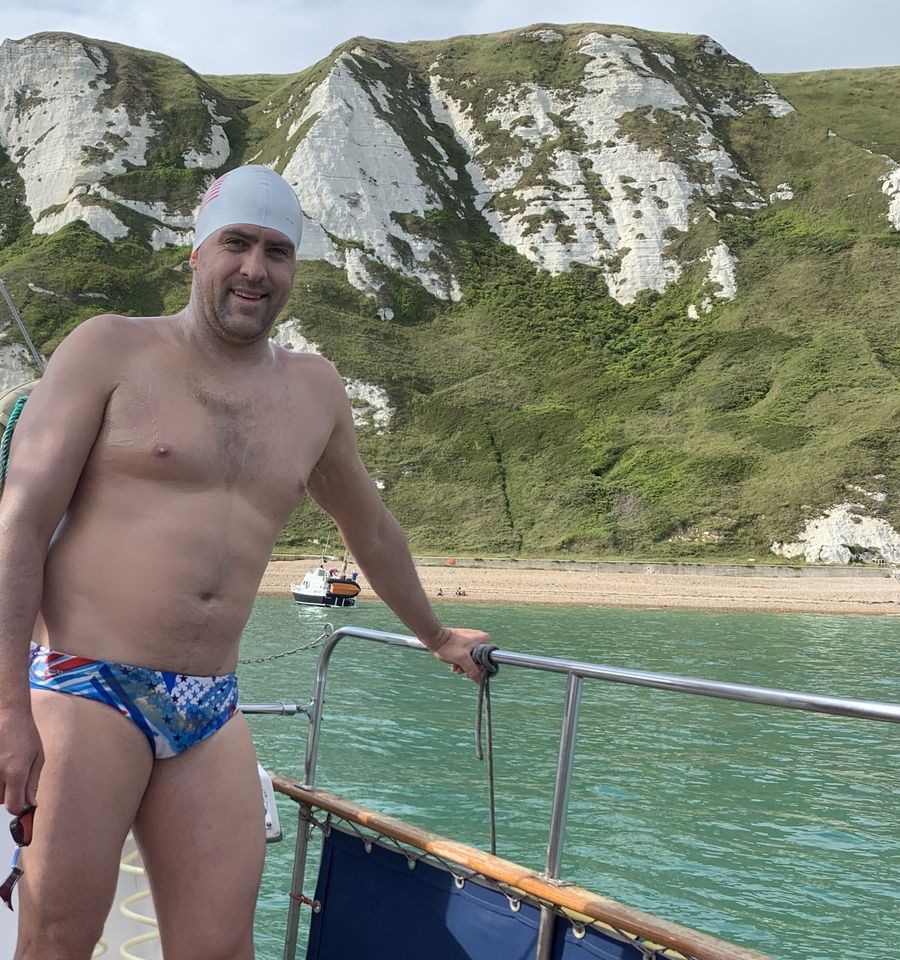 Rob just before beginning his English Channel attempt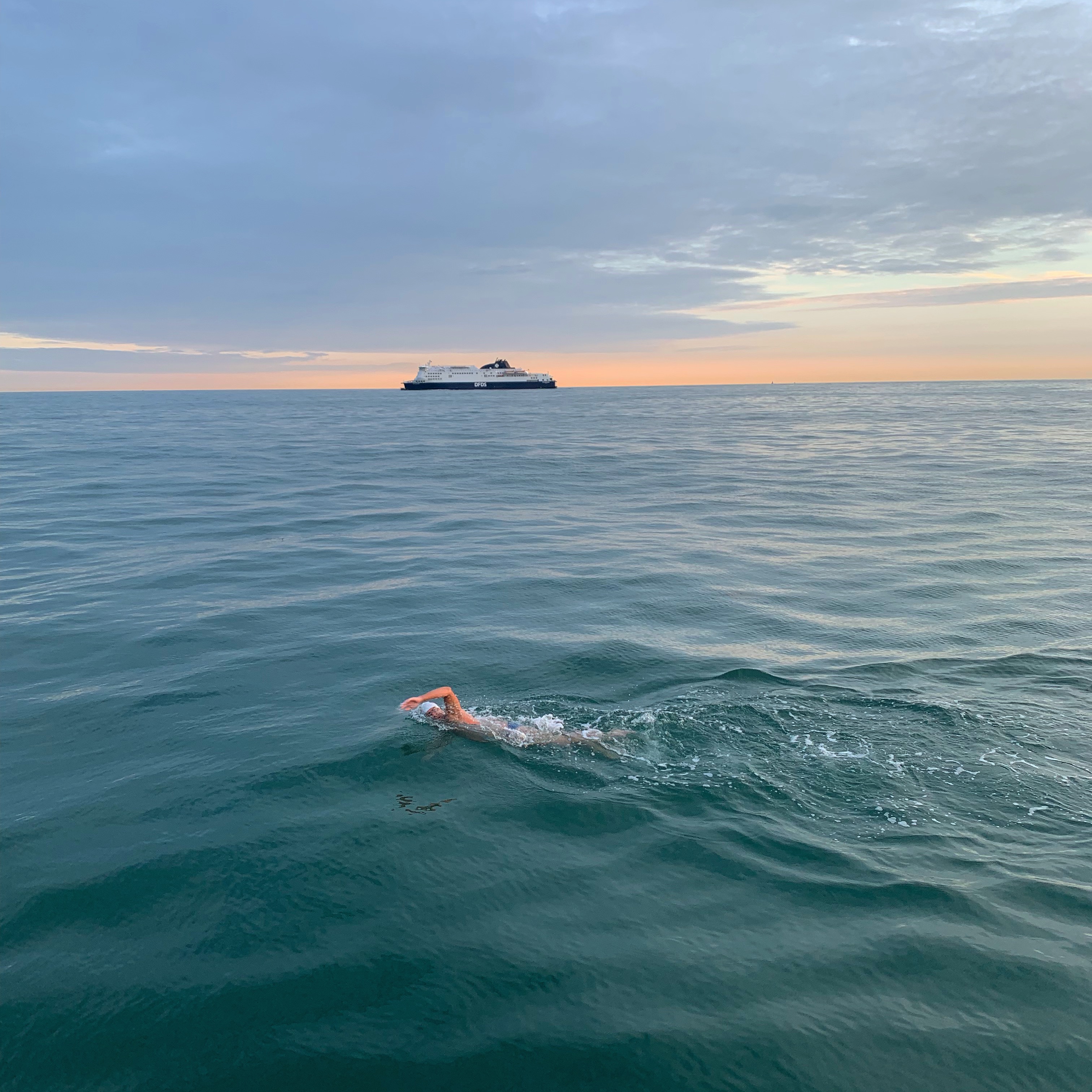 Midway through the Channel crossing
I landed in England with my fiancé, Caroline a few days before my window to beat jet lag before getting in the water. It was good timing because I was feeling under the weather during my travels to the UK and felt like I needed time to rest and recover. However, after one night of sleep in Dover, the boat captain called with news that the weather was good and gave me roughly five hours to grab my bags and be at the dock. I had just woken from an uneasy night of bed sweats and not feeling well, but I didn't even have time to think about how I was feeling, I immediately shifted to go-mode. I felt quite good once I got in the water. And I swam well the first couple hours and got my confidence back. As the sun started to set after a few hours, I saw my first jellyfish. There was a stretch of about or 4 hours where I encountered hundreds of jellyfish. I can't tell you how many times I was stung, but it certainly more than 50 and likely as many as 100 stings across my body, including two super painful direct blows to the face. I felt like I handled the stings relatively well, but it they were adding up and it was starting to get to me. I wondered; can I keep this up for another 6+ hours? Anna told me that they would subside when the tide changed… and they did for the most part.
Like any long-distance athletic event, crossing the English Channel required mental stamina. As I spent more time in the water, I told myself half-truths to get to the other side like, 'Once I'm done, I never have to swim another stroke again if I don't want to.' Time seemed to melt away and I just swam from feed to feed. I never let myself consider getting on the boat, I honestly didn't want to return to do those first 4, 6 or 8 hours again, so I guess I'll just keep swimming… Going into my Ultimate World Triathlon I considered the English Channel would be the most difficult portion, and I prepared myself, my family, and my friends for the possibility of failure. When I jumped into the water on the evening of July 9th, I didn't know if I would reach France. After 11 hours and 47 minutes in the chilly waters of the English Channel, I stepped onto the French shoreline–exhausted, elated, and delirious. I had done it. The memory is so vivid and blurred at the same time. There was no champagne or pate waiting for me at 4:15am in France, but I had done it!
I'm still trying to reflect on the whole thing, and I imagine I will be for some time. I'm now preparing the third leg of my 'Ultimate World Triathlon', my bike across America. But first, I get to undertake my biggest challenge; I'm marrying my lifetime adventure partner, Caroline Gleich on August 10th, 2019. I guess this is a quadrathlon! As it turned out, it will all happen in less than 6 months... if she says 'yes' and I can pull off the bike ride! In September [2019], I start my bike ride from Seattle to Nantucket which will be over 4000 miles. I'm cautiously optimistic that I can complete the ride and the last leg of this amazing adventure. Maybe after this, I'll have some normalcy and be able to get back to my day job selling residential real estate in my hometown of Park City? Yeah, I think normalcy and 'just getting back to my real job' is unlikely too! But this Triathlon has a greater purpose too: to talk about gender equality. When Caroline and I summited Everest, she became one of the 11% of women represented in Everest summits. That 11% is a common figure in these types of sports, but it also translates into the workplace and boardrooms around the world. Roughly 10% of Fortune 500 companies are led by women. I know that's not representative of what women bring to the table and I want to see more women on the top, whether that be a mountain top or leading a company. I also don't think it's just a woman's job to fight for this equality and representation. I think men are in integral part of the conversation and I want to hear them use their voices. Let's have these conversations and make this a better world for our mothers, daughters, co-workers, friends and neighbors.
You can take part in the conversations about gender equality with Rob using the hashtags #ClimbForEquality and #TriForEquality.
---
Anel joined our coaching camp with an English Channel crossing in her sights. She took part in our Channel and Long Distance training camp in 2016 and 2018:
Hello, I'm Anel, I come from Almaty, Kazakhstan. I joined the SwimTrek Long Distance Training Camp in 2016 in preparation for my Channel swim booked for the same year. I had a great goal in front of me. If I completed my swim the Channel, I would have been the first person from my country to do so. My coaching camp with SwimTrek was my first taste of open water swimming and cold-water acclimatization! I was new to this sport and was both excited and nervous to swim in cold waters.
Needless to say, the camp was the right place to be. In addition to swims it provided swim technique analysis and seminars which were great. I was absorbing information and learned about a whole new area. We had excellent guides around us and we could talk to them any time and ask questions. (I was so inspired by the stories Cliff talked about!) This is also where I met the most incredible people whose swimming resumes are just amazing, and we continue to communicate on Facebook and WhatsApp groups. The camp went very well and my 6 hour qualifier swim was completed but I did not finish my main English Channel swim that year.
So, I came back to the camp in 2018.
Sometimes the script doesn't go to plan, but I am motivated to keep going because it is my dream to walk out onto the French beach. I want to show my children that anything is possible if you want it bad enough. What a wonderful example to set to your children.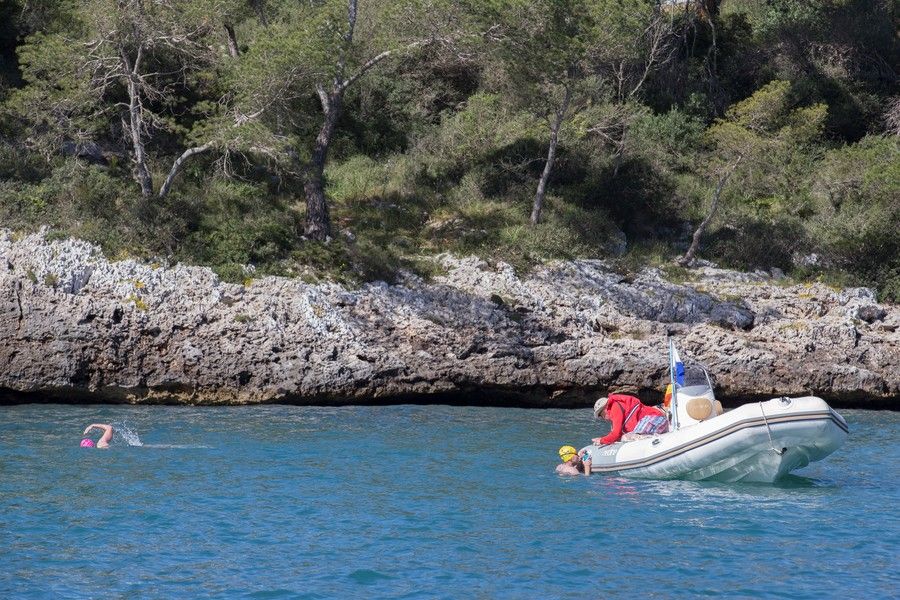 Anel recieving some motivational words from coach Cliff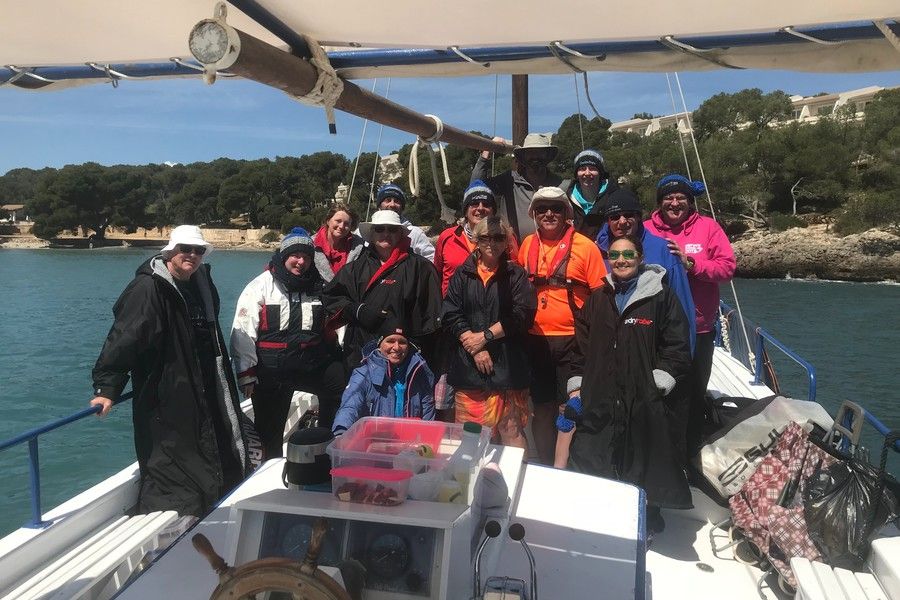 Anel and her group on her 2018 SwimTrek coaching camp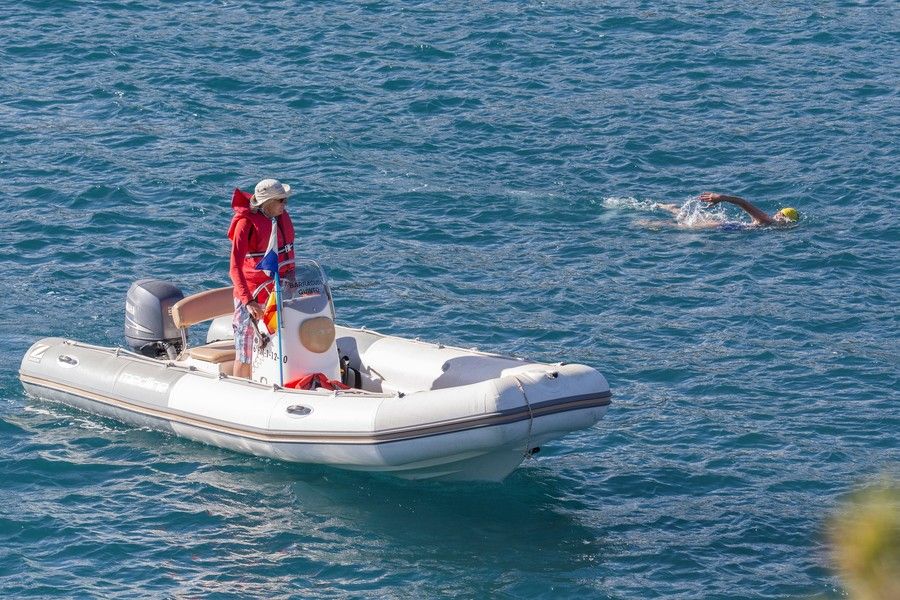 Getting into her stride on the SwimTrek coaching camp
---
Friends Poldy van Lynden and Rob Macarthur took on the their self-created 'Arch2Arctic' challenge in 2018 after having completed their Channel and Long Distance Training Camp in 2017:
When Rob and I came up with our challenge to try to get from London to the Arctic by human power, in the way of running from London to Dover, swimming the Channel, cycling from France to the top of Norway, and finally rowing 700 miles to the Arctic island of Svalbard, it was the aquatic stages that filled us with the most apprehension. When it came to swimming, neither of us were even vaguely competent, and we knew nothing about open water swimming, never mind swimming the Channel. We found out about SwimTrek's LDT camp in Mallorca and signed up for it. We turned up genuinely concerned we'd be laughed at and given a slap in the face of reality. What happened was that we became part of a really inspiring group of swimmers, each with their own fascinating story. And we were led by three of the most knowledgeable Channel swimming guides out there, who imparted their expertise, each with a different angle. We came away feeling inspired and motivated. After 3 consecutive LDT camps we both completed our Channel swim last summer, and ultimately that led to us completing our Arch2Arctic expedition successfully.
You can find out more about Rob and Poldy's challenge at http://www.arch2arctic.com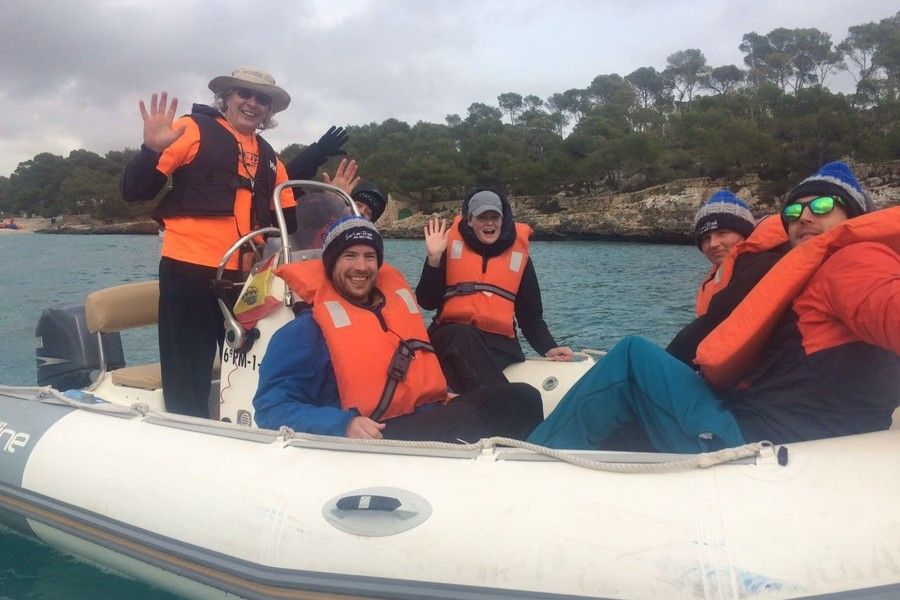 Rob and Poldy on their SwimTrek coaching camp in 2017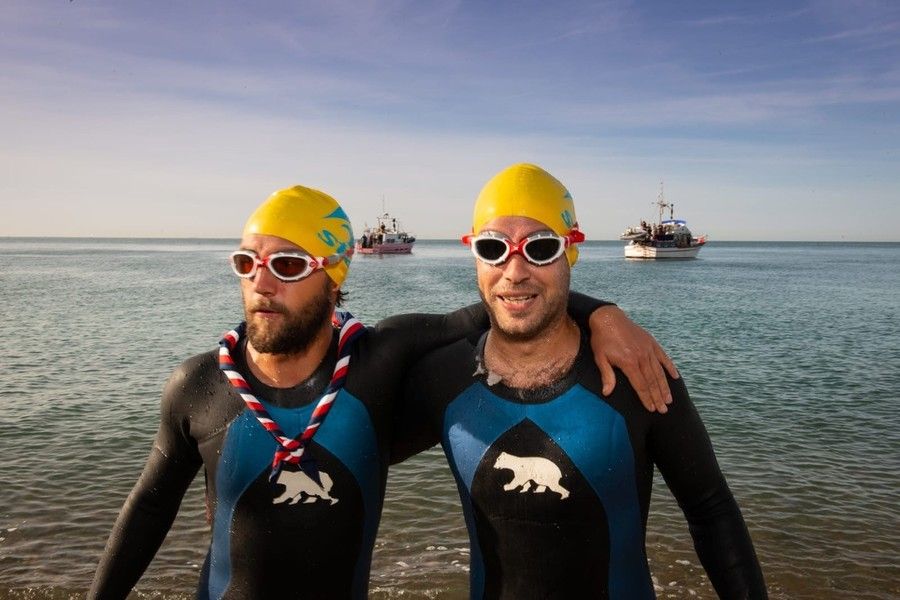 Rob and Poldy after completing the Channel Swim leg of their Arch2Arctic challenge
Australian native Sam took her first SwimTrek trip on our 10km Marathon Swim Camp in Mallorca with no specific events in mind as an end goal, but she soon found that the open water was her passion after first joining us in 2017:
"Would you consider the Rottnest Channel Swim? No way!" That was me two years ago, before taking part in any SwimTrek tour. But that attitude soon changed after signing up to the Mallorca Swimtrek 10k Training Camp in 2017. To be honest, I didn't know what I was getting myself into. Sure, I love a challenge and had never swum 10K before, but that would be my limit. The thought of swimming the English Channel or Rottnest Channel Swim had never crossed my mind.
I arrived at the accommodation on the south east coast of Mallorca and was greeted by 3 amazing and inspiring guides, Fiona, Cliff and Sian. They were all so welcoming and talked us through our week: we were all asked to tell a little about our swimming history and what we hoped to achieve this week. Well, what a week! The stories that our guides shared were inspirational, their knowledge about nutrition and their constant support and encouragement during every swim, just amazing! I have now been on 4 SwimTrek tours. One might say I'm slightly hooked!
Since Mallorca, I have been inspired to take my swimming to another level. I organised a team of 4 to swim the English Channel in 2018, raising money for the Brompton Fountain. But it was probably my 2018 SwimTrek tour in Mallorca that really pushed me to believe in myself and see what I could achieve. I used this week to build up my tolerance in the cold water (sub 16 degrees) and managed to complete my 2hr qualifying swim in 15degree for the English Channel team swim. I couldn't believe it! It was such a mental and physical battle! The encouragement from my guides; Fiona, Cliff and Mike, and the other swimmers was incredible. Swimming is an individual sport, but this week really felt like a team effort. I am still in contact with this group and my guides.
Unfortunately, I had to leave the UK and made the tough decision to pull out of the Channel swim 2 weeks before our allocated time. I was devastated! I returned to Sydney, Australia and after settling back, the hunger for a new challenge began to grow. I thought of the Rottnest Channel Swim. Really? Could I do it? Well, it's on my mind now! And I know I'll regret it if I don't try. I now have the attitude that if you really want something and believe in yourself, you can achieve anything. All it takes is commitment, determination and a positive approach.
When I told my coach Chris Hanrahan from PB3 about Rottnest being my new goal, he loved it! And that's when a dream started to become a reality. I immediately began to look for my skipper and paddler for race day. So excited! The build up to Rottnest was such a great challenge. As race day came closer the nerves began to build, but with that, there was also excitement. Rottnest Channel Swim is the largest ocean swim in the world. What swimmer wouldn't want to take part in this amazing event? 2019 had over 200 soloists and with added teams and duos it came to a total of 2000+ swimmers. Absolutely brilliant! Come race day, I can't say I wasn't feeling a bit nauseous at the start line but I was there, on the start line, and ready to take part in one of my biggest challenges ever!
I saw 2 sharks and was stung multiple times but I did it! What a day, what a race! Yes, it was tough but I would do it again! And if it goes well, I may even start to rethink about trying to take part in a slightly bigger channel with slightly colder water… let's see!
For anyone thinking about doing a long distance SwimTrek tour or the 10km training week in Mallorca I say do it! You will not only meet the most beautiful and encouraging guides but you will also meet likeminded people and make new friends. Highly recommend it!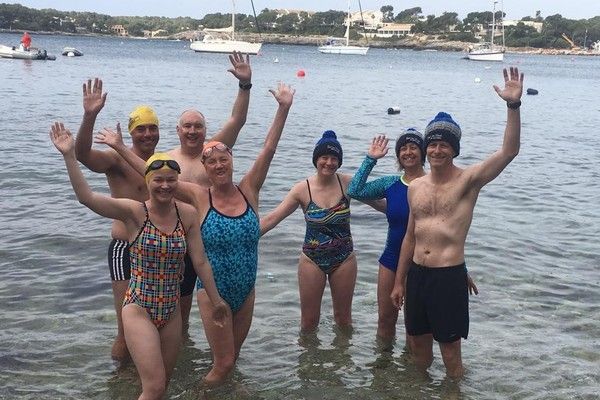 Sam and her SwimTrek tripmates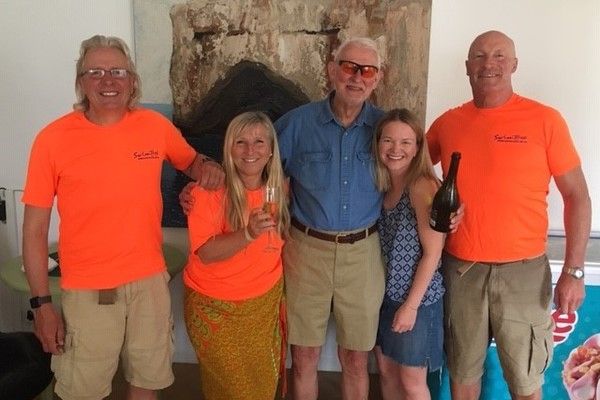 Sam with her coaches Cliff, Fiona and Mike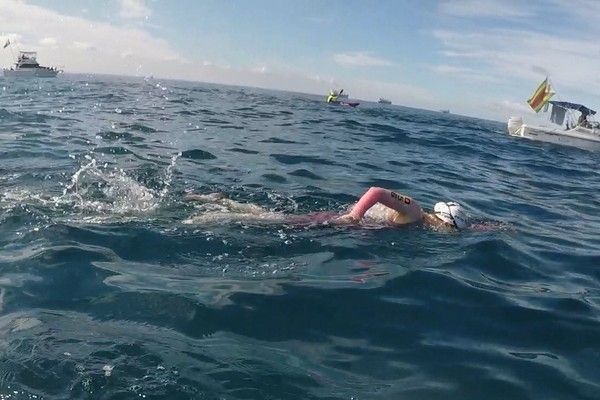 Sam on her Rottnest Channel crossing!
We're so proud of all that our long distance training camp guests achieve. More information on our long distance swimming coaching camps can be found here. If you have you own story that you'd like to share with us, please do get in contact at marketing@swimtrek.com.