Water Temperature And Wetsuit Guide
Water temperatures and wearing a wetsuit are some of our most frequently asked questions and it's easy to see why as these will have a considerable impact on the type of swim you will enjoy. Read on for where we'll cover the range of water temperatures swimmers may experience as well as guides on where you may need a wetsuit and suggestions on how to find the right fit for you.
Tri Wetsuit Hire & Wetsuit Hiring Option
For all UK residence we have partnered with Tri Wetsuit Hire who offer different hiring options for our SwimTrekkers from 2 weeks or 4 weeks, to a whole season - Use 'SWIMTREK5' for a special discount on their website.
Water temperatures
You will find a variety of water temperatures both on our SwimTrek trips and in different open water swim spots around the world. You'll find different water temperatures in seas compared to lakes, usually that sea water is warmer, and even in the same body of water at different times of the year.
Here's our handy guide to the varying degrees of water temperatures, what to expect and how to prepare for swimming in them.
| Water temperature | What to expect |
| --- | --- |
| Above 26°C (79°F+) | Very warm open water temperatures that will usually be found around the Caribbean and, in height of summer, the Middle East and the warmest parts of the Mediterranean. Temperatures will be similar to that of a heated pool. Swimming in a wetsuit in these temperatures is not advised due to a risk of overheating. Make sure to drink frequently on your swim to prevent dehydration. |
| 22 – 25°C (72 – 77°F) | Ideal open water swimming temperatures, these are often found in the Mediterranean through the warmest summer months. Most swimmers will be comfortable without a wetsuit and able to swim for as long as they like without problems. |
| 17 – 21°C (63 – 70°F) | Pleasant swimming temperatures, the lower end of this category is usually the height of summer water temperatures in the UK. Some more susceptible to the cold may still want to wear a wetsuit. |
| 12 – 16°C (54 – 61°F) | These temperatures are usually found at the beginning and the end of the summer season. Comfortable skins swimming for longer periods of time is still possible for those acclimatised to slightly cooler waters. Swimming in sub 16-degree water is often a marker for qualifying times for channel swims and other distance events. |
| 6 – 11°C (43 – 52°F) | As we head into single digits, these are temperatures you'll experience in the transition from autumn into winter. Most swimmers will need a wetsuit to be able to swim for even a short period of time, as well as gloves or a neoprene hat to help warm their extremities. |
| 1 – 5°C (34 – 41°F) | Very cold water. Sub 5 degrees is counted as ice swimming. Much shorter swim times are advised, keeping to less than 10-minute dips and only if you are acclimatised. |
| Below 0°C (Below 32°F) | For the truly brave, sub zero temperatures are rarely found and even a short dip should only be considered alongside extensive acclimatisation. |
The majority of SwimTrek's trips enjoy water temperatures of above 17°C, excluding some of our training camps and expedition trips around the UK. If you are someone that particularly feels the cold, you may benefit from wearing a wetsuit on our trips.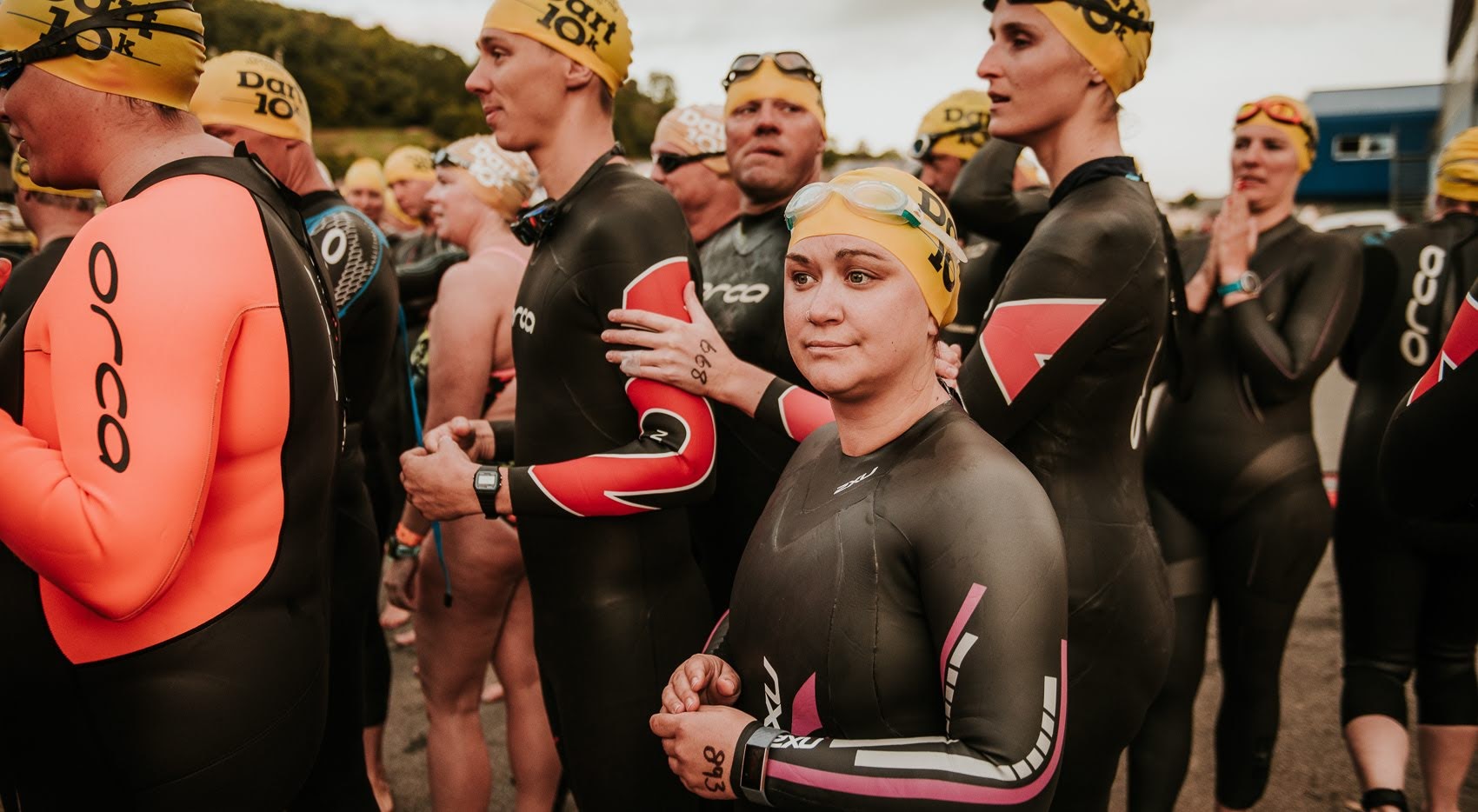 Wetsuits
Wearing a wetsuit can be a great way for you to first experience the open water or extend your outdoor swimming throughout the year. There are several different types of wetsuit, including surf wetsuits, swimming wetsuits and tri wetsuits. It is important that you use a swimming wetsuit for extended swimming and not a surf wetsuit, as the material is thicker and does not have as much give across the shoulders for the movement of swimming other than paddling. Swimming in a surf wetsuit will make your swim considerably and unnecessarily difficult.
Benefits of wetsuits:
• Warmth – Wearing an extra layer allows your natural body heat to stay trapped within the confines of your suit, helping you cope with cooler waters than you would normally manage with skins swimming alone.
• Buoyancy – A wetsuit will also help raise your position in the water, due to neoprene material of the suit. This is helpful for a better body position in the water to carry out a more efficient stroke and to keep your body flat and near the surface as you begin to tire.
• Speed – Because of the combination all of the previous benefits, you may also find that you are quicker when moving in the water.
Though some people don't like the hassle of putting on and taking with them and the potential for rubbing, wearing a wetsuit is a personal choice and you are welcome on any SwimTrek trip to choose to wear a wetsuit or not.
SwimTrek trips you may need a wetsuit on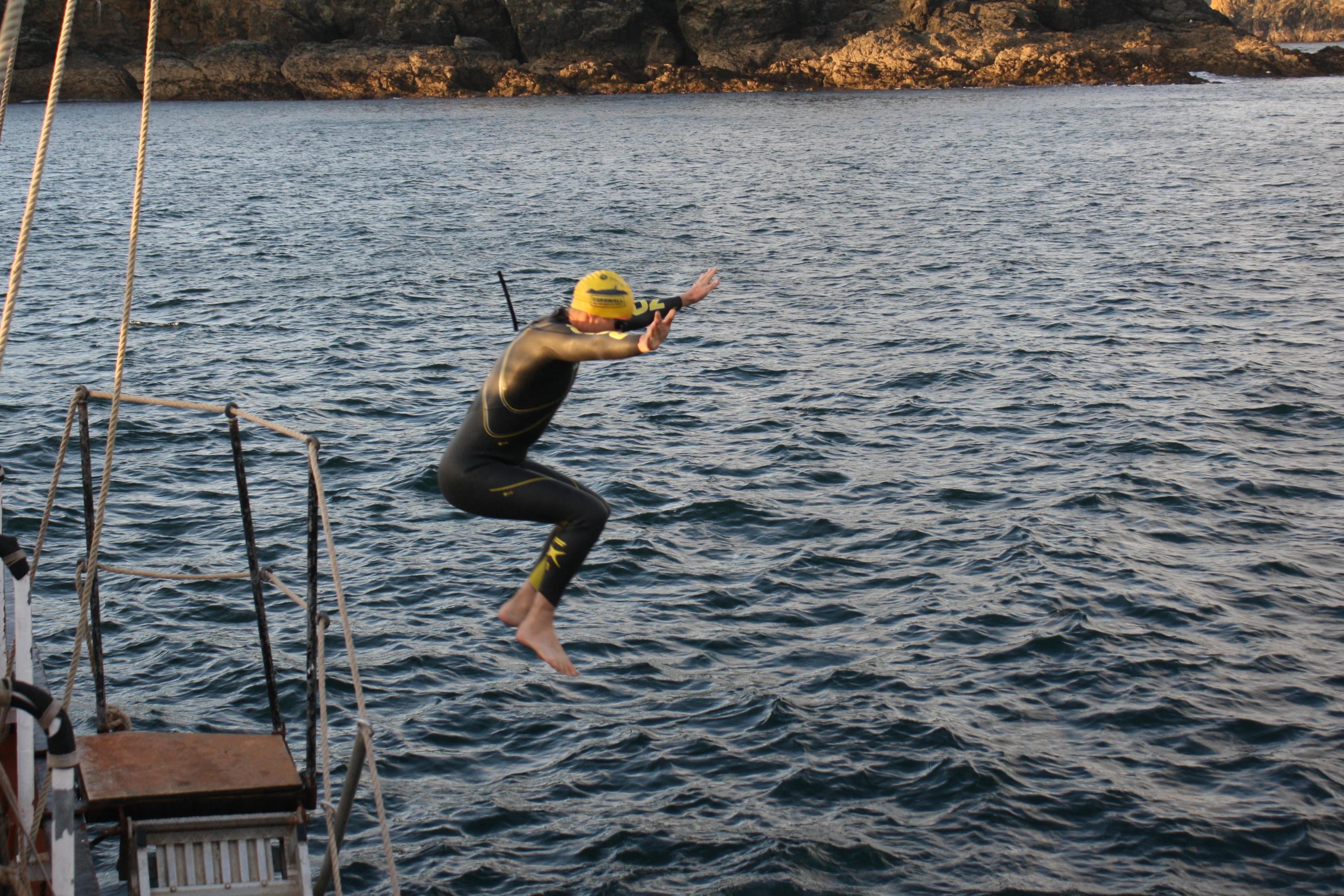 Our adventurous trips around Scotland, England and Ireland are in cooler temperatures than the majority of our Mediterranean swimming holidays, so if you're not used to swimming extended lengths in waters less than 18°C (64°F).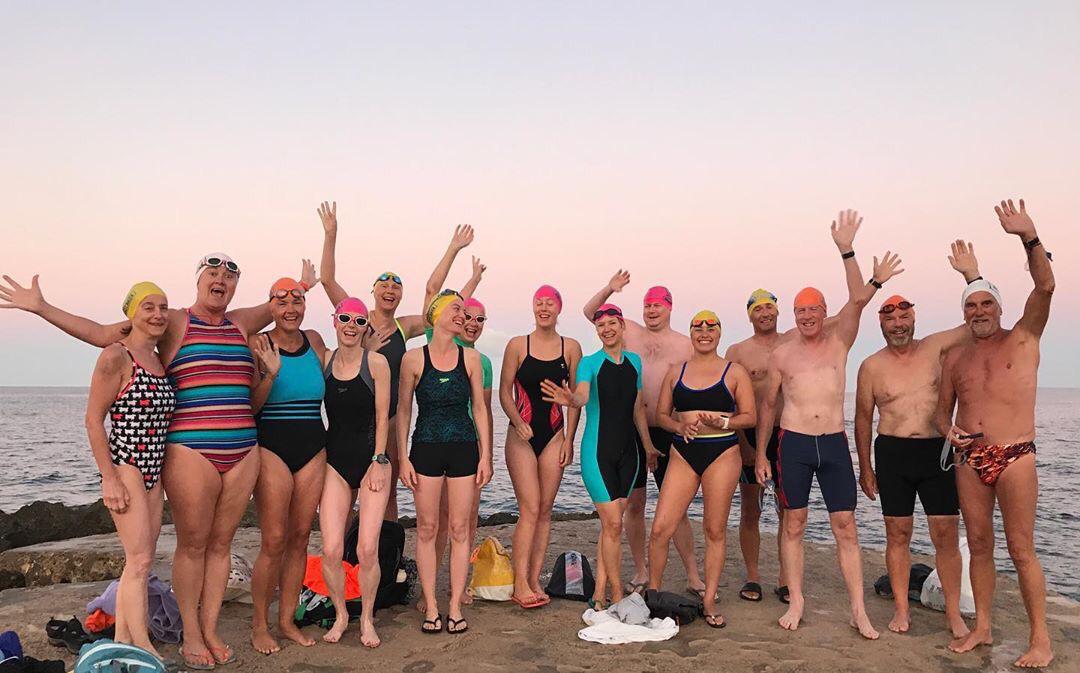 As our introductory trip, some swimmers may find starting off in a wetsuit a comfortable way to begin their open water journey.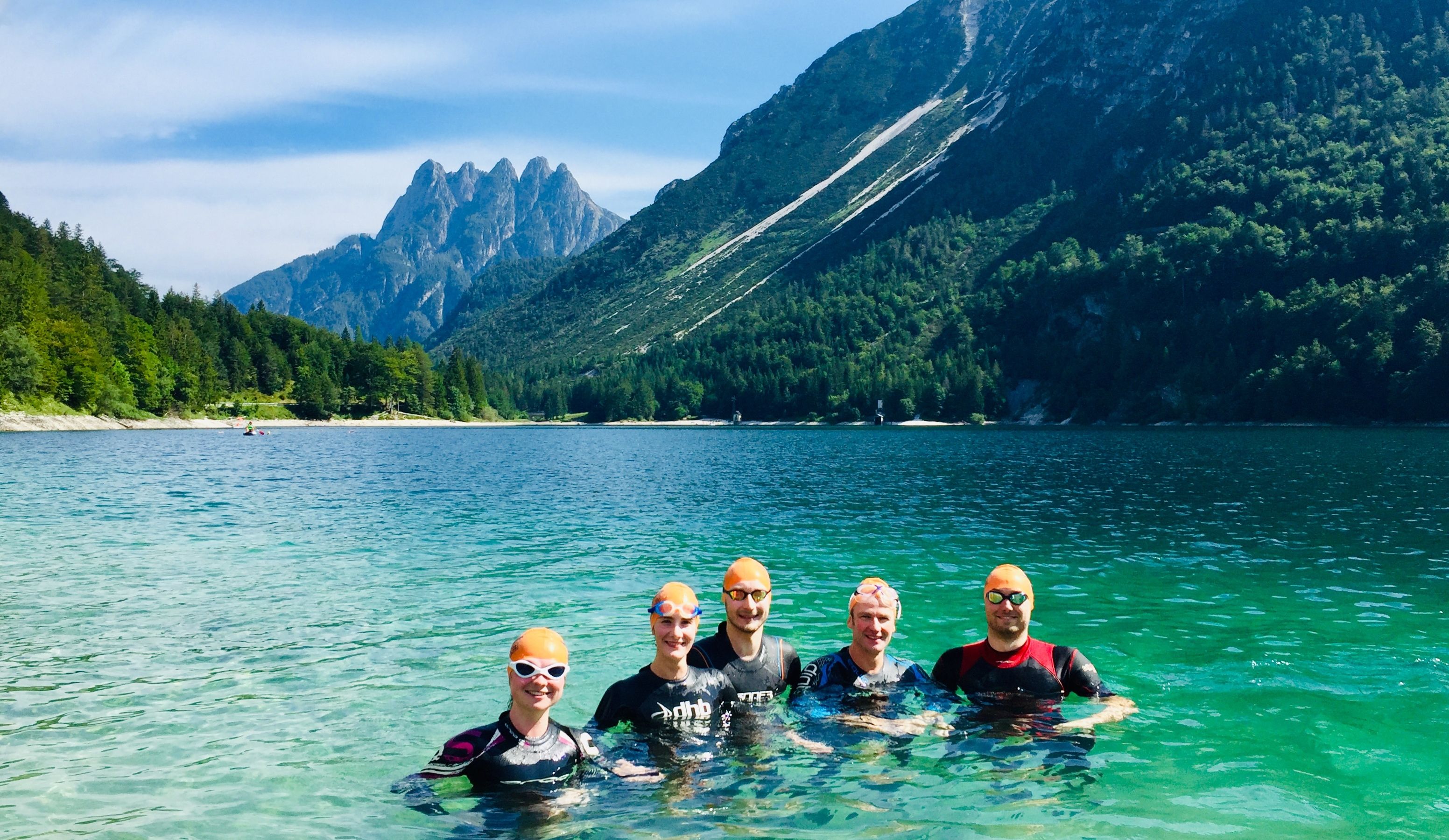 As our Slovenian lake swimming adventure is set in a stunning Alpine region, we may also experience freshwater runoff from the mountains, meaning the water temperatures can be slightly cooler after rainfall.
SwimTrek's guide to wetsuit fit
• Decide the length of your wetsuit. A full suit is a great all-rounder, a sleeveless suit gives more flexibility in the shoulders, and a shorty suit is easier to get on and off. Pick whichever suits you and the kind of swimming you do best.
• The suit should be a tight fit with no gaps around your body, particularly around the chest, waist and knees. Don't be too alarmed if you do feel some water come into your suit, as this is needed to help keep your body warm.
• Make sure that areas such as around the neck and the wrists aren't too tight as this could cause uncomfortable rubbing.
• Check the seams and panels of your suit. You should be looking for the optimal combination of the most panels for flexibility of the suit, whilst balancing this out with as few as possible seams as this reduces the amount of stitching that can become damaged over time. A lot of this will be down to personal preference, so try a few different types on and see what the best combination is for you.
For more information please read our Wetsuit Buyer's Guide blog post.