When you have a big day ahead it's a good idea not to miss breakfast. So at 7am we headed to LoLo (the cafe next to our hotel) for the standard swimmers breakfast. Eggs, bread, juice and coffee. By 8 am we were on the bus for the 30 min ride across the island to board our boats.
There are two boats this time. Not sure I like this idea as it divides the group. But I guess you can't talk to everyone at once so as long as we mix it up it will work. As we crossed towards the island we flew over yesterday I felt a combination of nerves and excitement.
This is Galapagos. It's warm, blue, vast, fairly deserted and a dream of a lifetime. And we're about to swim it.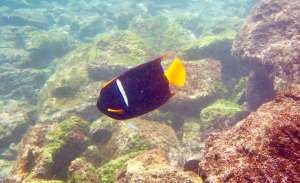 The 'girl guides' Marlys and Kelly gave out the swimming caps. Pink, Yellow and Orange. Slow medium and fast.
This year I'm a yellow! Swimming with Betty, Alex, Barry & Bill. Great group.Into the water. Splash. Off we go.
We immediately spotted hundreds of beautiful coloured fish followed by orange rock crabs, a ray , a white tipped reef shark, blue footed boobie birds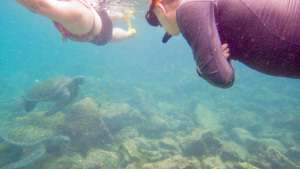 The water temperature is divine though a little choppy. We completely circumnavigated the island (Daphne Major) – about 4 km. By the end it was getting rough but exhilarating.
Back on the boat (for morning tea) with its padded seating, shade cover and cute blue and white checked floor.
We missed the 'tea wallah' from our last swim trek. No hot drink! At least on our boat! Apparently the other boat had full tea service. Hmm.
After motoring for about an hour spent eating and recovering we entered a sheltered bay at Pinzon Island and had the most fun I've ever had in the water.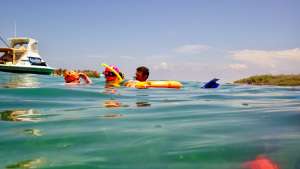 Swam and played with seals, saw turtles large and small swimming lazily around the rocks, was amazed to see a sea iguana, and watched the blue footed boobie birds dive with the precision of an arrow at the little silver fish.
After the show was over it was back to the boat for lunch.
Our guides are let off this trek. They don't have to prepare lunch. The two boat owners do lunch!
Apparently each boat had its own menu!Who had the best!
After lunch it was rest time before motoring around the island for another swim. Now on our way back. High speed and rather bumpy!
What a day!
The evening drinks were held on the open veranda of our hotel with Fernando giving us the most incredibly informative talk about the islands. A beautiful salad dinner at Isola Grill before climbing exhausted into bed.
Tomorrow we move to Isola Isabela. Can't wait!